Located west of South Bend, in the small town of New Carlisle, is a delightful German restaurant, serving authentic flavors. Moser's Austrian Cafe's service staff are clad in German garb and serve dishes that you might struggle to pronounce, but your tastebuds and your stomach will see why it has been a local favorite since 1999.
My husband and I set out for our first date! We had just celebrated our anniversary, and I decided to surprise my husband by planning a day for us. His father was born and raised in Germany, and we both love German food. Moser's Austrian Cafe in New Carlisle had popped up in my Facebook feed a while back, and I had added it to my foodie bucket list, so it seemed a good time to take a little day trip.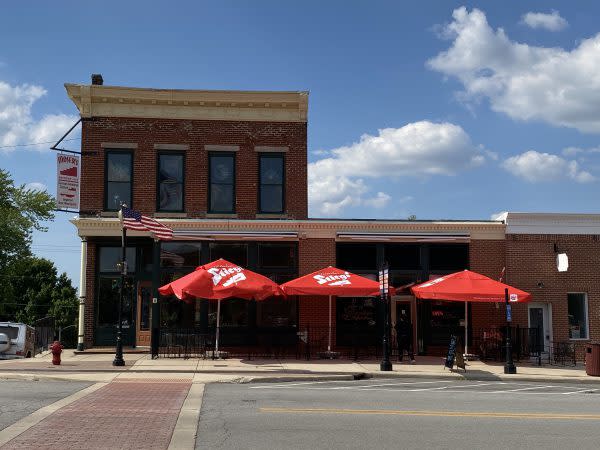 My husband had been on his new keto diet for about two months at that point, with a strict diet of lean meats, fruits, and vegetables - with no breads or pastas or sugar or dessert or alcohol. He has much more willpower than I, and while I knew there was little on the menu that met his diet criteria, I knew that if he were going to stray, a hearty meal at a German restaurant would be his idea of a perfect cheat meal.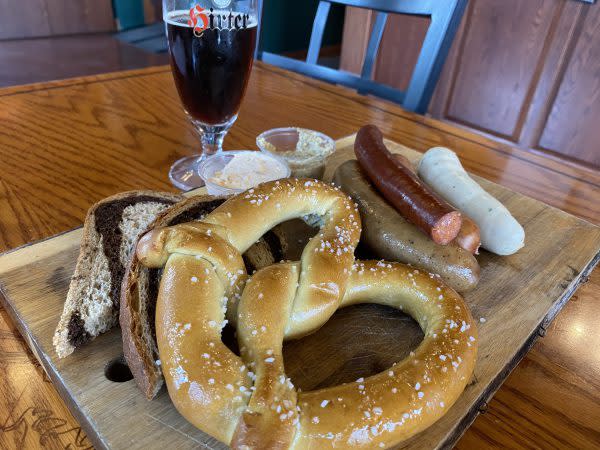 The small hot wurst platter appetizer includes four sausages, bread, and a giant pretzel.
I called ahead to see if reservations were needed. Since we were coming around lunchtime on a weekday, they told me we would be okay without a reservation. If you choose to visit on the weekend or at dinner time, you'll want to call ahead. Indoor and outdoor tables are available.
The menu included so many of our favorites, and we had a hard time making up our minds. We definitely ordered more food than we could possibly eat, but that's often my strategy. I love it when I have leftovers to enjoy the next day.
Moser's Austrian Cafe has been in New Carlisle since 1999, first at a location just down the street and now in their lovely corner spot in the downtown historic district for several years. They're in one of those unmistakable turn-of-the-century buildings with high ceilings and big windows and extensive dark woodwork and tons of personality. It is run by Werner Moser, an Austrian native who has brought all the best of food of his home region to Northern Indiana.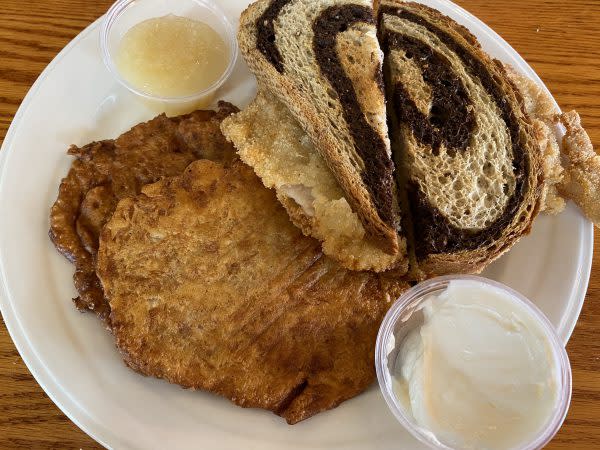 The lunch-size schnitzel with potato pancakes served as the side.
We started with a portabella schnitzel appetizer - a lightly breaded, meaty portabella top served over a bed of spinach and drizzled with pesto sauce. Then we moved on to appetizer number two: the hot wurst platter. It comes in two sizes. We ordered the small, which was pretty generous. A large would have been a massive tray with double servings of everything. It included bratwurst. deprezner, thueringer and weisswurst along with German mustard, rye bread, a giant soft pretzel, and an olive spread. It really was a meal on it's own, but we took a bite of each and saved room for the entree.
Items on the lunch menu had a choice of sides. I got a schnitzel sandwich (the schnitzel was perfect, by the way) and selected a potato pancake for the side (I was happy that it came with two), served the traditional way with applesauce and sour cream. I also tried a bit of hubby's ribeye soup and promptly regretted not ordering a bowl of my own.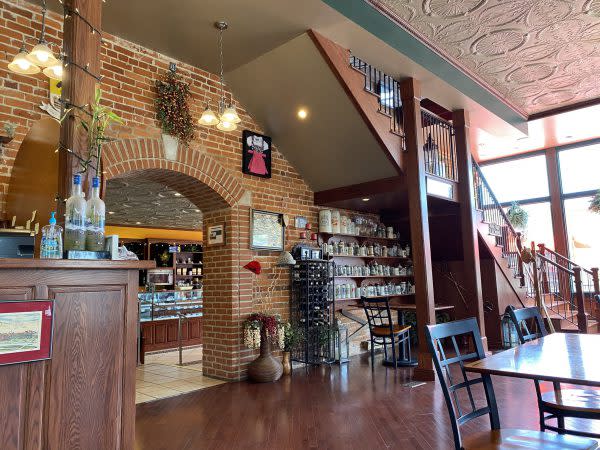 The interior of Moser's Austrian Cafe in New Carlisle.
There's a nice selection of imported beers on tap, and I opted for a Stiegl Radler Raspberry, it was delicious and refreshing and one of those beverages that could probably get you in trouble because it goes down so nicely on a sweltering summer day.
I was way too stuffed to even think about dessert but did head to Carlisle Coffee & Sweets, which is part of the same building with an open doorway connecting both businesses. They serve the strudel, German chocolate cake, and other dessert items on the menu at Moser's as well as a variety of other treats that include handmade chocolates and gelato. 
After lunch, we took a stroll down the main street, passing several adorable and charming turn-of-century homes and landing at a large open park a couple of blocks down. The historic area gives a feel of being in a different era. And a meal at Moser's absolutely transports you to a different place.
We can't wait to return to enjoy another meal at Moser's and try out some of the other German/Austrian specialties on their large menu. For more information, follow Moser's Austrian Cafe on Facebook.