Three years! For three years, I've tried to get to Dig IN, A Taste of Indiana, but always had problems. This year, it looks like I'm going to be able to go.
Dig IN is the big food tasting/"farm-to-fork" festival at White River State Park on Sunday, August 17 from noon to 5 pm. There are producers of meats, dairy, and produce from 30 Indiana suppliers, including Meat the Rabbit, Tyner Pond Farms, and Maple Leaf Farms.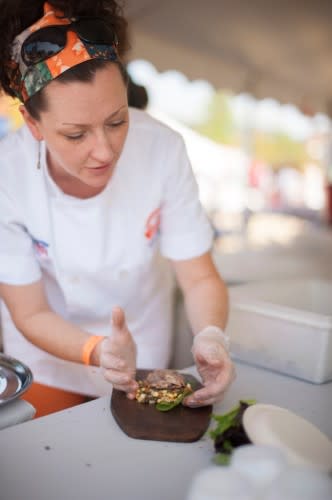 Chef prepping dish at Dig IN 2013Attendees will get to sample 40 different entrees, appetizers, soups, salads, and desserts. You'll get to meet the chef, and learn where the ingredients came from. For example, according to the Dig IN organizers, Gunthorp Farms (LaGrange) is supplying pork for six dishes, including Meridian chef Dean Sample's lamb belly sausage with caramelized onions and spicy cherry mostarda. Union 50's Layton Roberts is serving Kimchi Meatloaf with meat from Fischer Farms, while Aaron Butts of Joseph Decuis is serving Wagyu beef brisket empanadas with raisins and hot pepper.
But it's not all just meat. There's Indiana heirloom tomato panzanella salad from Tyler Herald of Napolese and Silverthorn Farm (Rossville), and honey, lavender and rosemary shortbread from Becky Hostetter and John Garnier of Duos, with European-style cultured butter from the new Tulip Tree Creamery (Zionsville).
The farms and producers supplying ingredients for this year's Dig IN are:
Anabelle's Garden
Beasley's Orchard
Bell Aquaculture
Carley Elk Farm
Creighton Brothers
Donnie Brewer
Fair Oaks Farm
Fischer Farms
Garwood Farm
Garwood Orchard
Gunthorp Farms
Heather Hill
Indiana Kitchen
Indiana Family Produce
Jacob Fisher
Joseph Decuis Farm
Maple Leaf Farms
Meet the Rabbit!
Miller's Amish Poultry
RDM Aquaculture
Russell Sheep Company
Seven Sons Farms
Shamrock Farm
Silverthorn Farm
Smoking Goose Meatery
The Farm at Circle City
Trader's Point Creamery
Tyner Pond Farm
Wildflower Ridge
And the restaurants that will be preparing said ingredients are:
18 on the Square (Shelbyville) – Southern Indiana smoked summer succotash
800 Degrees (Fort Wayne) – Wood fired sausage pizza
Artisan Foodworks (Columbus) – Duck Duck Goat! (Cheese)
Barn Brasserie (Muncie) – Pulled pork sandwich with corn aioli
Brad Gates Catering – Salad with Smoking Goose bacon and goat cheese
Caveman Truck – Bacon Hash
Cerulean (Indianapolis and Winona Lake) – Terrine of rabbit with apples and hazelnut
Circle City Soups – Beer can chicken nachos
Citizen Hash – Citizen's garden chachpa
Delicia – Goat Birria tacos
Fermenti Artisan – Cheese and pickle plate
Goose the Market – Elk in a blanket
Indigo Duck (Franklin) – Turkey trio
J Ford's Black Angus (Terre Haute) – Yankee-style pot roast
Joseph Decuis (Roanoke) – Wagyu brisket empanda with raisins and hot peppers
Meridian – Lamb belly sausage, caramelized onions, spicy cherry mostarda
Mesh – Duck confit short rib
Napolese – Indiana heirloom tomato panzanella salad
Northside Kitchen – Caja China Roasted Pork
Oakley's Bistro – Duck meatball with a corn crust and pickled blueberry freezer jam
Oceannaire – Chicken poached in smoked shrimp broth
Omni Severin – Crispy pork taco, pickled jalapeno, Napa cabbage slaw and queso fresco
One World Catering (Bloomington) – Puerco Pibil with poblano polenta and patron pickles
Peterson's (Fishers) – Lamb in an afghan
Rook – Shrimp ceviche
Scratchtruck – Pork loin, yucca-mushroom hash, blackberry mole and pickled blackberries
Second Helpings – Roasted chicken and greens
Shoefly Public House – Smoked Trout over greens
Spice Box – Lam Bam!
The Local Eatery (Westfield) – Dry rubbed mole brisket with chili spiked watermelon
Trader's Point Creamery – Candied pork belly with Indiana melon and fresh cheese curd
Valley Kitchen and Bar (Valparaiso) – Sweet and spicy chicken tacos
Wyndham West – Hibiscus shrub
And don't forget the desserts!
Circle City Sweets – Indiana fruit streusel tart with Wildflower Ridge honey
Just Rennie's – Gourmet cookies
Bee Coffee Roasters – Cherry coffee zing
Duos – Honey lavender rosemary shortbread
Natural Born Juicers – Zen and cherries
Nicey Treat – Blackberry cheesecake frozen pop
In addition to the food, Dig-IN, A Taste of Indiana will feature wine from such Indiana wineries as Easley, Huber, Winzerwald, and Two EE's. Breweries that will be on site to offers samples and sell by the glass include Sun King, Figure 8, Flat 12, Indiana City, and newcomer Scarlet Lane.
Your ticket — $35 until midnight, August 13; $45 if you buy after 12:01 am on August 14 — will let you sample one of every dish, beer, and wine in the park. You can also spring $55 for early admission at 11 a.m. ($65 after midnight on Aug. 14). Indiana bands will also provide entertainment during the food fest.
For more information, visit DigIndiana.org or call 317-363-4625.