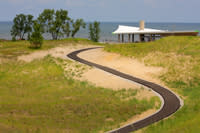 Portage Lakefront and Riverwalk is a great place to enjoy the beach or do some fishing.
I recently spent the day in Portage (where I grew up) and marveled at how much more there is to do these days.
One of our main sources of fun was always heading to the beach for a hike or to play in Lake Michigan. You can still do that. In fact, even more of the lakefront has been reclaimed for park usage in the fairly new Portage Lakefront and Riverwalk.
I hung out on the beach and caught up on some reading before going for a run along the shore.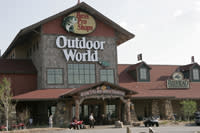 Bass Pro is more than a store. It's an experience.
Not too far from the lake is Bass Pro Shops, a huge store that wasn't there when I was younger.
With its 2 1/2-story indoor waterfall, massive aquariums and intricately arranged scenes featuring animals like a bear and deer, it doesn't take visitors long to realize Bass Pro Shops in Portage is more than a store -- it's an experience.
But if you think Bass Pro is flash without substance, note that there are  56,000 different products for outdoors enthusiasts -- everything from fishing tackle to hunting items and firearms, clothing, footwear, a nice camping department, nice gifts, home decor and food. They also have a full boat dealership and a restaurant (Islamorada Fish Company) at the store.
I enjoyed a seafood dinner in front of the giant aquariums at the restaurant inside Bass Pro, altnough I was tempted to head just down the road to restaurants like Longhorn Steakhouse and Quaker Steak & Lube. I once took some out-of-state guests to Bass Pro and then to Quaker Steak -- which is decorated with full-size cars and motorcycles -- and we sat under a car hanging from the wall. They were impressed.
After an exhausting day of running around, it was fun to sit back and catch a movie at Portage 16 IMAX.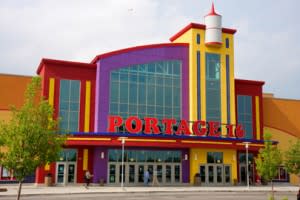 Portage 16 IMAX is a great place to catch the latest movie.
If you need another reason to head over to Portage, keep in mind that it is home to Portage Public Marina -- a great place to launch onto Lake Michigan. There are also places near the marina to rent a boat or get a guided ride.
If you're an Elvis fan, I should mention that Elvis FANtasy Fest is coming up Oct. 11-13 at Woodland Park in Portage. If features entertainment, memorabilia and more -- and it benefits Special Olympics.