Let me start by saying working at a theme park is a blast. Where else do you get to take a break and end up riding a roller coaster?
On days like that, it's easy to remember just how crazy – and wonderful - this job can be. On other days, I don't blink twice when a meeting is scheduled for Plymouth Rock Café or Kringle's Banquet Hall, rather than the standard conference room.
Here's a tale from a few weeks ago. Each year of our Happy Halloween Weekends here at Holiday World, I've been a ghost in our Graveyard Smash musical show, where we sing parodies of pop and classic rock songs. This year is no exception; but the costume got a big makeover.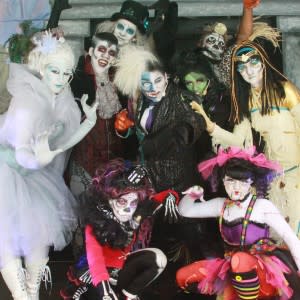 That's how I found myself toting a wig stand complete with a gloriously long and thick silver wig styled in a simple braid through the park and into my car (to restyle because my costume was starting to look like Elsa from Frozen).
It wasn't until I had almost made it to my car that I realized someone from the office might see me, and that this wasn't completely normal.
I made it safely (aka secretly) to my car, but had to snap a picture. Because who else in the world ends up sneaking through a parking lot with a massive silver wig?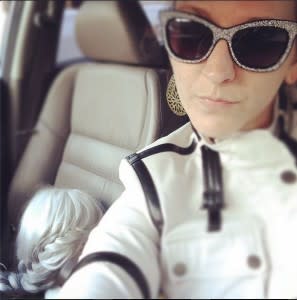 Honestly, it's a treat being a part of our "zombie show." When giving a kid a high-five can make their day, what's not to love?
To clarify – most of the year, I don't play a zombie while on the job. I'm in charge of our market research program and often spend days at a time building surveys or fixing the flawed logic I built into my surveys. (Generally this involves me, a computer, and about a hundred sticky notes. I'll look at the logic on the computer, and rearrange my Post-Its with questions on them until I figure out where my logic broke down. Expectation: CSI detective. Reality: Giant nerd.)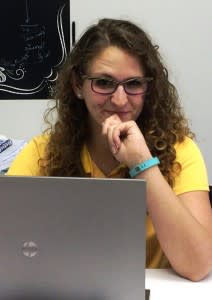 Me being a giant nerd.
My point is: it's a gift that Halloween is my chance to get back to being an active part of the guest experience – or, literally, ghost experience!
Unfortunately, though, that means I don't ever get to be a guest or an ambassador during our Happy Halloween Weekends.
My day tends to be pretty action-packed with shows, and when you're a walking photo-op, getting around the park takes more time than usual.
Our 12-acre corn maze? I've only been to the first station, and quickly had to head back out (confession: that's the most I've ever accomplished in all three years of Happy Halloween Weekends). I've experienced all of our awesome Halloween walk-through attractions such as Holidog's 3D Halloween Adventure with the exception of our new Carnival Chaos.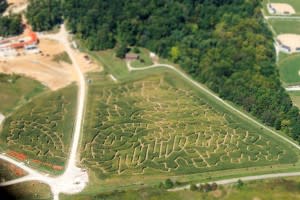 Sampling all of our new fall food is not as simple as it may sound. First, it's difficult to time out a lunch break, knowing you'll get stopped for photos on the way to get food (and on your way back— I'm fairly certain there's at least one guest from my first year of Graveyard Smash who has a picture with me holding soup). Second, when you're a ghost, you're wearing white, so you have to be extra careful (tomato soup with grilled cheese will be mine—once I find a giant bib – what's a ghoul to do?).
Despite these ghostly challenges, I somehow eventually get around to all of the food and even the mazes (and I will explore Carnival Chaos soon and will likely scream like the complete scaredy-cat I am).
If you visit us during Happy Halloween Weekends this year, please come see Graveyard Smash and say boo (and mention that you read to the end of my blog post; I'll be very grateful). I'll be the one in white, looking a bit less like Elsa than I did originally.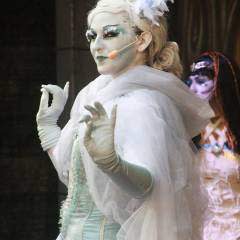 Ghost. Not Elsa.
As always, I'll be on duty for market research as well, so feel free to add any comments — especially if they include how much you love the corn maze (I was on our Corn Maze Committee!), or how much you love the corn maze photography (that was all me), or that I look like the spitting image of a ghost and not Elsa (I promise—that wasn't the ghoul, er …  goal).
Leah Koch is a member of the fourth generation of owners at Holiday World & Splashin' Safari, where she is currently in charge of market research and writes for the HoliBlog. A true Hoosier at heart, Leah grew up in Santa Claus and studied journalism at IU in Bloomington. As a result, she has two loves in life: roller coasters and IU Basketball.