After a recent trip to downtown Indianapolis with my 12-year-old daughter, and a chance to see "The Lyons" with her at the Phoenix Theatre, she asked me about the different theatres around Indianapolis. And she pronounced it with the British "re" at the end. (Not really.)
But I'm going to use the traditional British spelling of "theatre" to discuss the places where plays happen on a stage, as opposed to where movies are projected onto a screen.
As I investigated and remembered several of the different theatres I've visited over the years, I saw that there are several places for people to see live theatre in the downtown area. Here they are in no particular order: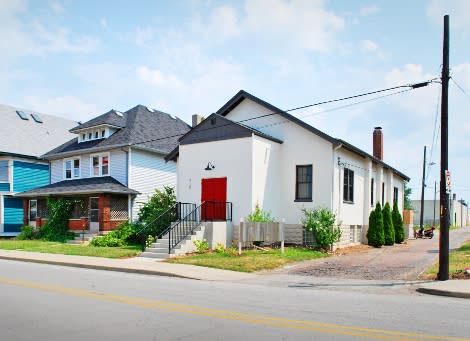 The IndyFringe Theatre Building
Indiana Repertory Theatre: This is "the" theatre in Indianapolis — the biggest stage, biggest auditorium, biggest plays, etc. They're on the corner of Washington and West, just down the street from the Arts Garden. They have three separate stages and put on 10 performances per year. Visit IRTLive.com for more information.
Indy Fringe Theatre: This one is a personal favorite, especially since I'm a big-time fan of the IndyFringe Festival each year. It's a renovated church at the magical corner of Mass Ave, College, and St. Clair Street. They show original plays, occasional modern adaptations of Shakespeare, and some of the weirdest theatre you'll see anywhere in town. If you like cutting-edge theatre, this is the best place for it.
Phoenix Theatre: One of the regular stages for the IndyFringe Festival, this is just a few blocks west of the Indy Fringe on St. Clair, and just one block west of the College/Mass Ave. intersection. The Phoenix, as I found out on my trip with my 12-year-old daughter, will often put on plays with. . . adult words in them. A lot of adult words. But these are some outstanding plays that give you pause to think, regardless of the subject matter.
Theatre On The Square: Just a couple blocks southwest of the College/Mass Ave intersection, TOTS is known for having original plays with some outrageous and adult themes. If the IRT is the home of classic plays and critically-acclaimed new plays, TOTS is its opposite, putting on outrageous satirical plays about the human condition and social morés. If you're known to your friends as a rabble rouser, this is your place for live theatre.
Cook Theatre: Set inside the newly-renovated Indiana Landmarks Center, the Cook Theatre is just finding its place in the Indianapolis theatre circle. It played host to the Indy Fringe Festival for the first time last year, and has been home to magic acts, music, and other plays. There's not a lot going on there now, but could become a stronger presence in the Indianapolis theatre scene.
Madame Walker Theatre: The Madame Walker Theatre is on the west side of downtown, on historic Indiana Avenue. It's a multi-use theatre, so you'll see musical performances, dance troupes, and live plays. I appreciate Madame Walker Theatre for celebrating its African-American heritage, and keeping the history and tradition of Indiana Avenue alive in Indianapolis.
Candlelight Theatre: This one is easily overlooked, because it's in the Benjamin Harrison Presidential Site You'll sit among original furnishings and furniture in one of the three rooms used for live performances by a resident acting troupe. The troupe performs both classic plays and originals written for the setting.
Footlite Musicals: This is a little north of downtown in Herron-Morton Place, and I found it by accident one day, which reminded me it was there. They put on Broadway musicals like Annie or The Producers. The Footlite also puts on a winter cabaret show and put on summer performances by Young Artists Productions. Find them at 19th and Alabama Street.
Young Actors Theatre: This is one that's often overlooked, since it's "just for kids." However, these are kids dedicated to the craft and tradition of live theatre, learning in plays throughout the year, and summer workshops. If you want to see where Indy's actors are coming from in 2023, go to YAT today. Young Actors Theatre is at 401 East Michigan, at the New Jersey/Mass Ave intersection, just a couple blocks southwest of TOTS.
The Old National Centre (formerly The Murat): I hesitated putting the Old National Centre on the list, since it's primarily a concert venue. But it's hosted major plays in the past, such as Wicked a few years ago. It's just right across the way from YAT, at 502 N. New Jersey. You can see it if you're standing with your back to the Athenaeum.