Since 1944 Gray Brothers Cafeteria, located just eight miles south of 465, has been serving home cooked meals and dessert (I recommend the peach cobbler, but we'll get into that later!). My husband has ranted and raved about this place since we were dating. But to him, and all the locals, it is simply Grays. A staple in his childhood. A place he worked in high school. And a delicious restaurant.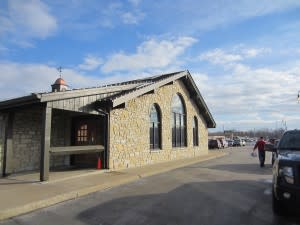 We went recently and thankfully got there in the middle of the afternoon. Trust me, I've gone plenty of times when the line snaked all around and out the door. Well worth it, but quicker to go on an off peak time!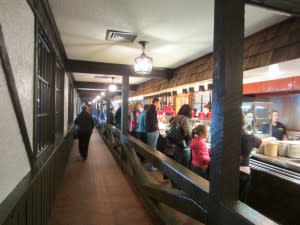 Now if you are like me, cafeteria style restaurants are a bit dangerous. It all looks so good. Your eyes are bigger than your stomach and before you know your tray is tipping over. I have to limit myself to a certain number of things or I will go overboard! I controlled myself just a bit this time (pictures shown are of others in my party and not just my food).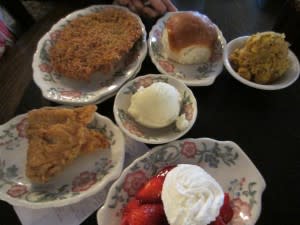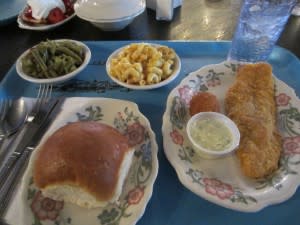 I'm going to recommend the catfish (see it there on the right?). Yum. But, the tenderloin, fried chicken and mac and cheese aren't bad either.
As for dessert ... we are a house divided. My husband swears by the strawberry pie and for the record, I don't disagree I just prefer the peach cobbler. You can't see it in the picture because those Grays' employees are geniuses. They put in a bowl, covered with another bowl to keep it nice and warm until you are ready to eat it. Love it.
The dining room is spacious and has several fireplaces which add to the homey effect.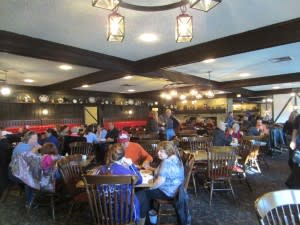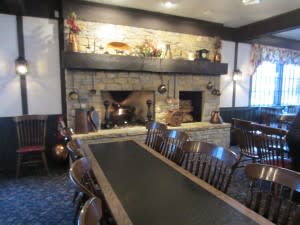 Now, if you are in a hurry, have no fear. They have a completely separate entrance and line for those carry out orders!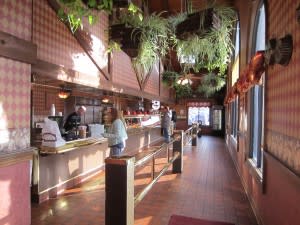 I make one promise to you ... you won't leave hungry from Gray Brothers Cafeteria.