I finally got to visit my very first Dig IN, the Indiana food and drink celebration held every year at White River State Park. I've been given media passes for the last three years, but because it happens on the same day as the Indy Fringe Theatre Festival and the last weekend of the Indiana State Fair, I've had to miss it.
This time, I held off any and all plans for the day, and got there at 10:30, in time for the VIP check-in. In fact, I was a little early. They let me in, and I talked with a few friends I knew who were working there for the day.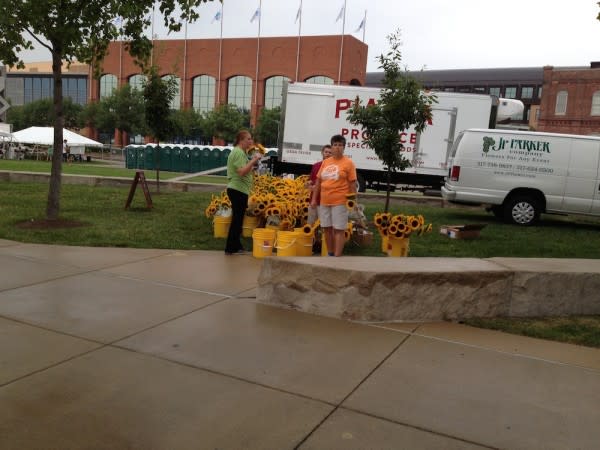 Setting up. There were sunflowers everywhere.
Being an unapologetic carnivore, I headed straight for every booth that promised any kind of meat dish. I tended to skip some of the veggie and vegan booths, although I did have a few, just so I could report back to my wife that I ate all my veggies. Even the veggie dishes were very good, although I definitely ate my fill of the different meat dishes.
The way the program works is you're handed a bi-fold card, with every restaurant and chef on the list (as well as all the wineries and breweries). You visit each one once, and they'll mark their spot on your list. That means you can't go back for seconds.
Sort of.
At the bottom of the list, you have six bonus items. You can go to any five restaurants a second time. Or go to one restaurant five more times.
I almost did that, visiting the Meridian Restaurant booth for my first visit, and then four more after that. By my second visit, they recognized me — more like the longing and pining in my eyes — as I went back for one more bite of their exquisite lamb belly sausage with caramelized onions and spicy cherry mostarda.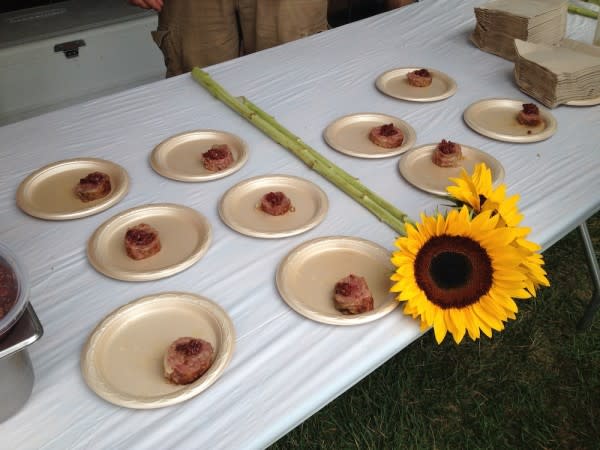 Lamb sausage and spicy cherry mostarda
"Holy crap, that's amazing!" I nearly hollered, with my mouth full, after my first try. It came out "howy cwap, bat amading!" But they knew what I meant. When I finally swallowed it, we chatted for a few minutes, and they told me about the dish. They also told me I could come back, which is when I learned about the bonuses.
I also tried rabbit for the first time with rabbit terrine from Cerulean (which has a restaurant in both Indianapolis and Winona Lake). It was actually very good, almost like a less strong pork. I'd eat it again.
Chef Jeff Ford of J. Ford in Terre Haute represented his city with a Yankee pot roast on dinner roll sandwich. I'm particular about my pot roast — only two people I know make it the way I like it — and I added Chef Jeff to the list with this entry.
I also had Korean kimchi for the first time with Union 50's Kimchi Meatloaf. A bit of heat to it, and it was well worth it. Not spicy to make me reach for one of the many beers available, but enough for me to raise my eyebrows in appreciation (not wanting to talk with my mouth full, like I had just done moments before at Meridian).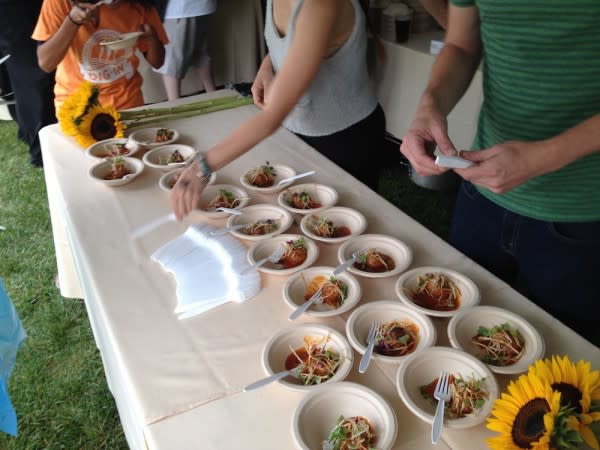 Korean Kimchi Meatloaf
You can always count on Goose the Market to have some interesting meats on hand, and they demonstrated their flair for the flesh with an elk in a blanket. And Delicia wasn't far behind, with their goat birria taco. Unlike the rabbit, this was not the first time I've had goat.
My favorite dessert was Duo's honey, lavender, and rosemary shortbread. I'm always a fan of the Scottish style biscuit, and Duo's entry was as good as any Celtic cookie.
As far as beers went, I couldn't go wrong with TinMan Brewing Apricot Sour, which I'd actually had the previous week on a trip to Evansville. So I had my sample, and even bought a pint for $5.
Now that I've finally visited my first Dig IN, I'm definitely heading back next year. I'll make sure my calendar is clear enough that I can juggle the Indy Fringe Festival and Dig IN without feeling too guilty or overrun. (And if I do, maybe I'll just have a second Apricot Sour beer to relax.)
Notes for next year's Dig IN
Go with friends, and share the experience. I went by myself, and didn't have anyone to talk to or compare notes with. This is a definite group outing.
Be sure to listen to the music. If you want to take a few minutes and rest your feet, sit in the music area and listen to the great bands and artists they bring in. Good food, good drink, and good music are a great way to spend a Sunday.
Take a designated driver, just in case. You'll be hard pressed to have too much on the samples they give, but if you find a favorite beer or wine, you can buy a full glass or three to have with your samples.
Consider going to the VIP experience. You get in an hour earlier (11:00, not 12:00), and you can beat the crowds. You'll get a lot of tastings in before the crowds show up. I was in by 11:30 and out by 1:00 because I was looking at 10 - 15 minute waits in some lines. But that wasn't surprising, because there were already 300 or more people in line for the general admission when I got there at 10:30.