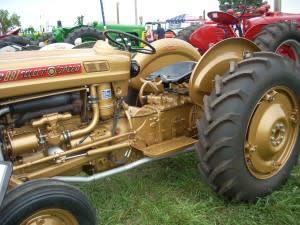 Gold 1959 Demonstrator Ford 881 tractor on display at Greensburg Power of the Past.
I admit, I didn't think I'd really enjoy attending the Greensburg Power of the Past show this past weekend.
I mainly went because my husband was raised on a farm and I thought he would enjoy seeing tractors and other old and antique farm implements (some a century old!) that his family might have used. I don't mean he's a century old-- far from it!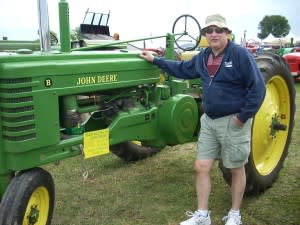 My husband enjoyed viewing tractors he had used while growing up on a farm.
It was the first power engine show for both of us. After parking our car at the Decatur County Fairgrounds, we walked among the dozens of tractors of many makes and models parked in rows. Some tractor owners drove their vehicles among the rows during the day. No offense to the others, but this little guy was the cutest one!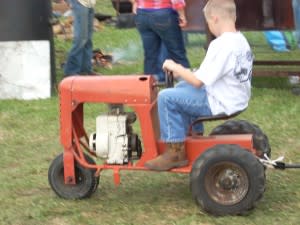 Future farmer of America!
As I had hoped, John enjoyed seeing tractors he and neighbors had owned. But there were special surprises.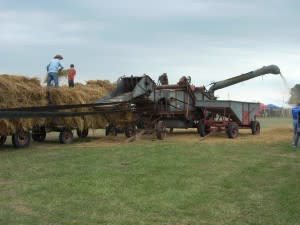 This threshing machine was impressive!
We saw a threshing machine in operation with a huge amount of straw to be fed through. Somehow the machine separated the grain from chaff and spit them out into piles. Threshing was something I had heard of and read about in history books. It was cool to see it – and hear it! The thresher is loud!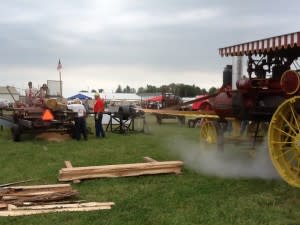 Creating rough-hewn wooden planks is hard work!
Another interesting antique machine was a log planer. Using huge pieces of logs, a group of men slowly fed the logs through the machine, creating rough-hewn planks. It looked like a cumbersome process. Still it was an impressive demonstration and educational which I appreciated.
Smaller old-fashioned machines that attracted our attention was a washing machine and corn peeler, the latter of which was an invention of which I didn't even know of!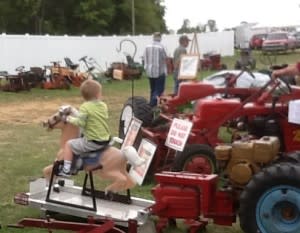 A steam-powered rocking horse!
Ultimately, this was my favorite way to watch steam power something. This little guy could have ridden to California and back without tiring out his horse!
We had a wonderful day and created good memories. Even people who don't have an agricultural background would enjoy the Greensburg Power of the Past show, male & female and young and old. Next year when the Decatur County Power Engine Show occurs, I encourage people to visit it and learn about the past!
Show Admission:
$3 per person
12 and under free
Greensburgpowerofthepast.com
VisitGreensburg.com
Kayleen Reusser received complimentary goods or services from the organizations that were the subject of this blog post in exchange for blogging services.