I was in the Northern Indiana town of Griffith recently for the first time in a while and was reminded of what a great job they've done in revamping their downtown. The three unique restaurants and three craft breweries below make Griffith a haven for foodies and craft beer lovers.
Grab a Bite My husband is a member of the Griffith Izaac Walton League and when we head there, our route takes us through the downtown area where I could easily spend a full day. Two places I always gravitate toward are foodie stops - Grindhouse Cafe and Charcuterie.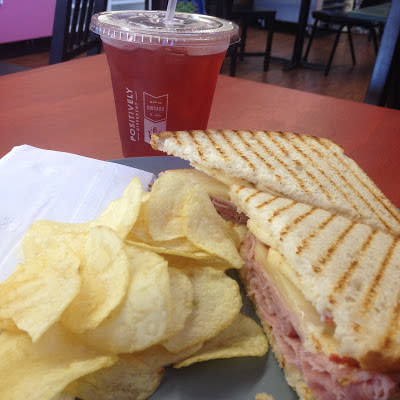 The Grindhouse Cafe in Griffith offers a wide selection of coffee and tea drinks, breakfast sandwiches, paninis, salads, scones and more.
Grindhouse is a fun and funky coffee shop and cafe where you can have lunch with friends, sit for a while and chill with a latte or a nice brewed tea or hunker down at a corner table with your laptop to get work done while noshing on scones, cookies or other goodies. I tend to order the same thing on each visit because I love it so much - the Croque Grindhouse, a panini that includes ham, herb dijon mustard, Swiss, provolone and thinly sliced apples on sourdough - but I have occasionally ventured out to other sandwiches and they're all pretty fantastic. They've also got some salads on the menu and I've never been there early in the morning, but they are open early and offer breakfast sandwiches, too.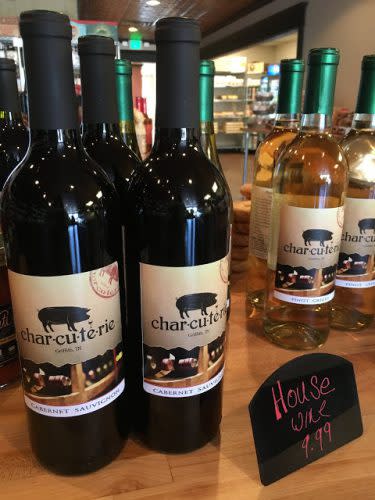 A cozy gourmet shop in downtown Griffith called Charcuterie carries local products, gourmet imports, a deli counter, house wine and more.
A few doors down is Charcuterie, a lovely little gourmet shop that moved in about 3 years ago and continues to evolve and expand. They offer a number of specialty food times and local favorites (like Sprigati Sauce, biscotti from the Gourmet Goddess and Big Guy Barbecue Seasonings). There's also a nice deli selection and you can order a freshly made sandwich to enjoy at a small seating area. They've also recently added a small bar area and they'll now be doing some wine and cheese tastings and have hired a chef and started doing parties and dinners where they move out the retail tables and make the store into a dining area.
Explore Craft Breweries Griffith is also THE spot to visit if you are a craft beer fan. There are two craft breweries in Griffith, one right in the downtown area and one just outside of downtown. They each are unique and have a different vibe, but both have awesome beers. I suggest bringing a DD or using Uber and hitting both on a trip there. Each also offers food. New Oberpfalz Brewing has the vibe of a German beer hall with a lot of German-inspired brews. Wildrose Brewing features American-style beers and has a large outdoor patio. Griffith is the perfect destination for a day trip or weekend getaway if you are a beer lover.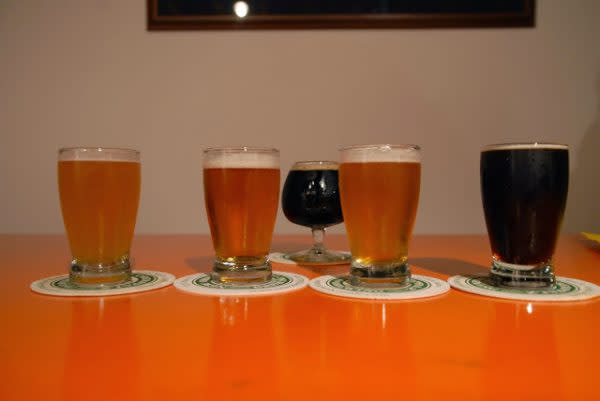 Beer flights can be enjoyed at the three craft breweries in Griffith. Pictured are brews from New Oberpfalz, which specializes in German ales and pilsners.