Last year I visited Holiday World during their Happy Halloween Weekends and just knew I had to go back this year.
A year ago, we jam packed one day full of fun, but this year were wise enough to give ourselves a little more time to enjoy the park, so we went for two full days. And to be honest, there were even a few things we didn't get to ("for next year" said my sister-in-law). Let me outline a few of our favorites of the festivities:
Trick-or-Treat Trail - offered both days (at slightly different times), kids 12 and under can get a good bag and make their way down the trail to gather some special treats!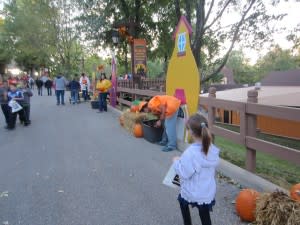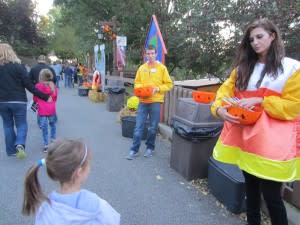 Corn Maze and Activity Trail - I didn't make it to the corn maze last year so it was on my must do list this year. I'm happy to report the Lamberts made it through in less than 45 minutes with punching all eight punches (and got a free glow stick!). Not too shabby.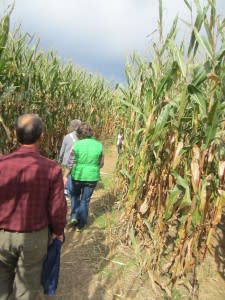 Your reward for heading down to the corn maze is the other activities to do. Like the activity trail (which includes a "sand box" of corn) ...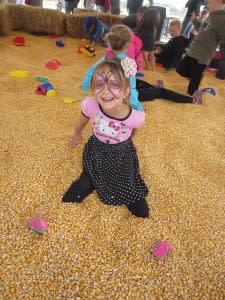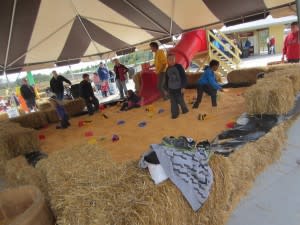 And if you hit the timing right, you can watch Chainsaw Willy make these masterpieces!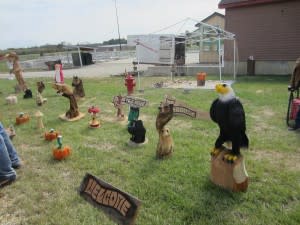 Holidog's Fun Town - If you have smaller ones, you MUST go here. Rides, a huge play ground and more!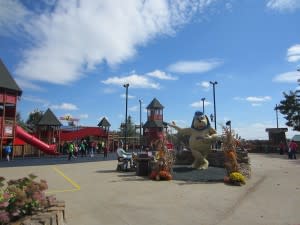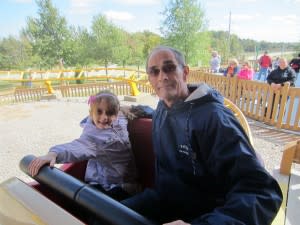 Carnival Chaos - I didn't get any pictures of this, but we went through at least FOUR times. Carnival Chaos is new this year and I must say they outdid themselves on carrying the theme out. Nice job, Holiday World!
Holidog's 3D Halloween Adventure -  Another must see. Just fun all around.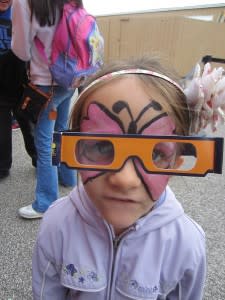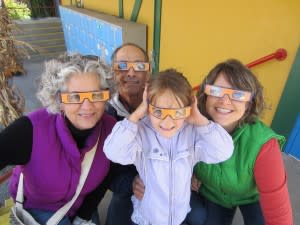 When you aren't at the park, I feel the need to make sure and mention our lodging of choice this year - Santa's Cottages.  Our first stay here and we will definitely be back!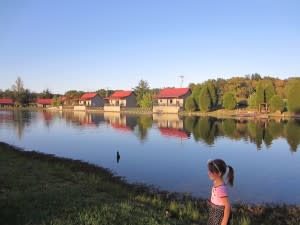 The cabins are clean, nice, not too big and right on a small lake where you can fish, feed ducks and just enjoy the scenery.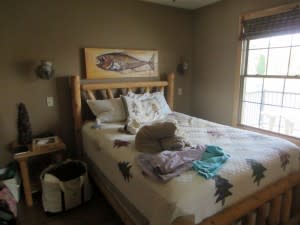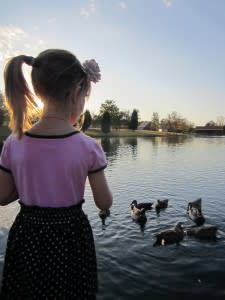 Oh ... and I can't forget the Santa Claus Christmas Store. Located right downtown my daughter has picked out her annual Christmas ornament two years running. Why? Because they literally have ANY ornament you can think of! Not to mention you may run into Santa!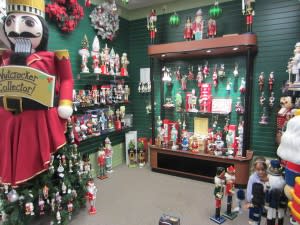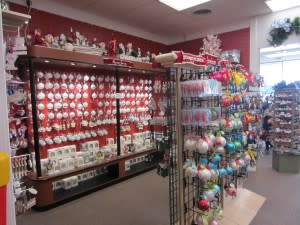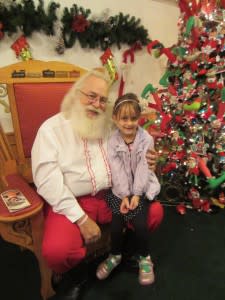 So here's the kicker, Happy Halloween Weekends only happens for three more weekends this year. Buy your tickets now! You don't want to miss this fun. And for more attractions in the area, be sure and visit Spencer County Visitors Bureau.
Until next year ...