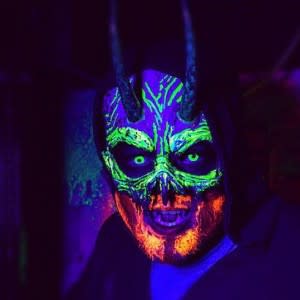 It's that time of year when there's a chill in the air – a spooky, fun-filled chill for thrill seekers!
This thrill-seeker can recommend haunted activities located in northern Indiana. I dare you to check them out this Halloween!
Hysterium
For Halloween aficionados with an affinity for interactive entertainment, Hysterium in Fort Wayne is the place for you!
Hysterium (a.k.a. the Haunted Asylum) is a venue where customers play Escape Challenge in groups to escape from the Asylum and its creepy patients.  There are rewards for succeeding, so bring your bravest friends and get ready for some creative fun this Halloween!
When:  Fridays & Saturdays through 10/31, 7:00 pm; also 10/15, 10/22, 10/29.
Where:  4410 Arden Dr., Fort Wayne
Check out Hysterium's website for game and coupon details. It will be worth your trip!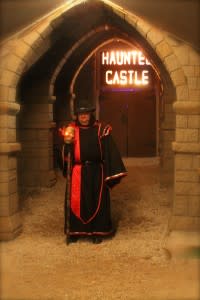 Haunted Castle & Black Forest
As a kid, I visited the Haunted Castle and Black Forest in Fort Wayne with friends and had a blast! We scared ourselves silly with the thrill of the unknown around every corner and sometimes running for our lives! Thankfully, these experiences are still available for preteens and older kids.
When:  Thursday & Sunday, 7 – 9 pm., Friday & Saturday, 7– 11 pm.
Where:  1720 E. Wallen Road, on the city's north side.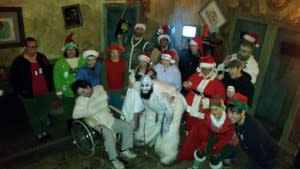 Haunted Hotel
I went to Huntington's famous Haunted Hotel last year for the first time and regret not doing it in years past!
Proprietors aim for thrilling customers with little gore, heavy on atmosphere. They do it well with strobe lights, florescent décor, and actors with vibrant, glowing costumes. Thrill-seekers wear 3-D glasses for an enhanced experience!
When:  Fridays and Saturdays in October, 7 pm – 11 pm.  Also Thursday, October 29th, 7 – 9:30 pm.
Where:  511 N. Jefferson St.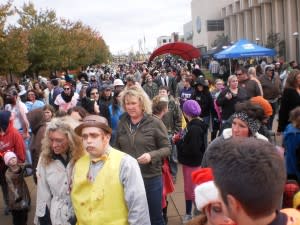 Fright Night
Fort Wayne's annual spooky celebration, Fright Night, is nearly upon us. This is one of the most anticipated downtown events of the year and believe it or not, it is a family-friendly night of entertainment.
Spooky events include the Zombie Walk – be prepared for hundreds of participants who walk the downtown streets of Fort Wayne mimicking dead figures.
The haunted tour of the Embassy Theatre. Is also family-oriented, as is activities at the Community Center and Botanical Conservatory.
I look forward to Fright Night because it's a safe way to celebrate the holiday en masse. Some events begin in the afternoon and finish by early evening.
When:  Friday, October 17, all day
Where:  Various places downtown Fort Wayne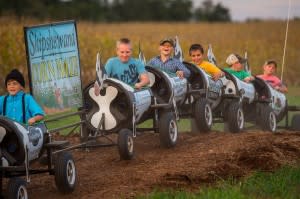 Haunted River Walk & Maze
One of northern Indiana's most popular tourist towns, Shipshewana, offers a cool haunted corn maze and family-friendly fall farm activities. A new fall attraction in the area is the Haunted River Walk. Could dead bodies rise from the water as we tread the foot paths? Freaky!
When:  October 2–31, 8 pm - midnight
Where:  T & L Country Canoes, 5775 W. 750 N., Shipshewana