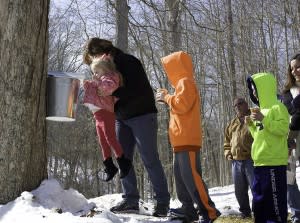 Photo by Shirley Lance, courtesy of Brown County Photography Club
My kids never knew this, but our vacations were designed to have an educational element. That was never truer than at the National Maple Syrup Festival in Medora.
It was great fun as we watched sap being drawn from maple trees and listened to people describe the syrup making process. We finished the day with a hearty pancake-filled meal, which was some of the most richly flavored syrup I had ever tasted.
While eating the pancakes was fun, seeing sap run from the trees and then go through the evaporation process to have it turn into delicious syrup was teaching the kids lots about science. Yes, science can taste good!
In 2015 National Maple Syrup Festival moved its location from the town of Medora, to Nashville, Indiana. It is still being held on the first weekend on March 5-6.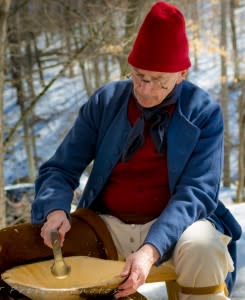 Brown County is home to a wide variety of maple trees in Indiana's most densely forested county so it makes sense to host the National Maple Syrup Festival there.
There is so much to do at the National Maple Syrup Festival that you'll want to study the website first to make a schedule.
Festival headquarters will be at the Brown County State Park at the State Park's Lower Shelter. There kids can learn about the maple sap-to-syrup process with step-by-step lessons.
The Maple Syrup Challenge obstacle course sounds sticky but fun. (Maybe taking a container of wet wipes just in case of messy fingers would be a good idea).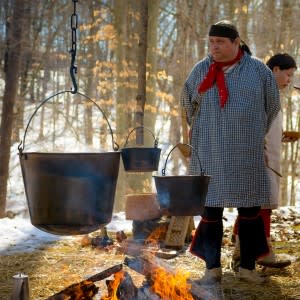 I plan to talk – or at least try to talk -- to Native American and French Colonial re-enactors from the 1780s and 1790s. They will demonstrate maple sugaring techniques from their era. I love re-enactors! They're friendly and stand still for lots of my photos.
There's even a maple syrup recipe contest at the Abe Martin Lodge on Saturday in which contestants submit yummy creations made with – you guessed it—maple syrup! Please, can I be a judge?
Of course, one can't be in Brown County and not take part in an interpretive hike. Guides will explain the differences between the different maple trees and answer a multitude of questions. At least that's how many I'll probably have for them.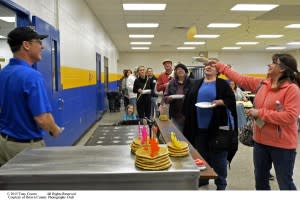 We all know what all of these activities are leading up to. Expending all of that energy will require a fill-me-up, i.e. hearty pancake breakfast.
The Brown County High School Student Council is serving a delicious all-you-can-eat hotcake breakfast on March 5 and 6 at Brown County High School from 8 -11 a.m.
Tickets to the breakfast are $8 for adults and $5 for children ages 3-18, or $30 for the entire family. Children 2 years and younger are free. Tickets are available online or can be purchased at the door.
There will be syrup sampling and opportunities to purchase souvenirs at the Maple Market. If the weather is cool, live acoustic music and food, all under a heated tent, will feel good.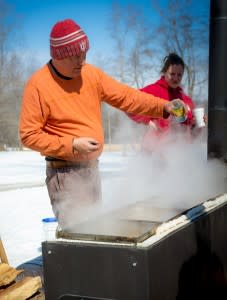 The National Maple Syrup Festival will take place on Saturday, March 5, 9 am – 5 pm.
Sunday, March 6, 9 am – 3 pm.
Weekend admission is $10; children 6 and under are free.
Insider tip: Park in town and board the Maple Motor Coach for a park tour ending at the Festival gates. Minimal parking will be available in the State Park.
Tickets can be purchased online at the Festival gate, or in the Visitors Center.