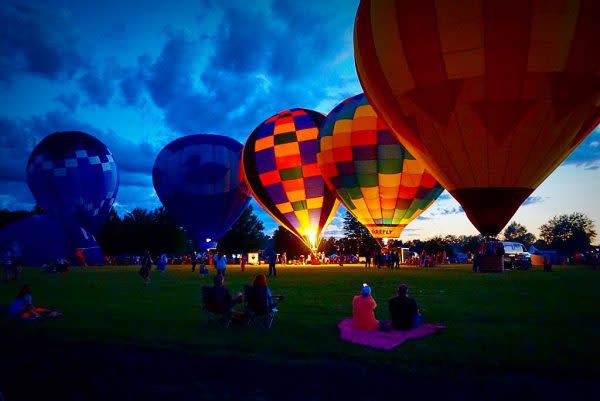 So, school is out, and your family is considering options to keep the kids active while making memories during summer break. Well, that perfect getaway may be closer than you think and more affordable than ever. Make it a Hendricks County summer.
Why spend tons of money on gas or flights and ridiculous admission prices just to wait in long lines or fight crowds? I have a better solution. How about an off-the-beaten path destination with friendly people and plenty of amenities at a more platable price?
You can find all that and more in Hendricks County, Indiana, a western suburb of Indianapolis. In fact, we have made it easy to plan your summer vacation here.
I could go on and on about why you should consider Hendricks County, but here are the top four reasons: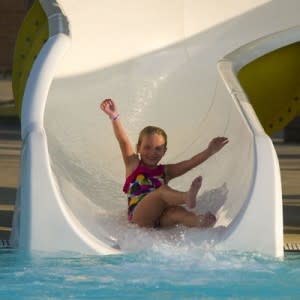 Another satisfied customer at Splash Island Family Waterpark
Family Fun
We pride ourselves on our family offerings. While we have plenty to do for everyone, we shine at providing family activities that make lasting memories.
One of our most popular summer attractions can be found at a Caribbean-themed outdoor waterpark in Plainfield. The 4 1/2-acre Splash Island Family Waterpark, which is open Memorial Day through Labor Day, boasts three waterslides, a 900-foot leisure river, lily pad crossing, two pulsating vortexes, two springboards, a lap swimming area and a zero-depth entry, interactive children's play area with kiddie slides, water jets, ropes and guns.
Some of our other top summer attractions include McCloud Nature Park, The Tie Dye Lab and Natural Valley Ranch. And that just scratches the surface; you can click here for even more options.
Food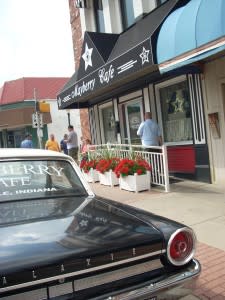 Barney's squad car sits in front of Mayberry Cafe.
You will not starve in Hendricks County. With so many options, deciding where to go or how to visit every eatery poses the biggest challenge.
Any visit here should include a visit to The Andy Griffith Show-themed destination restaurant, The Mayberry Cafe. Kids especially will enjoy this restaurant as they can become a member of Opie's Kids Club in which they receive a token if they clean their plate that can be traded for ice cream or a toy.
For everyone else, think comfort food at its finest with non-stop episodes of the show running on TVs that can be seen from any spot in the restaurant. Throw in some fried chicken you swear Aunt Bee made herself and some down-home Hoosier hospitality, and I think you get where I'm going.
But indulging in Hendricks County's culinary offerings doesn't end at the Mayberry. Other musts include the iconic Oasis Diner, Perillo's Pizzeria and Bread Basket Cafe & Bakery. For even more options, click here.
Festivals
Summer wouldn't be summer without festivals, so a good strategy might include planning your getaway to coincide with some of our most popular events. Some of those include: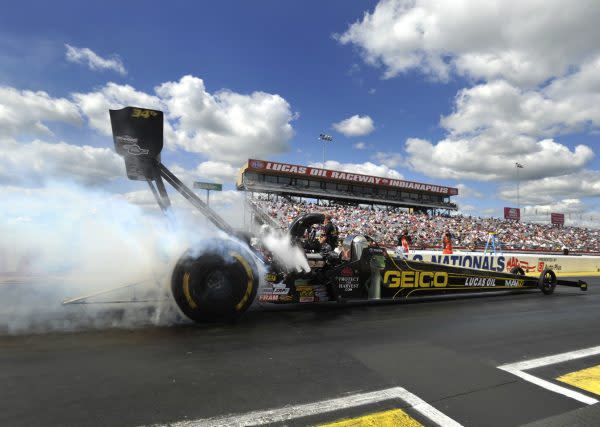 Top Fuel dragster burns out at the start line.
Hendricks County Rib-Fest & Avon Balloon Glow - Held the last Saturday in June every year, this one-day festival makes the short list of summer must-see festivals. Great food, inflatables, live music, a 5K run, tethered hot air balloon rides and a balloon glow capped off with fireworks after dark make for a fun and memorable experience.
Cheverolet Performance U.S. Nationals - Hendricks County finds itself in the heart of motorsports country, and there is no bigger drag racing event than the one found here every Labor Day weekend. The greatest racers in the sport compete in the most prestigious event on the circuit providing heart-pounding action where every ticket doubles as a pit pass in the most family-friendly major sporting event you will find.
North Salem Old Fashion Days - Also on Labor Day weekend, but at a much calmer pace, you can experience true, small town Americana at this event that includes a pizza-eating contest, tractor and truck pulls and a bed race down main street.
For more information or to find more family-friendly summer events in Hendricks County, click here.
Location
Next to the money you will save by choosing a summer vacation in Hendricks County, our location in Central Indiana remains one of our best attributes.
I-70 and I-74 pass through our county, and we have numerous hotels at exits on each of those interstates. The Indianapolis International Airport sits on our county's border. And if you want to extend your stay or run out of things to do here, Indianapolis and all of its amenities remain just minutes away.
So we encourage you to think outside the box this summer and consider a trip to Hendricks County, Indiana. You can start your summer vacation planning right here.