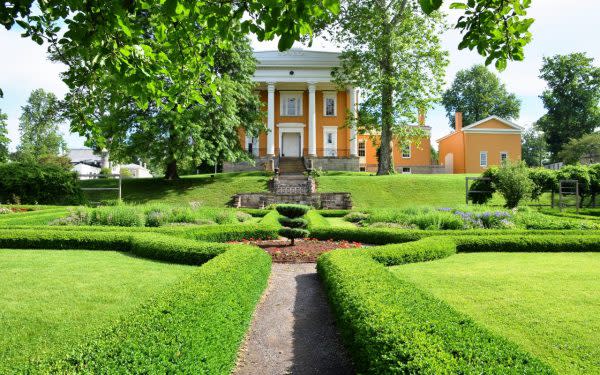 OK, after visiting Historic Madison, located approximately 75 miles south of Indianapolis, I can see why it has received so many accolades.
According to the town's tourism website (VisitMadison.org), the small town has been ranked #4 in top 100 places to visit in the Midwest. Add to that one of Indiana's top 10 most exciting places and its listing in 1,000 Places To See Before You Die in Canada & North America.
If that doesn't make you want to put Madison on your must-do list as a place to visit this summer, I don't know what does!
You need more convincing? Let's talk history and architecture. This town has it in abundance!
Madison is one of the nation's largest historic districts. While visiting the area, you'll see structures that belong to the Federal, Greek Revival, Italianate, Second Empire, Gothic Revival and Arts and Crafts styles.
Lanier's spiral stairway is dizzying!
Some of the most charming historic homes you're apt to find in our fair state are located in Madison. When prosperous lawyer, banker and railroad financier James Franklin Doughty Lanier built his Greek Revival home in Madison on the banks of the Ohio River in 1844, he made it one of the finest homes in the area.
The Lanier features a cool spiral staircase. The back of the house looks out on the Ohio River, formal gardens and stone fence. The appearance is so elegant that weddings are conducted there.
Today The Lanier Mansion is one of three National Historic Landmarks in Madison. Guided tours are offered April through October. You may want to call ahead and arrive early as only a limited number of people are allowed on each tour.
While you're close to the Lanier, stop by the Visitors Center, 601 W. First Street, in Madison. It has a full selection of souvenirs to take home of your great visit to Madison. The staff can help arrange tours and answer questions about things to do in the area.
You want more than one gorgeous mansion to make your trip worthwhile? How about 133 on the National Historic Register of Historic Places? Wait, that's not just 133 houses – that's 133 blocks of buildings on this register. Wow!
The homes are truly some of the oldest in the state. Madison was founded in 1809, making it older than the state of Indiana, which celebrated its bicentennial in 2016.
The town on the river flourished during the early part of the century when the Ohio River brought trade and visitors to the southern part of the state.
Citizens of Madison became certain their beloved city would become the next state capital. They began preparations for increased traffic by widening city streets to boulevard size.
When the railroad ran north of Madison, that meant fewer people and less commerce traveled by boat. When Indianapolis was chosen to succeed Corydon as the capital, Madison became a sleepy little river town, nestled among the southern Indiana hills.
Thankfully, in 1960, a group of citizens in the area started restoration efforts by creating the nonprofit group Historic Madison. Their efforts to buy and restore 19th and 20th-century buildings in town were so successful that, in 1976, the town was chosen to participate in the National Trust for Historic Preservation's Main Street Pilot Project. You can learn more about Historic Madison, Inc. 
Today, you can't help but be struck by Madison's cozy feel. The numerous shops in the downtown area are small and fetching, stuffed with friendly folk who, if they can't please you with something, will recommend another shop down the street.
One blog post can't cover everything to see in this quaint town so I'll finish up with a related post soon. Until then here are some highlights.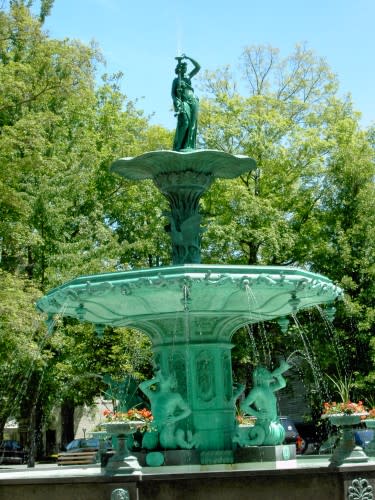 Broadway Fountain was part of the Centennial Exposition in Philadelphia in 1876.
The Broadway Fountain, originally cast in iron for the Centennial Exposition in Philadelphia in 1876, was recast in bronze as a community Bicentennial project in 1976. This is a fun place to sit on a hot summer day and be spritzed by the water!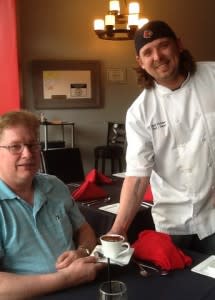 Creme Brulee at Crystal & Jules is worth the calories!
It didn't take much coaxing to convince me to try Andy's Crème Brulee, a  popular dessert at Crystal & Jules. Talk about velvety smooth!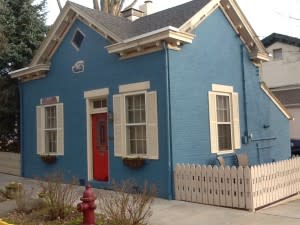 Staying at A Garden Cottage was cozy and comfortable.
We could / should have walked to our accommodations after our meal, but we drove the couple of blocks to A Garden Cottage  on W. Second St. It was not hard to find with its bright blue exterior. Inside we found a modern, comfortable overnight area with sofa, kitchen, full bath and bedroom. A light rain lulled us to sleep.
I should mention Clifty Falls State Park is just a few miles away, but we didn't make it there. That will have to wait for another trip to Madison which will be very soon!
The End