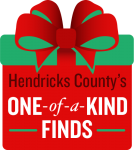 Often holiday shopping entails fighting the crowds in the big box retail stores on Black Friday or sitting in front of your computer, this holiday gift guide is a much better option.
Each holiday season, members of our staff at Visit Hendricks County explore all of our locally owned shops in Hendricks County and on our Rural Routes to Main Street Cultural Trail looking for one-of-a-kind finds. You know; those unique gifts typically made by hand that can't be found inside Walmart or on Amazon.
Our Visit Hendricks County One-of-a-Kind Finds Holiday Gift Guide focuses on shopping local and supporting small business, and we easily found 40 gifts at more than 30 locations for men, women, children, stocking stuffers; and we added a new category this year: gifts under $10. Besides all of the handmade gifts, we also found experiences that you can give or even enjoy with a loved one.
I will highlight just one gift in each category here, but would encourage you to check out our online gift guide to see and learn more about all 40 gifts including cost, insider details and more. Yes, we've done all the work for you.
You can also watch us on Facebook as we go live at 12:15 p.m. EST every Wednesday through Dec. 20 highlighting each gift on location and having some fun along the way that may or may not include costumes, santa hats and ugly sweaters. If you miss or can't watch us live, you can also find our videos here.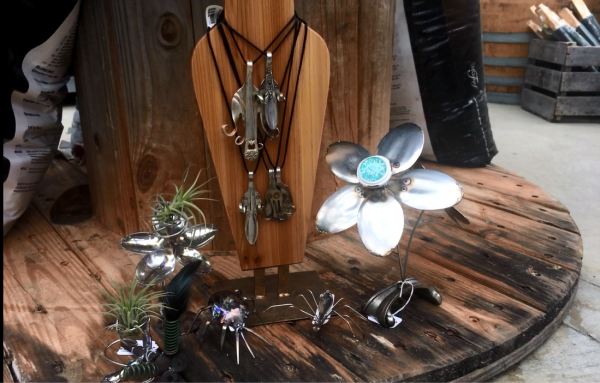 Frazee Gardens in Brownsburg has an entire section of local artist creations in its large gift shop.
For women, we found these amazing necklaces made out of antique silverware made by local artist Sheryl Penrod at Frazee Gardens in Brownsburg. The creativity blew us away. I mean who would come up with the idea of turning old forks, spoons and knives into jewelry? But she pulled it off. Click here to see our other finds for women.
For our new category of gifts under $10, we uncovered an item that you probably wouldn't consider giving as a gift, but maybe you should. OK, we found goat milk soap, but give me another paragraph to explain.
We encountered an amazing story behind this soap as a local Plainfield family makes each bar by hand and initially used it to help with adoption expenses as they planned to adopt a sibling group of five from Columbia.
People who use the Global Goat Soap swear by it, and it comes in many varieties and scents. We discovered it at Big Tuck's Feed & More in Pittsboro and Frazee Gardens in Brownsburg. Click here to see our other gifts under $10.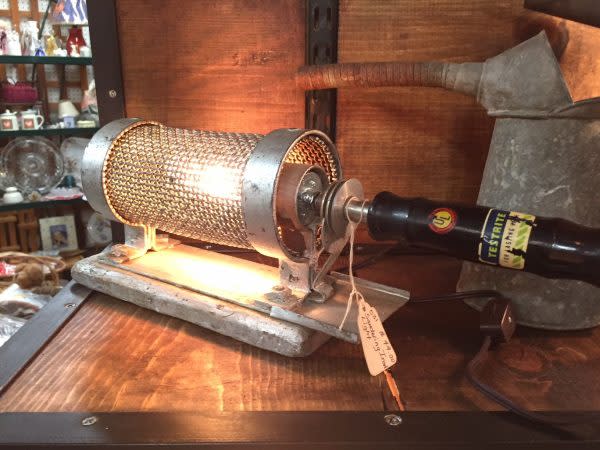 We found light fixtures made from repurposed antiques at Gilley's Antique & Decorator Mall in Plainfield.
Any man would love the amazing light fixtures we discovered in Gilley's Antique & Decorator Mall in Plainfield. Great for any man cave or garage, we found lights made out of numerous antique tools and appliances. Again, more creative minds than mine see potential in what you or I may view as junk. Click here to see our other finds for men.
The kids category can often by tough for us, but not this year. We found a twist on an old board game in a surprising location. Called Yardzee, a local woodworker has created a super-sized Yahtzee game with giant dice made out of wood.
It includes a handmade carrying case, four giant laminated Yahtzee cards and a dry erase marker and would be perfect to play indoors or out. We found this great gift at Pakmail in Danville of all places, and they even had more handmade gift ideas inside their store. Click here to see our other finds for kids.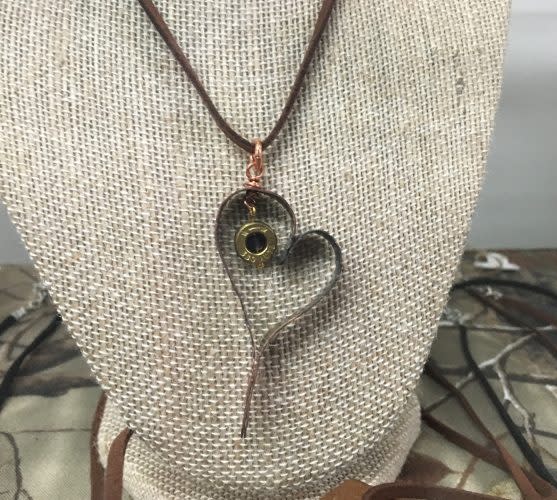 This On Target jewelry made from bullets and more can be found at Gallery on the Square in Danville.
Finally, for stocking stuffers, we found some amazing handmade jewelry and ornaments using bullet shells and casings at Gallery on the Square in Danville. I would have never dreamed that a bullet could be so beautiful, but these hit the mark. If they hadn't told us, we probably wouldn't have realized they used bullets to make them. Click here to see our other stocking stuffer finds.
We found it so tough to choose just 40, so I would highly encourage you to visit these shops because once inside you just might find that perfect gift for a special someone that we left out.
After exploring each of these stores myself, I can tell you the adventure and journey makes this holiday shopping experience much more significant. I encourage you to not just shop but meet and talk to the shop owners. You might just be speaking with the artist who created everything in that store.
Learn about their passion and what makes every piece so special, and I promise the extra work and time who spend "shopping" will not only be fun but meaningful this holiday season.
Link to the Hendricks County One-of-a-Kind Finds Interactive Holiday Gift Guide.