Even though the weather has been unseasonably warm here in Santa Claus, it still seems pretty outlandish to be making plans for April 25.
At Holiday World, we've had that date blocked off for nearly a year. Our new roller coaster, Thunderbird, will open for the first time ever to the general public, and we're … probably way too excited.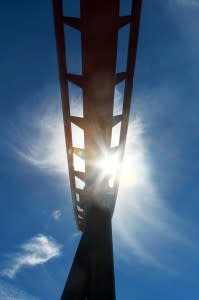 Look at that beauty!
We've been counting down for a while, but recently the number of days until we open slipped under 100.
That's right. Actually, in fewer than 90 days, the general public will ride Thunderbird for the first time. The nation's only launched wing coaster will be blasting riders 14 stories in the air.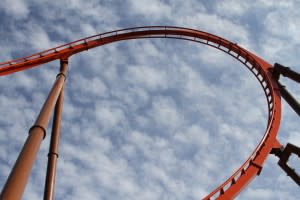 Holiday World's Thunderbird will launch riders 14 stories in the air!
It's a pretty big deal around here. But it's also a pretty big deal around the world.
Our first steel coaster has been turning a lot of heads—before it's had a chance to turn anyone upside-down.
Our most outspoken fans? Roller coaster enthusiasts around the world (and yes, that is a thing, and we kind of love them). They love to chat about us, and we love to give them something to chatter about.
In fact, my sister and I just recorded an interview for American Coaster Enthusiasts' (ACE) winter conferences —events with no coaster-riding, just a lot of coaster talk (which they love almost as much as they love riding coasters).
We've had a lot of fun sharing every step of our journey on our park's blog, the HoliBlog, and I thought you might like a little update on how our first steel coaster is coming along:
 Thunderbird's track has been completed for nearly a month and a half—although to my dismay, we still can't ride until testing is complete.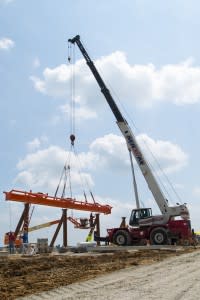 Can you believe that this was only five months ago? It's only been about six months since we announced Thunderbird.
Our station, restaurant (complete with Pepsi Oasis—you can't be too far from free soft drinks), and gift shop are all coming along nicely. You can see a lot of it on our Thunderbird Cam.
We've moved Sparkler and renamed it Crow's Nest to keep Thunderbird company (as well as some of those younger riders who aren't tall enough for the big coaster yet).
Testing will start before we know it.
Pretty soon all we'll be waiting for is you.
So the biggest question remains: Will you ride?