Indiana has produced two great composer-lyricists (what we call "songwriters" these days): Cole Porter of Peru (Miami County), and Hoagy Carmichael of Bloomington (Monroe County).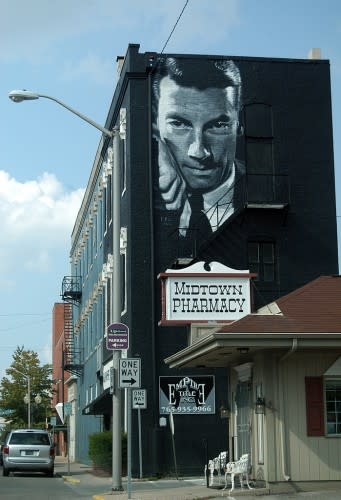 Hoagy Carmichael Mural in Richmond, IndianaWhile Hoagy may not have his own bed-and-breakfast like Porter, he does have his own room at Indiana University. The Hoagy Carmichael Room is filled with memorabilia and collectibles from Carmichael's life. And if you visit the website, you can even take a virtual tour of the room. That's because it's usually only open by appointment. Or if you visit Room 117 in Morrison Hall during office hours, they'll let you in.
Hoagy's room is operated by the Archives of Traditional Music at IU, which is also responsible for maintaining his digital collection of music. Four of Hoagy's best known songs, "Stardust," "Georgia on My Mind," "The Nearness of You," and "Heart and Soul," are among the most-recorded American songs of all time, so it's only fitting that Indiana's premier university for music, located in his hometown, maintain it.
Of course, Hoagy did a lot of his recordings at Gennett Studios in Richmond, Indiana, so it's only fitting Richmond would offer up their own tribute with several jazz murals, including a couple dedicated to Hoagy.
Photo credit: Joanna Poe (Flickr, Creative Commons)