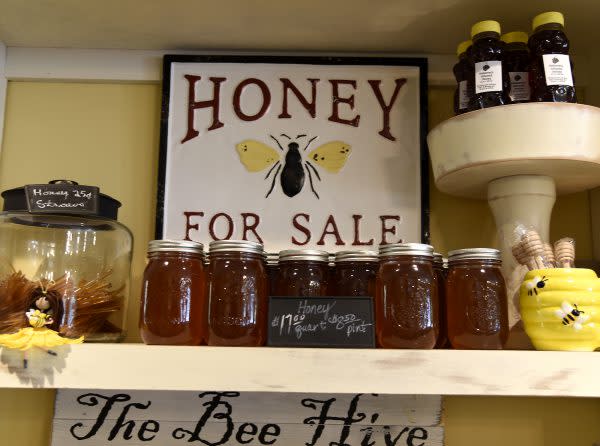 Honeysuckle Hill Bee-stro sits on a hilltop a few miles south of Brazil. Just past the beehives and carved wooden beekeeper, relax into the hospitality of Jodi's table.
Jodi Lohrman and her staff welcome guests and invite them to sit where they'd like. A steady stream of deliciousness flows out of the kitchen. To-go boxes accompany dine-in guests and carry-out arrivals.
From grape iced tea to the signature Honey Beehive Cake – soaked overnight in a honey sauce – the food fills guests with "good old Hoosier grub" in a charming, homelike atmosphere.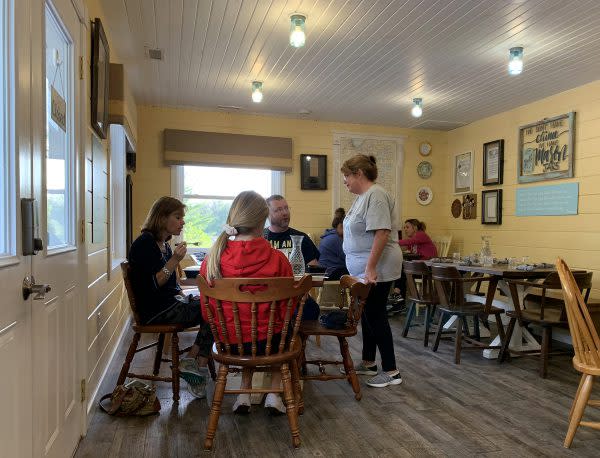 Jodi visits with guests and loves to hear their stories.
The changing menu – "we don't want to get bored" – includes three feature items, a soup, salads, vegetables and desserts. Fried chicken, prime rib and pork chops are favorites. Moist Honey Beehive Cake and Peanut Butter Pie are always on the menu. Honey Graham Ice Cream is made exclusively for the Bee-stro. The portions are hefty – "who doesn't want a bigger piece of pie?!"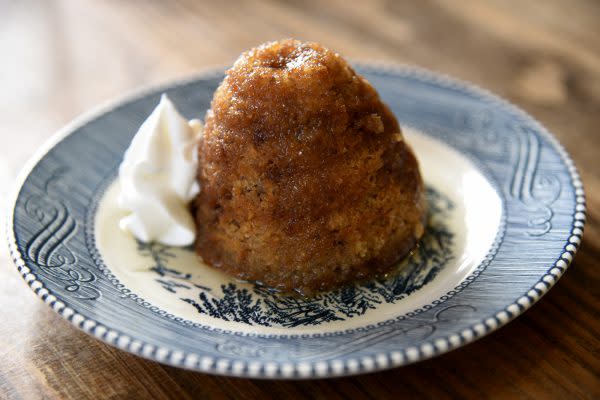 Honey is in one-third of the Bee-stro's recipes. Five of the six salad dressings are made from scratch – three with honey. The family's honey is for sale, including a habanero-infused honey used in the butternut squash bisque.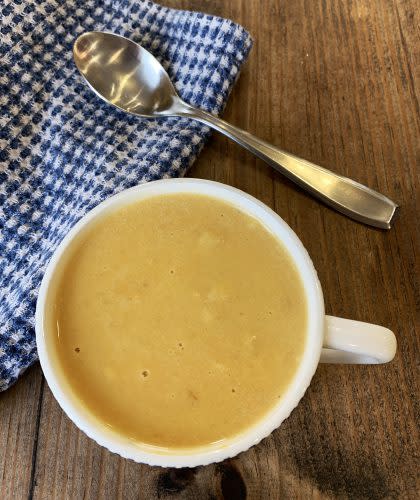 Not sure which enticing item to order? Bites plates are a unique feature of the Bee-stro's fare. There's an entrée Bites Plate and a three- or five-selection Bites Dessert Plate. Problem solved: you don't have to share or eat off someone else's plate!
A customer walking out the door spies my five-selection bites plate of desserts: "I've had them all! Trust me, they're all good!"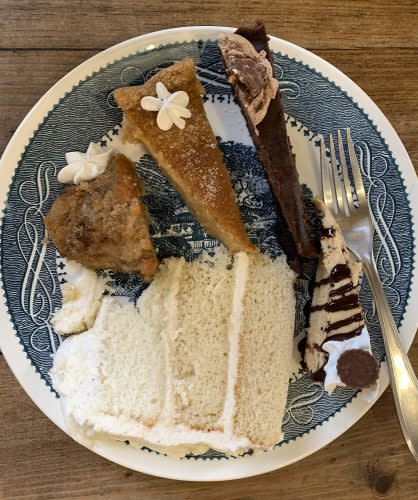 5-Bites Dessert Plate
"Most of it's just me," Jodi says, settling into a chair across the table. She does most of the cooking, she's the baker and she tries to visit every table. The actual food part is Jodi, but the family is all in. "We built this [the Bee-stro] as a family – if there's work to be done, we all do it."
Recipes have to pass the "Bee-stro worthy" test: "If we don't love it as a family, we don't have it" says husband Andy. He's the beekeeper and chainsaw carver. Daughters Judah and Sophie are in the kitchen. Debbie and Jessica round out the dinner crew.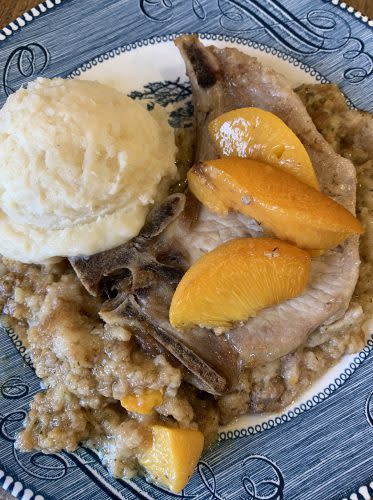 Pork chops with Joyce's Mashed Potatoes
All the food at the Bee-stro is from scratch. "Every good dish has a memory associated with it," Jodi says. Food is served on blue Currier & Ives dishes for a feel "like Sunday at Grandma's house." As much as possible, ingredients are locally sourced. Local Clay City Pottery pie dishes are a kitchen staple.
Weekly menus are on the restaurant's website and Facebook page. The Bee-stro is open for lunch and dinner on Fridays and Saturdays, with a hiatus in Winter. Fly in to the Brazil Clay County Airport - call ahead and someone will pick you up. A farm table stretches across the party and small gathering room/mercantile upstairs. The Bee-stro doesn't take reservations, except for Valentine's Day, Easter and Mother's Day. Pies are made to order at Thanksgiving.
Jodi flashes a relaxed smile before the dinner rush. "I want people to leave more at peace than when they came in the door." Go and sit a spell. Watch Andy carving. Relax as the sun sets over the lake. Enjoy food that brings back memories – or makes new ones. Honeysuckle Hill Bee-stro is a gem you don't want to miss.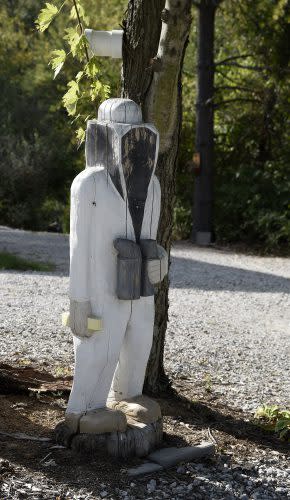 Andy's carved beekeeper welcomes guests to Honeysuckle Hill Bee-Stro.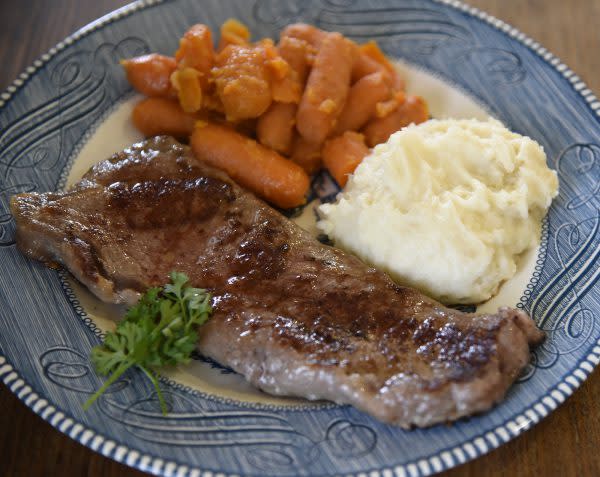 Portions are hefty, and to-go boxes are standard.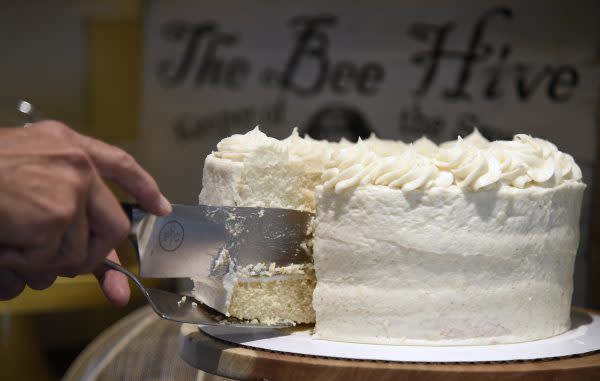 Eggnog cake, a recipe Jodi has been waiting months to try!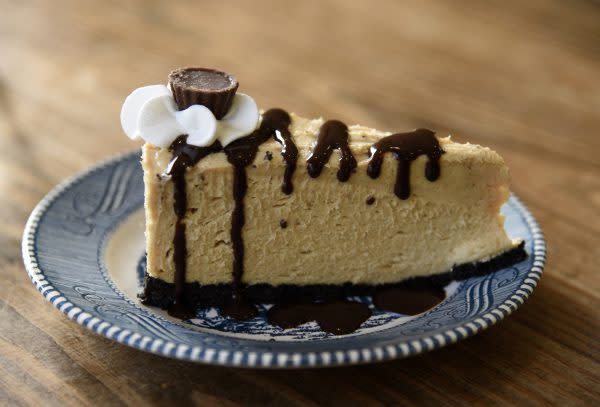 Delicious Peanut Butter Pie, always on the menu!