As we approach one of the most patriotic days of the year for Americans – Veteran's Day on November 11, consider showing your respect for our nation's military people by visiting a place dedicated to commemorating the effort, courage and sacrifices of American and Hoosier veterans--the Indiana War Memorial Museum .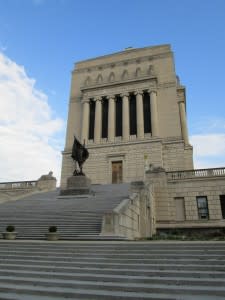 This museum is located inside this majestic building in downtown Indianapolis. My husband and I paid to park on one of the surrounding streets and entered through the Michigan side entrance.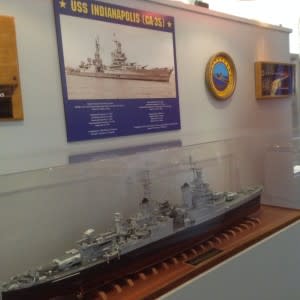 On the main floor of the Indiana War Memorial Museum is the USS Indianapolis (CA-35) Gallery, dedicated to the crew of the famous World War II heavy cruiser sunk by a Japanese sub a few weeks before World War II ended in summer 1945. Unfortunately, many seamen perished.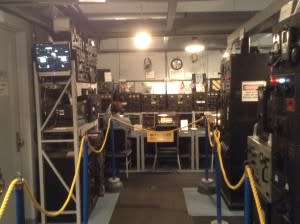 This display contains a scale model of the ship, which is not only named after our state capital but was President Franklin D. Roosevelt's 'Ship of State'. We viewed uniforms, medals, photographs, flags, pennants, artwork, and other artifacts from sailors and Marines who served aboard the ship. It is a sobering sight as many items have been donated by families of seamen who were killed that day.
Down the hall is something I think is truly unique for a military history museum-- the USS Indianapolis Radio Room. This is a fully operational recreation of the radio room aboard the ship, featuring original World War II equipment. This would be a fascinating sight especially for children interested in military life, radios, electronics and history.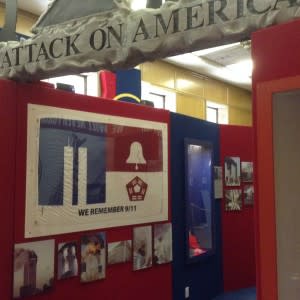 Nearby was a display I especially appreciated – that detailing the events of September 11, 2001. This is an event that will forever mark our nation's security and the museum has done a nice job in creating a respectful remembrance.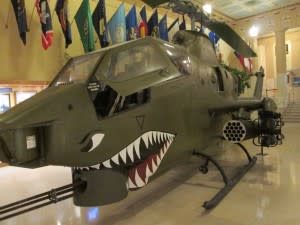 Next we entered the main gallery which contains exhibits of American military history from the Revolutionary War to the present. Vehicles include an AH-1 Cobra Attack Helicopter, a Gulf War Humvee, and a World War II/Korean War-era Jeep.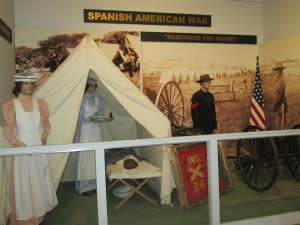 The museum includes exhibits on the Revolutionary War, War of 1812, Mexican War, Civil War, Spanish-American War, World Wars I and II, Korean and Vietnam Wars, Gulf War, the War on Terror in Afghanistan and Iraq, and various peacekeeping operations around the world.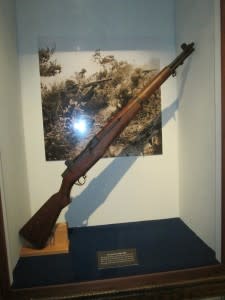 The museum's collection includes thousands of weapons, uniforms, medals, artillery, vehicles, models, military equipment, and firearms. This M1 Garand was manufactured in Evansville during the Korean War.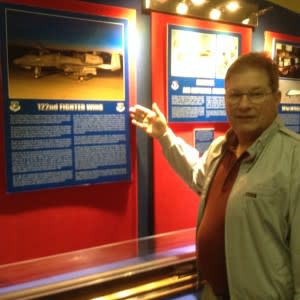 My husband was impressed to see a display about Fort Wayne's 122nd Fighter Wing, which he served with for many years.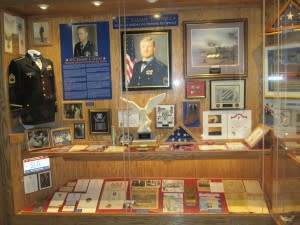 Several individual Hoosier servicemen are mentioned by name, including Sam Davis from the Vietnam era who was awarded a Medal of Honor.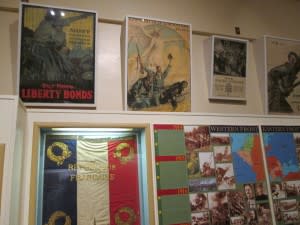 I loved the collection of original World War I and II recruiting posters.
You'll have to climb some steps but don't miss the dimly-lit gallery with the huge American flag backlit by stars. It's worth the extra walk.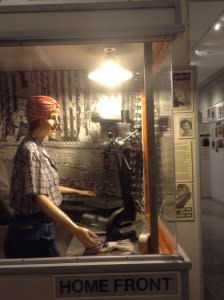 Set aside at least half a day to tour this 30,000-square-foot museum. It is large and impressive and we found ourselves wanting to stop at nearly every exhibit to read about its purpose in our nation's military history.
Admission to the Indiana War Memorial Museum is free. It is open Wednesdays – Sundays from 9:00am - 5:00pm. The museum is closed on major holidays.
431 N. Meridian St, Indianapolis, IN 46204