This is a guest blog by Jylian Vigar, Communications Specialist for the Indiana Bicentennial Commission.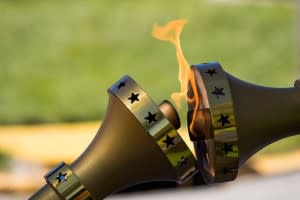 Photo: Sadie Lebo
The Indiana Bicentennial Torch Relay will complete the last leg of its 3,200 mile journey on October 15, and its final stop will be at Hoosier Homecoming. Hoosier Homecoming is a free event for the whole family to celebrate Indiana's Bicentennial year!
Hoosier Homecoming will take place on the Indiana Statehouse campus in Indianapolis from noon to 5 p.m. Not only will you get to see the end of the torch relay, you will also get to see the dedication of the new Bicentennial Plaza, Statehouse Education Center and public art pieces.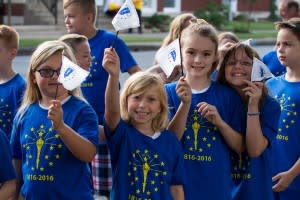 Photo: Sadie Lebo
But, that's not all! Enjoy music by the Hunter Smith Band, Cook & Belle and more. Grab a bite to eat from one of the many food trucks. Complete the Indiana Humanities scavenger hunt. Meet some of your favorite Hoosier characters like Abraham Lincoln or Garfield.
Take an historic tour of the Statehouse – and that's just the icing on the birthday cake.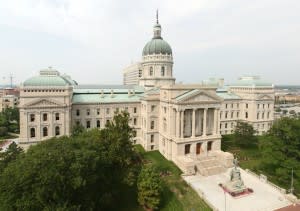 Indiana Statehouse
All Hoosiers should have a hand in this monumental year. One way to do that is to take part in Hoosier Homecoming. So come out for an afternoon of fall fun. This event is one you won't want to miss, after all a 200th birthday doesn't roll around often!
To learn more about Hoosier Homecoming, including information about free parking downtown, visit the Indiana Bicentennial Commission website or the Indiana Bicentennial Commission Facebook page.