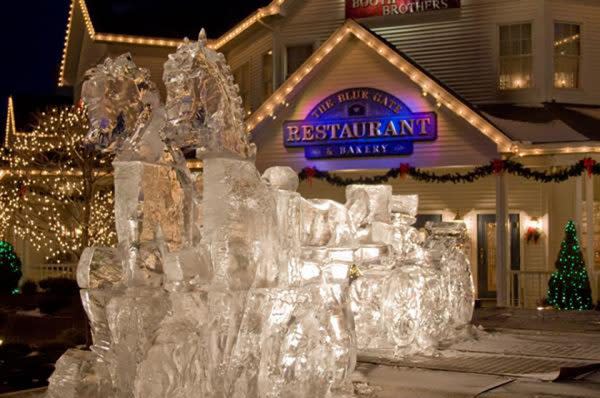 I always love the time between Christmas and New Year's Eve. All the hustle and bustle of Christmas has died down. And this northern Indiana ice festival is our family's new late December tradition.
We're not a family that jets off to the tropics for the holidays. We've always stayed close to home to celebrate with grandparents, aunts, uncles and cousins we don't get to see often enough. But sometimes we work in a two or three-day trip not too far from home during the two week school break.
Several years ago, I did just that - planned a little getaway and scheduled it a couple days after Christmas. We'd only been to the Shipshewana and Nappanee area in the summer months and decided to head there for a couple days. The slow, simple way of the Amish seemed a perfect fit for a couple of relaxed, casual days together as a family after Christmas.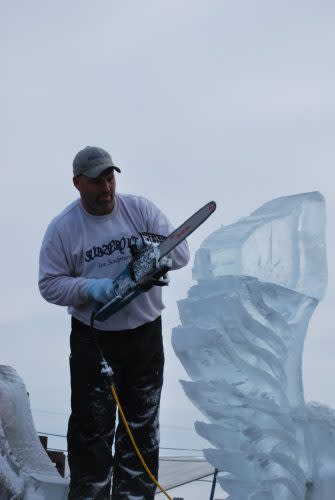 At the Shipshewana Ice Festival, which happens annually in late December, you can watch carvings being made.
I was so excited when I learned there'd be an ice festival happening while we were there. As we got into town, we watched ice carvers do their work. We didn't have any snow on the ground yet at home, but Amish country was covered in a blanket of white. All the Christmas decorations were still up and it was quite the winter wonderland.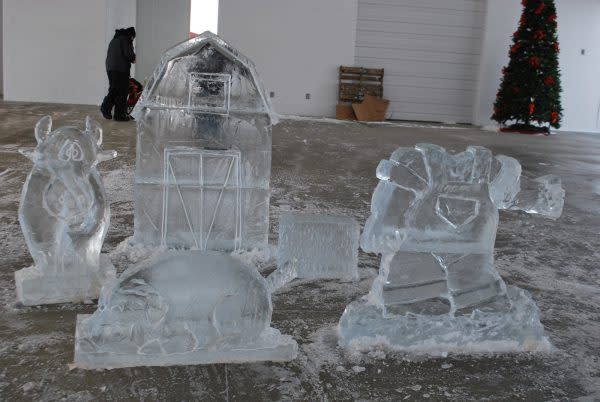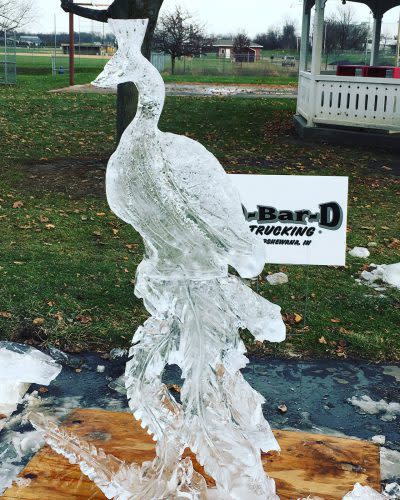 Ice sculptures can be viewed at over a dozen locations around town during the Shipshewana Ice Festival.
A few years later we decided to return for the Shipshewana Ice Festival again. It was a little warmer, but the ice artists did their thing and we made our way around town to view the cool and detailed sculptures. We missed the chili cook-off, but had a hearty Amish-style feast at the Blue Gate Restaurant and lunch the following day at the Wana Cup, a casual little diner where they make their own root beer. We did some shopping at the Davis Mercantile, a little enclosed mall that has a 1906 Dentzel Carosel that you can ride and Yoder's Red Barn Shoppes. And before heading out of town we visited Yoder's Meat & Cheese for some goodies for the road - cheeses, jams, breads, meats and more. There's still much to see and do in the area in the winter months, especially if you are a foodie like me or you like to shop.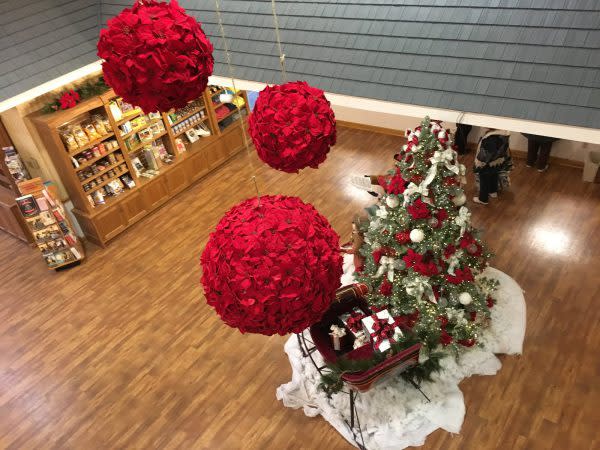 The Blue Gate Garden Inn is nicely decorated each year for the holidays.
But even with all we saw and did, we may have had the most fun hunkering down at the Blue Gate Garden Inn as the snow fell outside later in the evening. The inn was beautifully decked for the holidays. Rather than just hibernating in your room watching TV, you can head down to the pool or game room, play board games, have ice cream on homemade waffle cones or hang out in the lobby or other common areas. I learned how to make a fleece tie blanket from a grandmother who had her supplies spread out on a table making one with her grandkids. We checked out some of the entertainment memorabilia in one of the lounge areas and we ordered a pizza that we ate inside one of the Amish buggy dining tables. It was just the kind of slow-paced little getaway we needed in that special little pocket of time before the new year began.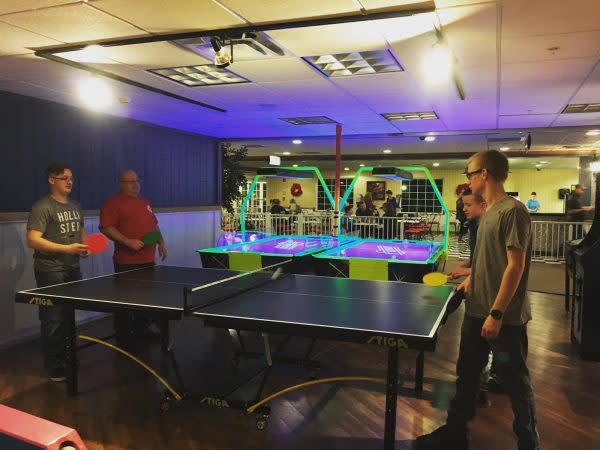 If you stay at the Blue Garden Garden Inn, you'll find a game room with activities to keep the family busy.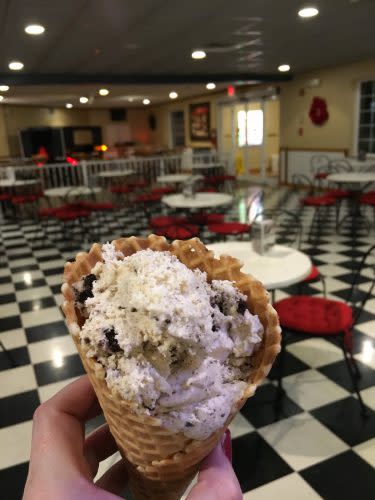 If you stay at the Blue Gate Garden Inn in Shipshewana, be sure to stop at the ice creamery for a treat.
This year's Shipshewana Ice Festival is scheduled for December 27 and 28. The two-day event includes a chili cook-off and you'll find ice sculptures at over a dozen locations around town. For more information, visit shipshewana.com.