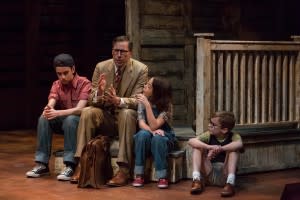 Back when I attended Taylor University in Upland, I joined a group of students who enjoyed theater and traveled to downtown Indianapolis to view shows from the Indiana Repertory Theatre (IRT). I don't know where we found the money or time, but I developed a respect for theater then that carried over into my adult years.
In fact, due to the influence of my visits to the IRT and subsequent visits to other theater productions, our two daughters developed an interest in theater and were part of several productions while in college.
Happily, the theater is still thriving today. Founded in 1971, the IRT is the largest fully professional not-for-profit theatre in the state.
It's exciting to think of the impact the IRT staff will have on future generations with their current production-- To Kill a Mockingbird by Harper Lee.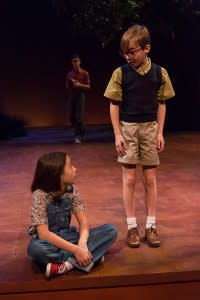 I don't know of any 20th century novel more beloved than To Kill a Mockingbird. It was published in 1960 and won the Pulitzer Prize. Today, more than 50 years later, it is an American classic in literature.
The story in this great book will be brought to life on the Indiana Repertory Theatre's (IRT) OneAmerica Mainstage from January 29- February 28.
The story at first may not seem significant. The setting is the 1930s in a small town of Alabama. The plot revolves around the themes of racial inequality.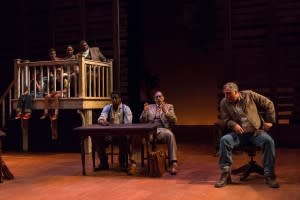 A young girl, Scout, observes her father, Atticus Finch defending an innocent man, wrongly accused of a heinous crime. As the story unfolds, she begins to view her world differently. She and her brother Jem rely on their single father to guide them through the realities of life in what they realize is often an unfair world.
Janet Allen, IRT's Executive Artistic Director & CEO, directs To Kill a Mockingbird. An adult Scout narrates the production which includes original music accompaniments by Tim Grimm (Heck Tate) and Christopher Walz (Arthur "Boo" Radley & Judge Taylor).
As the setting is the Deep South during the Great Depression, their music reflects Americana, Country and Gospel music that was popular at the time. Song selections are presented via slide guitar, harmonica, banjo and mandolin.
The show, which is approximately two hours in length, is recommended for students in grades 7-12 due to strong language and mature themes.
A couple of special events have been planned for the show:
On Friday, January 29, theater goers can attend the show's opening night celebration with
appetizers and a champagne toast with the cast after the production.
The next night Saturday, January 30 and every performance after there will be a post-show discussion. This is a great opportunity for people of all ages to engage in possibly challenging conversations.
On Saturday, February 20, theatergoers can enhance the IRT experience with dinner and a show: $75 per person. Call the ticket office for more information: 317.635.5252
Indiana Repertory Theatre
140 W. Washington Street Indianapolis, IN 46204
Ticket office:  317.635.5252
Tickets:  Adults $25-59; Students $20