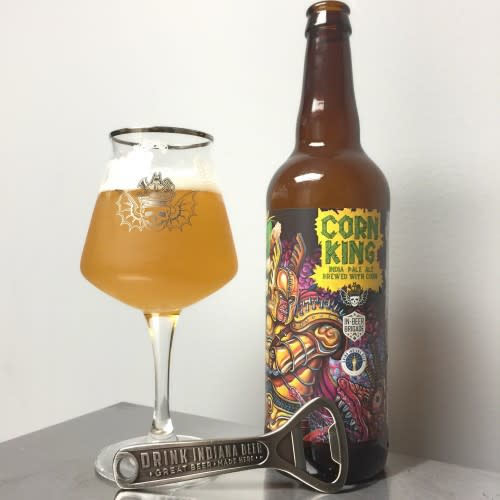 UPDATE: We've added another party! Read on for info.
If you're into craft beer, you've probably heard of 3 Floyds Brewing Co., one of the world's most renowned breweries located right here in Indiana (Munster, to be exact), and creators of one of Indiana's Best Fall Brews (fittingly called "Munsterfest").
And you may have heard of the Brewers of Indiana Guild, the non-profit trade group that supports Indiana brewers through some of Indiana's longest-running beer fests, as well as the Drink Indiana Beer app and the DrinkIN magazine.
But you may not have heard of one of the country's most unique beers--Corn King IPA--or the membership program that grants you access to it.
At the 21st Annual Indiana Microbrewers Festival, held this summer at beautiful Military Park in downtown Indy, the Brewers of Indiana Guild launched the IN Beer Brigade, its new enthusiast club that supports and celebrates Indiana's craft beer culture.
And the IN Beer Brigade is the only way to get Corn King IPA.
3 Floyds recently hosted more than a dozen Northwestern Indiana brewers for the Corn King IPA collaboration brew day of the beer, which features locally grown Indiana corn malted by Sugar Creek Malt Co. in Lebanon.
Ahead of that, breweries in the region worked together to determine the style of the beer, the name, and more.
And their efforts are tasty: Corn King IPA features intense citrus flavor with grapefruit, orange, and lemon at the forefront. Citrus notes are balanced by pine, stone fruit, and berry flavors. With a light body and smooth finish, this easy-drinking IPA is equally at home alongside a Sunday brunch or a Friday-night burger.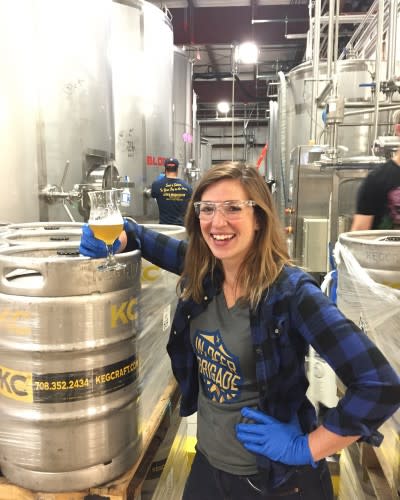 Kaitlyn Hendricks, 3 Floyds Quality Assurance Analyst, enjoys one of the first glasses of Corn King IPA at 3 Floyds Brewing in Munster, Indiana.
Corn King is the first in an annual series of collaboration beers for IN Beer Brigadiers. With more than 125 breweries across the state and an array of award-winning breweries, Indiana has one of the most vibrant brewing scenes in the nation.
The Brewers of Indiana Guild has created five regions in the state, and every year a different region will host that year's IN Beer Brigade collaboration.
Next year, Sun King Brewing Company leads the charge by hosting Central Indiana breweries for the collab, followed in 2018 by Upland Brewing Company in Bloomington, who will host their South Central brewing brethren to create a members-only sour beer.
Back to this year: Corn King IPA makes its debut to IN Beer Brigadiers on Monday, October 3 at 18th Street Brewing's Hammond, IN location.
IN Beer Brigade memberships are available online now at brigade.beer and will be available at the door of the release parties.
Premium members will receive two complimentary 22 oz. bomber bottles of the beer for carryout, and all members can purchase pints of Corn King IPA.
Members also receive a 20 oz. English Pub glass specially paired with the beer as well as a host of other benefits, all while supporting the Brewers of Indiana Guild's mission.
Enlist in the IN Beer Brigade and join us at one of the Corn King IPA release parties in October:
Monday, October 3, 2016: 18th Street (Hammond, IN)
Wednesday, October 12, 2016: Upland (Bloomington, IN)
Thursday, October 13, 2016: Tin Man (Evansville, IN)
Monday, October 17, 2016: Sun King (Indianapolis, IN)
Tuesday, October 18, 2016: Summit City (Fort Wayne, IN)
Wednesday, October 19, 2016: New Albanian (New Albany, IN)
NEW! Monday, October 24, 2016: Bare Hands (Granger, IN)
Wednesday, October 26, 2016: Tomlinson Tap Room (Indianapolis, IN)
Traveling to a different part of the state for the party? Check out VisitIndiana.com's list of restaurants and other attractions to make the most of your trip.