Just 8 days after the U.S. celebrates its independence day, it's France's turn. July 14th is the day France celebrates its independence from, well, France. La Fête Nationale celebrates the beginning of the French Revolution and their storming of the Bastille. It was a 10 year war when the poor threw off the yoke of the monarchy and became a democracy.
What started in 2010 with 500 visitors has grown to more than 4,000 visitors in 2013, with the support of TownePost, the Alliance Française d'Indianapolis, The International Center, WFYI and the Hancock County Tourism Commission. The event is organized by Six Feet Up, a Fortville marketing technology company, which is owned and operated by Gabrielle Hendryx Parker (who came to us from France) and her husband Calvin.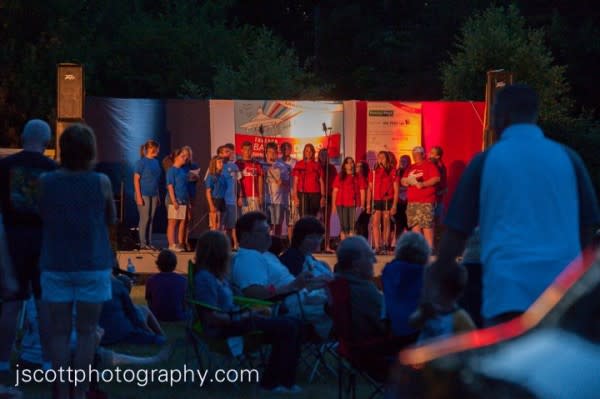 This year's Indiana Bastille Day — which is the largest in the state — will be held on Saturday, July 12th, 2014 from 4-11pm in Fortville's Landmark Park, about 3 miles east of Geist, and 20 minutes Northeast of Indianapolis. It's a free family event, so no need for tickets.
This year's entertainment and attractions include an authentic French singer, a pétanque tournament (sort of like Bocce), marionette shows. There's also a Waiters Race, a wine and beer garden, and artists will get to try painting in a Montmarte-esque "Paint in the Park" environment. There will also be costumed performers roving the park, adding a historical flair to the happening.
There's a candlelight procession at dusk, with lanterns created by attending children, followed by a bright and colorful laser light show.
You can learn more information or sign up to volunteer at the Indiana Bastille Day website.
Photo provided by Indiana Bastille Day.