Indiana's thriving artisan distilleries are worth raising a glass to — cheers! The seven Indiana distilleries below are favorites of locals and visitors alike.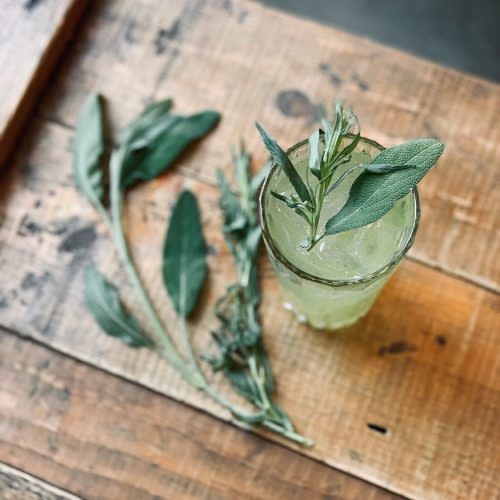 Hotel Tango Tom Collins
702 Virginia Ave., Indianapolis; 317-653-1806; hoteltangowhiskey.com
Overview: U.S. Marine Corps veteran Travis Barnes launched his Fletcher Place artisan distillery in 2014 following three combat tours in Iraq, hence the NATO phonetic alphabet references.
Tasting Room:  Within cozy lodge-like confines, customers can grab bar seats or sink into comfy couches to sip seasonal cocktails in front of a soaring stone fireplace.
What They Make:  Golf Gin, Victor Vodka, Romeo Rum, Mike Moonshine, Lima Charlie Limoncello, Oscar Charlie Orangecello, Bravo Bourbon, Whiskey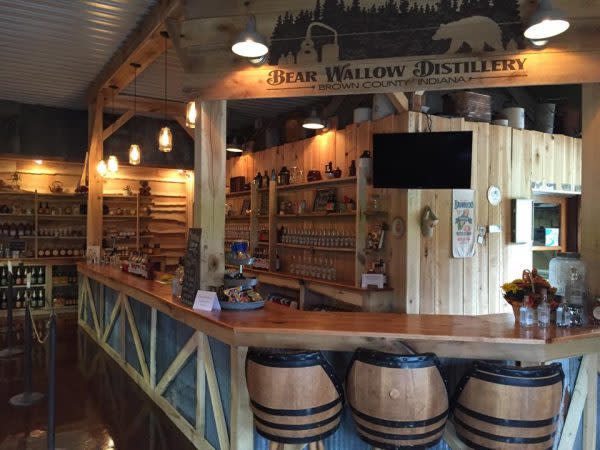 Bear Wallow tasting room
4484 E. Old State Road 46, Gnaw Bone; 812-657-4923; bearwallowdistillery.com
Overview: This female-owned, family-operated distillery uses an old-fashioned copper pot still and locally grown grain to create moonshine and whiskey at a scenic setting in the rolling hills of Brown County.
Tasting Room:  Belly up to the bar for a Moonlight Shake-Up after a Farm-to-Fifth tour that gives visitors a behind-the-scenes peek at the property.
What They Make:  Hoosier Hooch Corn Whiskey Moonshine (and flavored moonshines), Hidden Holler Corn Whiskey Moonshine, Bear Trap Barrel Strength White Whiskey, Liar's Bench Rye Whiskey, Gnaw Bone Bourbon, Wolf Creek Four Grain Whiskey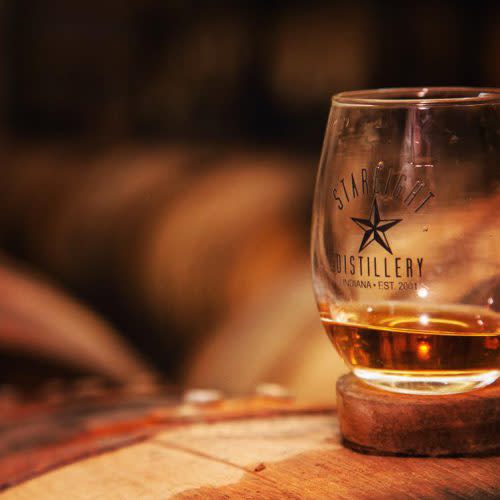 Starlight Distillery's bourbon
19816 Huber Rd., Borden; 812-923-9463; huberwinery.com
Overview: Part of a multi-tiered operation that includes an orchard, u-pick produce, a farm market, a café, a winery and its own vineyards, Huber's distillery arm turns out fine brandies using European-style production methods. Awarded the Best of Brandy by American Craft Spirits in 2018.
Tasting Room: Following a tour of the facilities, order up a flight of samples inside the renovated 1930s dairy barn-turned-tasting room.
What They Make: Fruit-flavored brandies, infusions and ports; whiskey, rye, bourbon, spiced rum, gin, grappa, vodka, applejack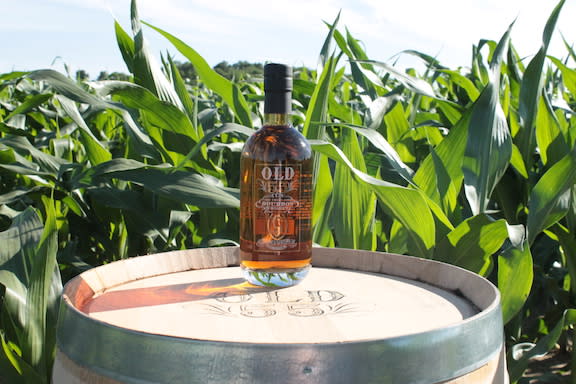 Old 55 Distillery bourbon
311 E. Washington St., Newtown; old55distillery.com
Overview: Named for the Fountain County road it's located on, family-run Old 55 honors its Midwestern roots by taking its time and doing things right.
Tasting Room: From the tasting room entrance, visitors can gaze out over fields that supply grain to create the products. Inside, homey details set the stage for convivial sipping and sampling.
What They Make: Corn Whiskey, Single-Barrel Bourbon, 100% Sweet Corn Bourbon. Look for a couple new whiskeys to arrive within the next year.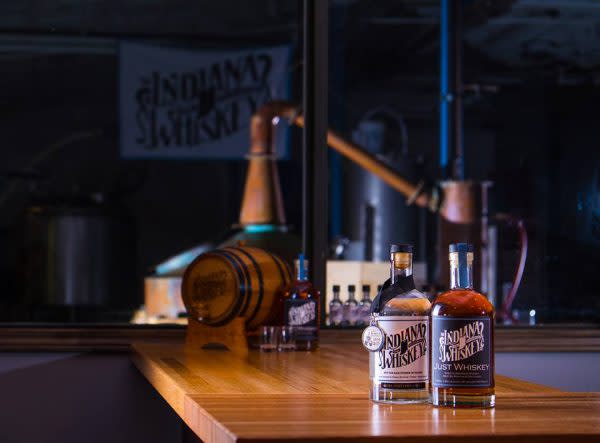 The Indiana Whiskey Company
1115 W. Sample St., South Bend; 574-520-1915; inwhiskey.com
Overview: Made up north by Hoosiers for Hoosiers, this veteran-owned-and-operated startup is proud of its terroir, using a locally fabricated still to produce a well-curated selection of whiskeys.
Tasting Room: The simply decorated tasting area makes a laid-back spot to hang out with a view directly into the distilling facility.
What They Make: Just Whiskey wheated bourbon, Silver Sweet Corn Whiskey, Breakfast of Degenerates spiced maple whiskey, Hoosier Sweet Heat cinnamon whiskey. Honey, chocolate and cherry-flavored whiskeys recently joined the lineup.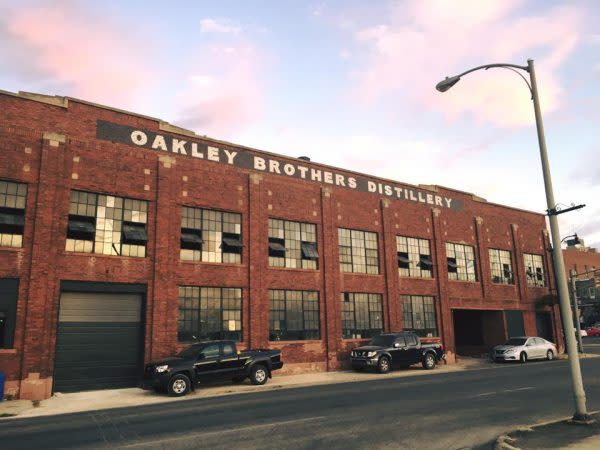 Oakley Brothers Distillery
34 W. 8thSt., Anderson; 317-294-2085; oakleybrothersdistillery.com
Overview: Hailing from Kentucky, brothers Jason and Jerrad Oakley seemed destined for distilling. The duo opened their Indiana operation after a brainstorm hit during a hiking trek in Machu Picchu.
Tasting Room:  In a renovated historic building that once housed a Buick dealership, the industrial-chic tasting room boasts food service, live music, brick walls and high ceilings.
What They Make:  Indiana Moon Moonshine, Apple Pie Moonshine, Limoncello Liqueur, Flyover Whiskey, Oakley's Reserve- Microcast Oated Bourbon, gin, rum, craft beer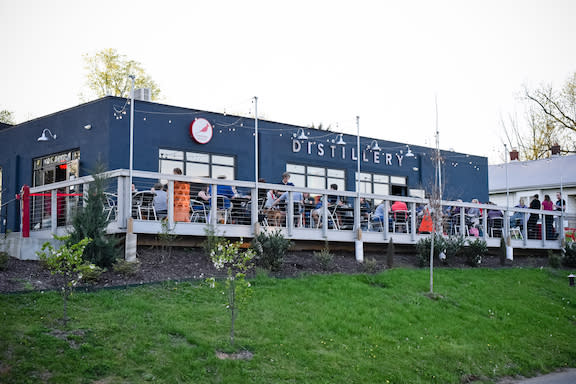 Cardinal Spirits
922 S. Morton St., Bloomington; 812-202-6789; cardinalspirits.com
Overview:  This Bloomington-based distillery produces spirits using high-quality ingredients (from local sources whenever possible) and maintains a cocktail bar, tasting room and full kitchen.
Tasting Room: Overlooking the B-Line bike/pedestrian trail one mile south of downtown B-town, the tasting room is perfectly poised for refreshment.
What They Make:  Ready-to-drink Mule Cans, Vodka, Pride Vodka, Terra Botanical Gin, Standard Dry Gin, Tiki Rum, Lake House Spiced Rum, Flora Liqueur, Songbird Coffee Liqueur, Bramble Black Raspberry Vodka, Honey Schnapps, Black Bear Bierschnaps, Valencia Triple Sec, Walnut Nocino, Barley McBarleyface and Single Malt Whiskey.
---
Want to learn more about Indiana distilleries? Check out this post about Oakley Brothers Distillery. Or check out our posts on Sun King Spirits in Carmel or Spirits of French Lick.