If you didn't escape to Indiana Dunes Country this summer, there's still time to enjoy a fantastic weekend.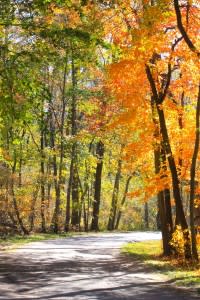 Indiana Dunes State Park is a great place for a fall hike or drive.
Autumn is actually my favorite time to enjoy a hike or a scenic drive because the weather is mild, there are no crowds and the trees become a panoply of reds, oranges and yellows.
The fall colors peak in mid-October, but are great in the weeks before and after. Dozens of varieties of trees can be seen, including oaks, maples, walnut, sassafras, jack pine, cottonwood, tulip, sumac and pawpaw.
There are two fall drives to enjoy in Indiana Dunes Country, including the Dunes Loop which rewards drivers with tree-lined roads and roadway that hugs Lake Michigan.
The best part is that there are local places to stay with beautiful views of nature, including DunesWalk Inn in Chesterton (closest to the dunes and beach); At Home in the Woods (a bed and breakfast in the woods in Chesterton; and Gray Goose Inn (a bed and breakfast on a lake). If you're looking for cabins, Inspiration Wood is located in the woods outside of Chesterton in Westville.
In Valparaiso, which is about a 25-minute drive from Lake Michigan, Inn at Aberdeen is a charming bed and breakfast, while Songbird Prairie is known for the birds it attracts to its natural setting.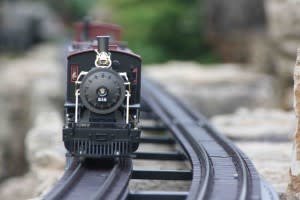 Check out Taltree's Model Railway Garden
Nice events include The Haunted Railroad & Fall Festival, which is all month long during October at Taltree Arboretum in Valparaiso (don't forget to check out the massive Model Railway Garden and arboretum walking trails), and "Howl"oween at Indiana Dunes State Park on Oct. 26-27 (which includes hikes and other activities). One of the best haunted houses around is Amhurst Asylum in Valparaiso.
This is also a great time of year to stop into Anderson's Vineyard & Winery for some wine tasting.
There are so many great, local places to eat. In fact, Midwest Living chose 17 restaurants for its Indiana Dunes Country Culinary Tour. I most recently ate at three of them (delicious, of course!): Bartlett's Gourmet Grill and Tavern in Beverly Shores (located near the Indiana Dunes National Lakeshore woods), dish Restaurant in Valparaiso and Meditrina Market Cafe in Valparaiso. Do what I do -- eat a lot and work it off by going for a hike.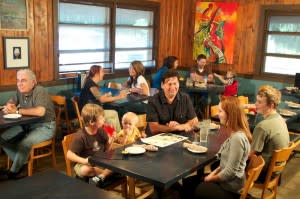 Bartlett's - Great food in a casual roadhouse setting just outside the Indiana Dunes.
If you have any questions, call or visit the Indiana Dunes Visitor Center.