The beaches of Indiana Dunes have reached the Final Four in Coastal Living's bracket-style competition to crown the Best Beach in America.
You can vote for Indiana Dunes at www.coastalliving.com/beachbracket.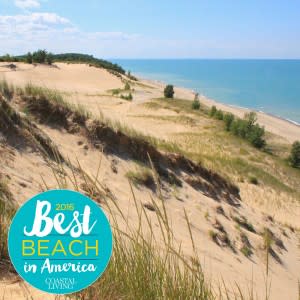 The semi-final round of voting continues through 4 p.m. Thursday, March 31, with the final two squaring off March 31-April 3. The winner will be announced April 4.
This recognition for Indiana Dunes comes shortly after the West Beach of Indiana Dunes was named one of the nation's top five freshwater beaches by USA Today.
Coastal Living's Indiana entry in the competition is the 15-mile stretch of shoreline that includes both the Indiana Dunes National Lakeshore and Indiana Dunes State Park beaches. On its march to the Final Four, Indiana Dunes defeated Gulf Shores, Alabama, Grand Haven, MI and Fairport Harbor Lakefront Park, OH.
Vote Indiana Dunes as best beach in America: ww.coastalliving.com/beachbracket