It's now October, which means fall is finally here! This is an enjoyable season for many reasons, including cooler temperatures and unique festivities. However, nothing touches breathtaking fall foliage as leaves turn vibrant shades of yellow, red, orange, purple, and brown. Some of the most beautiful places to "leaf peep" in Indiana are also some of the most unexpected, but you cannot miss out on the alluring nature found at our state parks this autumn. Brown County State Park, Indiana Dunes State Park and Clifty Falls State Park were voted amongst Indiana's best places for fall foliage, but there are great fall opportunities across Indiana's 32 state parks and lakes. Below, you'll find recommendations on six other parks to view fall colors in Indiana!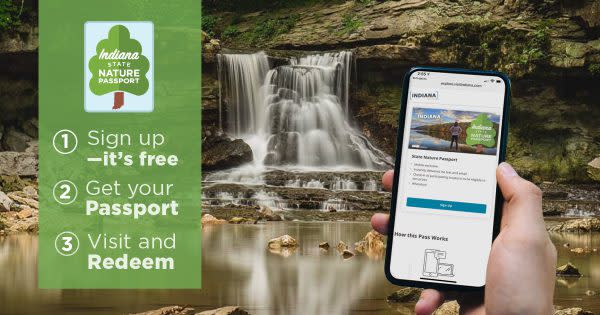 All of the parks listed below are part of the Indiana State Nature Passport! Check-in and explore participating locations throughout the state to earn great prizes! The more you visit, the more you win. This program is 100% free, but property entrance fees apply when you visit. Learn More.
Fall Colors in Indiana

Shakamak State Park provides one of the most relaxing fall backdrops in the state. It features a great loop road for a scenic drive, with lots of oaks and hickories covered with yellows and golds. There are also 3 lakes to see color along lakeshores, picnic, kayak, fish, and camp.
Nestled in the foothills of Southern Indiana, you'll find O'Bannon Woods State Park. Drive from the ridgeline at the park gate to the Ohio River picnic area with a side trip to the Hickory Hollow Nature Center for a great mix of fall color, lots of family-friendly activities, and plenty of places to stop and picnic. Also, get a great view of the wooded hills from the top of the fire tower! The charming historic town of Corydon is just minutes away, so you can enjoy the outdoors in addition to great dining and other local attractions.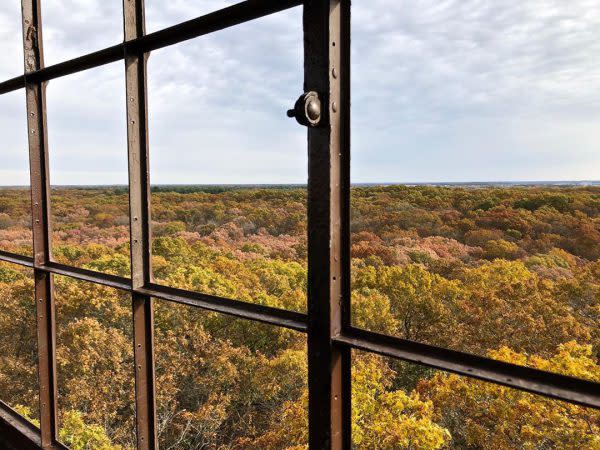 Photo by @nwiadventures on Instagram
There's another great loop road inside of Tippecanoe River State Park, with fun hiking in the Sand Hills Nature Preserve. To really acquire a full appreciation of fall at this park, climb to the top of the fire tower and get above the treeline for a long view of oaks and hickories in yellow and golds. Other activities include kayaking on the Tippecanoe River and both overnight and day-use trails for equestrians with their own horses.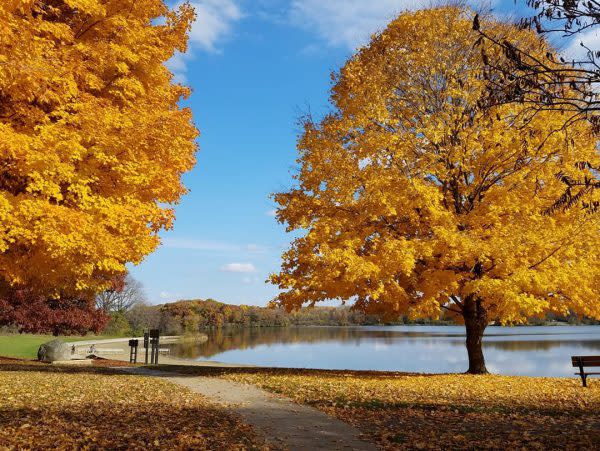 Photo by @werkbmx on Instagram
Situated just 20 minutes from South Bend, Potato Creek State Park is one of the most-visited parks in the state and covers nearly 4,000 acres!  There are a lot of great roads to drive and enjoy a mix of maples, oaks, and hickories along with the reds of sumac and golden prairie grasses. Over 10 miles of trail are a centerpiece to Potato Creek State Park, including an observation deck overlooking beautiful wetlands. Stop at the Porter Rea Cemetery to explore, walk the prairie maze and enjoy a drive around Worster Lake and the nature center.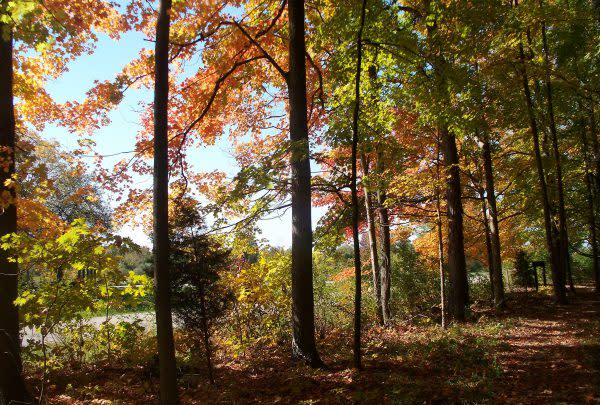 Located just a few minutes apart, the Brookville Lake and Whitewater Memorial State Park complex offers excellent fall color opportunities in the Whitewater River Valley. Drive through Mounds SRA at Brookville Lake or stop at the U.S. Army Corps of Engineers Observation Area at the south end of the lake for great views of changing leaves. For arguably the closest look of autumn, hike the the Red Springs Trail!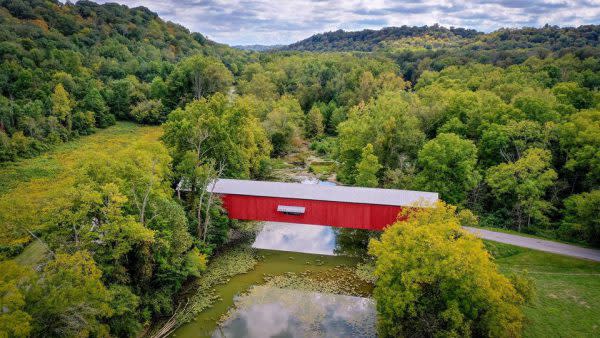 The beauty of southeastern Indiana's rolling hills are never more evident than at Versailles State Park. As Indiana's second-largest state park with 5,000 acres, great views of a mixture of trees and fall colors are found throughout the grounds. Hiking, mountain biking, kayaking, horse trails, or a drive-through are great ways to enjoy Versailles State Park in fall!