The Indiana Fever will have their home opener against the Atlanta Dream this Friday, May 31, 2013 at 6:30 pm. The night will begin with the raising of the 2012 WNBA Championship banner to the roof of the Bankers Life Fieldhouse, followed by 48 minutes of action against one of the team's fiercest rivals.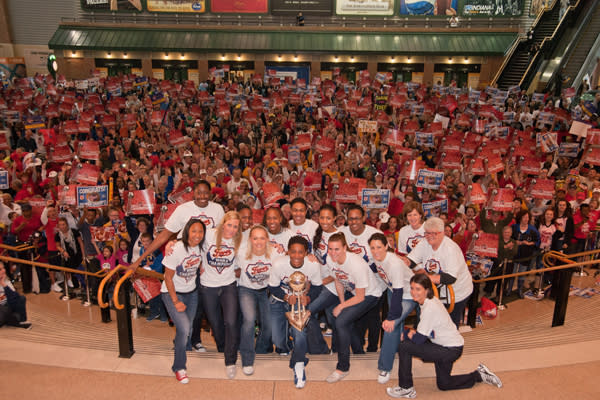 This is the Indiana Fever Championship Celebration from last fall. I'm actually in there somewhere.As half season-ticket holders of the Indiana Fever for the last five years, there has not been a game we have looked forward to more than this one (except maybe the final game of last year's championship). This is the first year we have had a basketball championship in this city since the Indiana Pacers' days in the American Basketball Association, and their own three championships in 1970, 1972, and 1973.
The night is also a special one for the fans, as every fan in attendance will receive a replica championship ring, courtesy of Kroger and Herff Jones. My wife was heard to tell a friend recently, "sure it's not real, but I'm going to treasure it like it is"
The Fever have returning veterans, MVP Tamika Catchings, Katie Douglas, Briann January, and one of my favorite players, Shavonte Zellous. We're also going to see a few new faces on the roster this year, including F Jessica Breland, Layshia Clarendon, and Jasmine Hassell. Sadly, the season will start without Jeanette Pohlen, who is still recovering from last year's ACL tear, and Erin Phillips and Jessica Davenport who were injured in the off-season, playing for their international league teams.