Autumn leaves may be falling but the flavors are blooming on Indiana Foodways Alliance's Culinary Trails. Pack up the car and hit the road to taste and experience IFA's Top 10 Savor the Flavor picks! For additional information on IFA's culinary trails visit IndianaFoodways.com.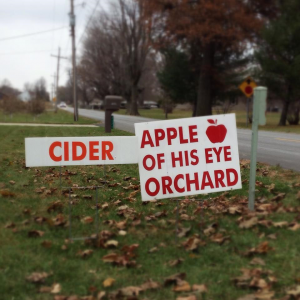 Not just for apple picking, this small locally owned orchard in Madison County has an apple cinnamon donut recipe made with help from the Pillsbury Company. Producing a unique twist to traditional apple butter, they make their apple butter with chunks rather than the traditional dark and pasty consistency. Offering 27 different apple varieties, the "Pixie Crunch" is the newest variety of apples. This hard to find variety is full of zesty, sweet and tart flavor blends. AppleOfHisEyeOrchard.com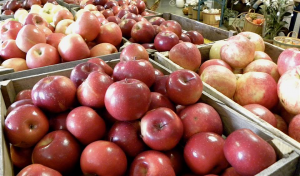 McClure's Orchard and The Apple Dumplin Inn in Peru gives apple lovers the chance to experience everything from wine tasting, apple dumplings, apple picking, hard cider and more. Sampling the award winning wines and hard cider is a must do this fall. With more than 16 different kinds of hard cider you are sure to find your personal favorite. McCluresOrchard.com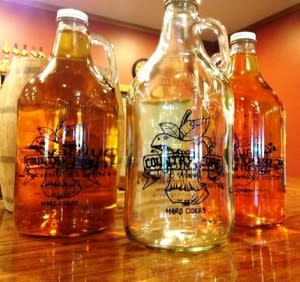 Country Heritage Winery and Vineyard The 100 year old family farm turned vineyard in LaOtto has not only wine to warm your body this fall but also hard cider slushies on tap. Check out their farm market and gorgeous views of the eight-acre vineyard. CountryHeritageWinery.com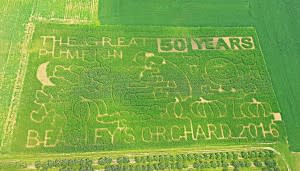 Beasley's Orchard "It's a Great Pumpkin, Charlie Brown." This popular Orchard is participating in the National Celebration of 50 years of Charlie Brown with their annual corn maze featuring Snoopy and Charlie Brown. This family friendly orchard sells apples, pumpkins, and scores of other fresh produce and goodies from May until October. The award winning fresh pressed apple cider and caramel apples are a must try while experiencing the corn maze designed by Brett Herbst. Read more about Beasley's here.

HighPoint Orchard Pack a picnic, buy lunch, or snack on a u-pick apple while taking in the breathtaking picturesque views from one of the highest points in the county.  The historic 18 acre orchard has 20 different varieties of apples, peaches or Asian pears. The most unique apples available are the Mustu, empire, zefstar, and mollies. Be prepared to sample and buy their signature jams, relish and butters all homemade and sold in their gift shop! The Café is open for lunch Tuesday through Saturday until 2 p.m. HighPointOrchard.com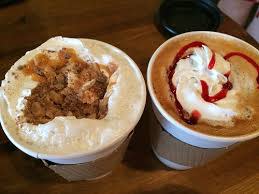 JK's Cheesecake and Coffee Cafe is known for rich and tasty cheesecakes. Persimmon and pumpkin are the flavors of the season. Top the slice of heaven off with a Gourmet Pumpkin Spice Latte and many more fall coffee flavors. Don't forget to check out the local art and jewelry designed by local artisans. Facebook.com/JKsCafeDowntown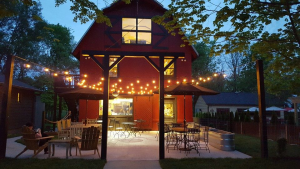 Rail Epicurean Market This farm-to-table gem is nestled in the heart of Westfield. The historic barn turned restaurant is a sure win for a laid back atmosphere and fall flavors.  The fall menu is packed with flavors of the season. The Blonde French Onion Soup and the Autumn Harvest Chopped Salad are some of the newest pairings. Check out their website for the newest fall menu. Also check out this blog for more places to go in Hamilton County. RailEpicureanMarket.com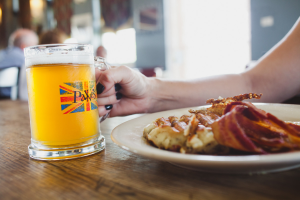 Payne's Restaurant It's all about the roots this fall. The chic British influenced restaurant uses the freshest local produce and pasture raised meat. Stephen Payne, owner and chef, uses his half British/half Scottish roots for his culinary expertise. This fall, the menu will feature entrees with roasted root vegetables, toasty soups with curry accents, and warm pear salads.  The British Fish N Chips is a popular item all year round. PaynesCoffeeandCustard.com

Zaharakos  A turn of the century ice cream parlor in downtown Columbus. Famous for nostalgia and homemade ice cream, the Autumn Season brings in a warm treat of pumpkin or apple tart. Top it off with homemade caramel and a favorite flavor of ice cream. Zaharakos.com
Wea Creek Orchard Produce galore at this North Central Indiana Orchard, selling peaches, apples and nectarines from July - October. In later fall, pumpkins and honey are abound in their market. Ride a wagon to the u-pick pumpkin patch located on the family-owned farm dating back to the 1855. Biscuit, the dog, and his furry friends will greet you on your journey. Be sure to check out Biscuit's blog. WeaCreekOrchard.com
To learn more about the Indiana Foodways Alliance, visit here. For more ideas on Fall in Indiana, check out our fall site!