Have you been to the Indiana History Center recently? My answer was no ... until a few weeks ago. I had read that in the summer they offered FREE family fun on Thursday nights and with only living 15 minutes from downtown I knew we had to try it out. Plus, I'm a sucker for any free entertainment. And I'm so glad we went.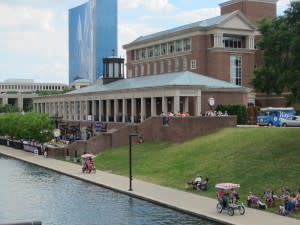 Every Thursday night this summer (through July) they offer FREE admission from 4pm-8pm. Each night features a different "theme" so to speak and they have various events based on that theme. Last week they had invited Animalia in to show off some unique animals and even teach kids and adults about where they come from and what makes each of them different. It was a great program and the second time I've interacted with Animalia and I continue to be very impressed.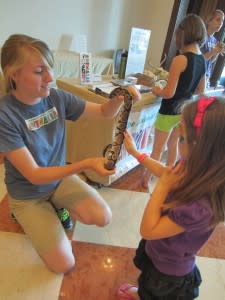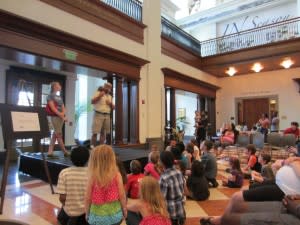 But I'm clearly getting distracted on the focus of the Indiana History Center - to teach about Indiana's past and allow you to experience it in a whole new way. Let's start with their Destination Indiana exhibit. Here you can watch a short video about Indiana's history and then, through interactive computers, you choose which area of the state to learn more about. A very creative and visitor-led experience that I wish I was able to spend more time in. It was a little over my 4-year-old's head and she wanted to move on to more hands on opportunities. Totally understandable. I have a mental note to go back ... soon.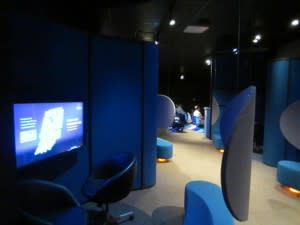 Which brings me to my favorite part ... "You Are There". Three different experiences await you:
1955: Ending Polio
1939: Healing Bodies, Changing Minds1
913: A City Under Water.
The first part involves walking through a one-room exhibit that gives you a bit of history on that particular time period. Once you have an idea of what was going on, you are "transported" back in time to that scene.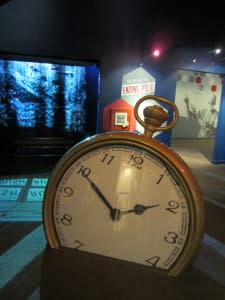 It is seriously cool (and a huge hit for my 4-year-old). You walk through the misty curtain, doors open and there you are. Living among the different time and place. A wonderful way to experience history.
We first experienced 1913: A City Under Water which details the flood that overtook Indy that year. After learning a bit more of the history we were transported to a relief center where we could learn how they were supplying the residents with clothing and food and even take part in bagging up rice to hand out.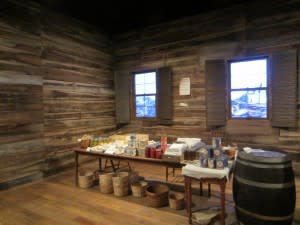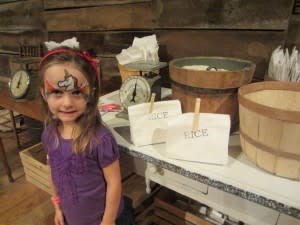 We went through all three "You Are There" experiences and it is honestly a great way to learn and be exposed to the history of the state.
The other beauty of Thursdays at the Indiana Historical Society this summer? Their FREE summer concert series on the canal (through August 8).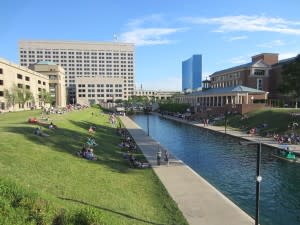 Pack a picnic dinner, grab your chairs and enjoy a wonderful evening listening to music. You can't beat that.
But if you find yourself downtown another day this summer, the Indiana History Center is worth a stop. It is one you won't regret.
For other attractions and events in downtown Indy, be sure and check out VisitIndy.com.