There's no better way to commemorate an occasion or enjoy some quality time with friends and family than a great meal at a memorable restaurant. The senses of smell and taste are strongly linked to memory, and we've come up with a list of 20 Indiana restaurants that you won't soon forget.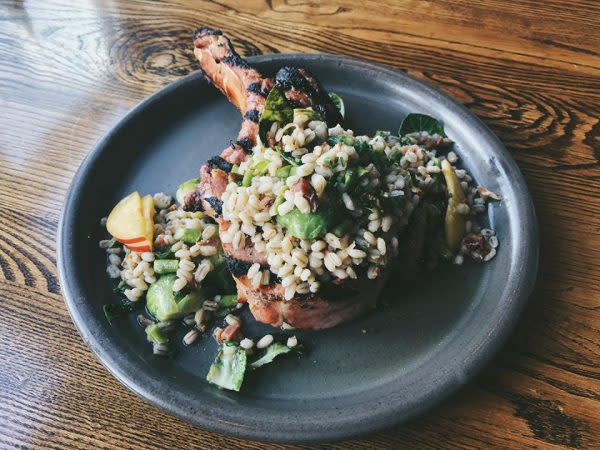 Pork chop with barley, brussels sprouts, and apple at Cerulean
Date Night
Birthdays, anniversaries, and nights out for two call for a special celebratory meal. Elkhart's Artisan casts a romantic spell on couples with its chic modern vibe and a dinner menu that highlights elevated Continental fare. Meanwhile, service-driven Vida in downtown Indianapolis lives its farm-to-table ethos with a growing wall of hydroponic greens in the kitchen for fresh salads and herb garnishes. Head south to the French Lick Springs Resort for a white-tablecloth meal and a champagne toast amid the elegant setting of 1875: The Steakhouse. Or, drink in the views of the scenic Winona Lake canal, along with creative craft cocktails to complement sushi, sandwiches, entrees, and small plates, at the original Cerulean.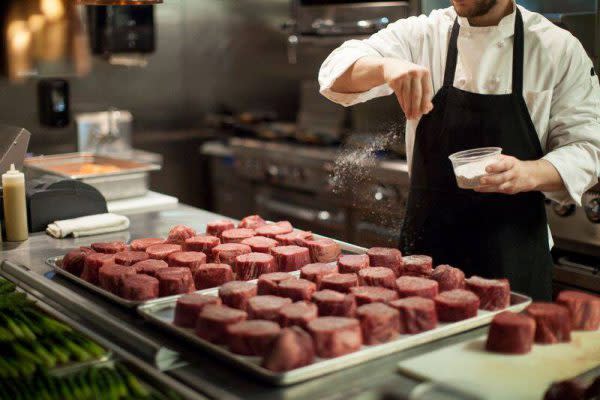 Artisan Elkhart
Country Charm
Nothing tastes better than good old-fashioned Indiana comfort food. The rustic beauty of Brown County provides a perfect backdrop for breakfasts, lunches, and dinners composed of locally sourced ingredients and produce at the Story Inn. Nearby, The Nashville House cooks up mouthwatering country favorites like fried chicken, Hoosier baked ham, meatloaf, and turkey Manhattans with heaping sides of mashed potatoes, green beans, and sweet corn. In Commiskey, the utterly charming Twigs and Sprigs Restaurant grows its own herbs and edible flowers for dill rosemary chicken salad and herb-roasted prime rib in on-site gardens guests are welcome to wander through. Plan on arriving early to Bonge's Tavern in off-the-beaten-path Perkinsville, where tailgating in the parking lot while you wait for your table is all part of the attraction.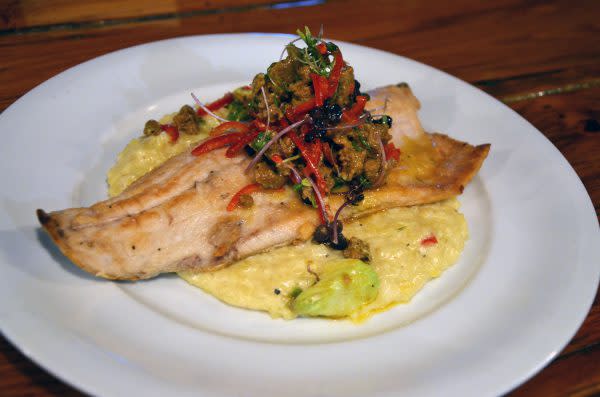 The Story Inn - Indiana Trout with Chorizo Avocado Salad and Saffron Risotto.
Farm to Table
Indiana boasts some of the best farmland in the country, lucky for diners who enjoy knowing their meals support regional food producers. Savvy customers can enjoy the tasty fruits of Hoosier farmers' labors at Tolon in Fort Wayne through creative culinary creations like porcini-rubbed ribeyes, Indiana cheese fondue, and lamb Bolognese. Another Fort Wayne mainstay, Copper Spoon, relies on building blocks from Indiana farms to prepare memorable offerings like charcuterie and cheese platters, fresh salads, and steaks. With a name like FARMBloomington, customers know they can rely on seasonal menus from Chef Daniel Orr that showcase homegrown ingredients at their peak of flavor. And diners can't get any closer to the farm than at The Loft at Traders Point Creamery in Zionsville, where grass-fed cows graze in fields just outside the barn-sited eatery. Save room for ice cream.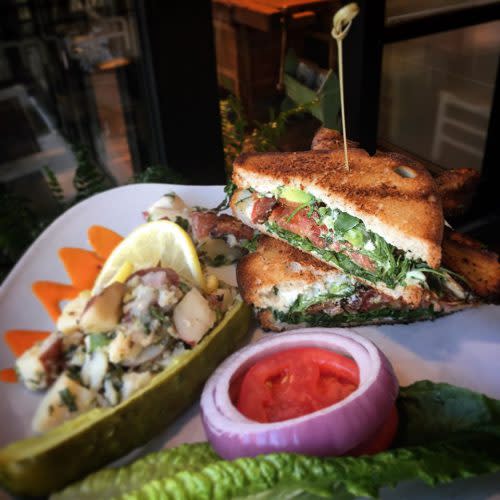 FARMBloomington
Bistro/Wine Bars
Sophisticated casual eats with a great glass (or bottle) of wine are the name of the game at Indiana's best bistros. Terre Haute's Bar Bosco presents a cozy nook to settle into for house-made Italian pastas, bread, and gelato, along with wood-fired pizzas and hearty main courses. Gourmets in the know happily road-trip to Greencastle for gastropub cuisine and a thoughtfully vetted wine collection at Bridges Craft Pizza and Wine Bar. On the Martinsville town square, 21 North Eatery and Cellar wows patrons with burgers and sandwiches big enough to require a knife and fork, classic Caesar salads, and sharable small plates. With wood walls and sleek décor, Henry Social Club in Columbus fits right into its architecture-centric environs. Belly up to the bar for picture-perfect plates of pasta, poultry, vegetables, and desserts. Salut!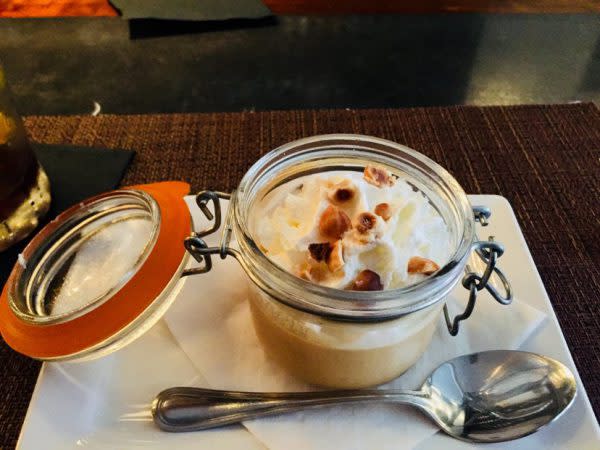 butterscotch pudding at Henry Social Club
Indiana Roots
For great food with a side of Hoosier history, set a course to any of these Indiana dining institutions. Since 1954, Fort Wayne's Oyster Bar has been serving up superlative seafood in a storied building that at one time operated as a saloon and speakeasy. If these walls could talk… In nearby Huntington and operating since 1908, humble Nick's Kitchen is often credited with creating the quintessential Indiana pork tenderloin sandwich. Another long-time local favorite, St. Elmo Steak House in downtown Indianapolis has been in business for over a century, with the stories and photos to prove it. Don't even think about skipping the spicy shrimp cocktail. Or, feast on a mile-high Reuben or pastrami sandwich followed by a slice of pie at Shapiro's Delicatessen, Indy's favorite family-owned deli since 1905.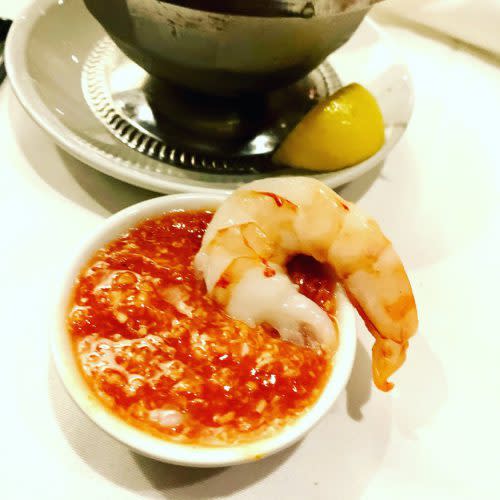 St. Elmo Steak House shrimp cocktail
For more great restaurants, check out our list of top Destination Dining eateries and check out other restaurants around Indiana.