As I sit here and write this I can hardly contain my excitement. The Indiana State Fair starts tomorrow! I grew up going to fairs. My Mom loves fairs and she has (thankfully) passed down that love to me.
Since living in Indy I have not missed the state fair. In fact, I go multiple times (last year eight to be exact). There is so much to do you can't do it in one day and by visiting multiple times you can spread out the fun and soak it all in. So, here are a few of my highlights for this year's fair ...
Coliseum - No doubt you have heard by now that this year is the "Year of the Coliseum". Since closing a few years ago, the coliseum has undergone an extensive restoration project and trust me, you will want to see it! I went to the grand opening a few months back and it is impressive.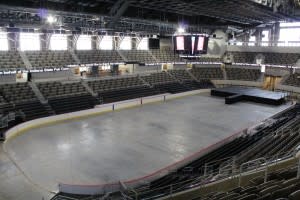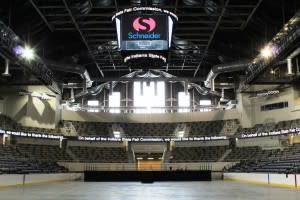 One of my favorite things to do here? Every year, my husband and I grab a treat (pick your favorite!) and head inside for a break. No matter what judging is going on, we each pick who we think will win and sit back and enjoy. I'm sad to say that I've lost more years than not, but still a fun tradition.
Have kids? I can make a whole post about just things to do with them, but I'll highlight a few favorites:
Little Hands on the Farm - Your kids can try their hand at farming: planting, feeding, tractor driving, milking and the best part? They turn in their goods for a goodie of their own! (Located on the north side of the grounds in the Family Fun Park.)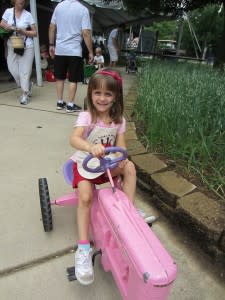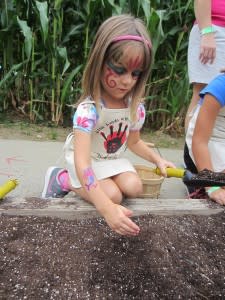 Cheese sculpture - be sure and visit the Dupont Food Pavilion to see the cheese creation of the year! (Photo from last year.)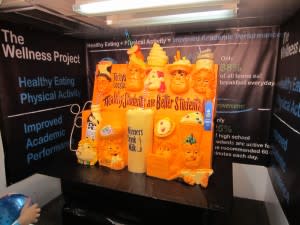 4-H Building - Tucked back in the northwest side of the grounds, these two buildings were a gold mine for us last year! Not only did we see some phenomenal cakes decorated ...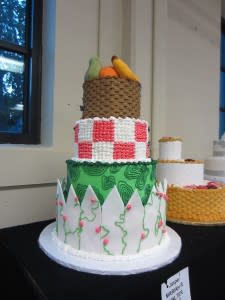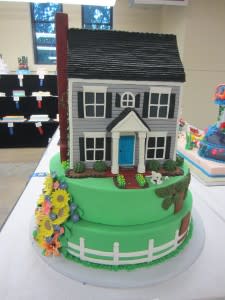 But, Maggie also got to try her hand at sewing and building!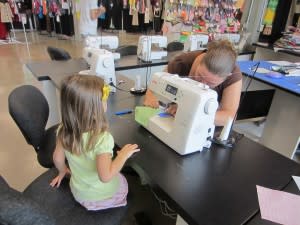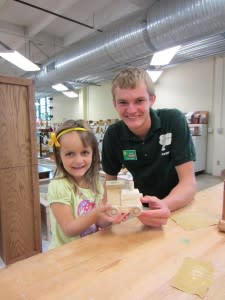 Lastly, let's talk food/drinks. You can't beat the apple cider slushie (found on the north side of the track - one on each end). This is a must have for us. They also come in peach!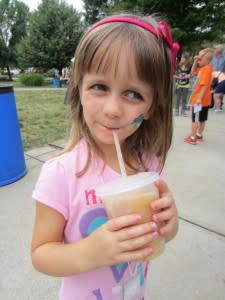 While the winner of the state food contest was a fruit twist I'd like to highlight the colossal grilled cheese that I'm planning to get ...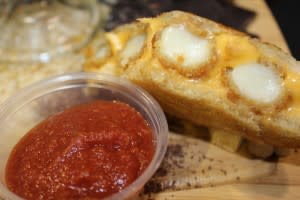 There you have it ... a few highlights for this year's fair. I'll be there tomorrow (of course) and am more than happy to share my findings of the new shows (trick dog show, wild west show, duck race, etc.). Trust me. I. Can't. Wait.
Indiana State Fair - here we come!