Visit Indiana's Executive Director Mark Newman appeared on Fox 59 Morning News in Indianapolis to talk about some of the amazing Indiana Grown products that you should put on your table this Thanksgiving. You can watch his segments below and read about some of the delicious treats. In the second segment, a full meal of Indiana Grown products is presented!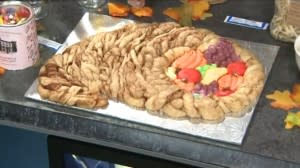 Watch the first FOX 59 Morning News Segment Here.
Thanksgiving Bounty Smoking Goose Indianapolis - Smoked Turkey - Slow cured and smoke meats- from their meat locker
About Smoking Goose: All Smoking Goose recipes begin on the Farm... partnering with small, familyGoose the Market- Full service butcher shop and specialty food and wine market.
Fair Oaks Farm - Gift box of gourmet cheese and premium beef
About Fair Oaks Farm: Agritourism destination (agriculture theme park) which offers dairy products, cheese and gourmet food baskets, as well as tours and corporate outings.
Bread Basket Caf - Danville - Harvest Moon Sweetie Pie (individual sized pie with apple, apricot, cranberry, and autumn spices) - Cranberry Orange Bread - Honey Oat Bread
The Breadbasket Caf offers an array of house-made breads. The caf also offers soups made daily from locally grown ingredients, sandwiches stacked on their freshly-baked bread and crisp salads to round out the menu.
Amish Acres - Nappanee - Bean Soup Mix and Egg Noodles
The perfect side dishes, pre-packaged and ready to make for your holiday meal. Amish Acres is the Only Amish Farm Listed in the National Register of Historic Places. A family style restaurant on site, and Amish Bakery with every baked-good you could imagine.
Blue Gate Bakery- Shipshewana - Amish Peanut Butter & Apple Butter
The Blue Gate Bakery is a family-owned Amish Bakery located in Shipshewana, the heart of Indiana's Amish Country. Some of their specialties include Amish Peanut Butter, Apple Butter, Amish Jams & Jellies, made-from-scratch Pies, Cookies, Bars & Sweet Breads, Doughnuts & Pastries and their famous Cashew Crunch.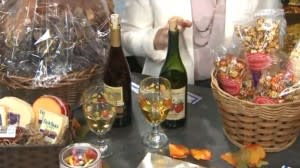 Huber Winery - Starlight - Traminette Made from Traminette grapes grown on the Huber Estate, this wine is rich with floral notes, complimented by aromas of honey, peach, and pear. Its complex, yet elegant and soft. A perfect complement to turkey, creamy pastas, and seafood.
- Spiced Apple This unique seasonal wine is Hubers interpretation of the classic spiced wines from our German heritage. We create an apple wine with integrated aromas of cinnamon, clove, and nutmeg.
Everything made at Hubers is grown at Hubers. Starting in the 70s, Hubers made wine from its farm-grown strawberries.
Bakers Peak Cakes - Lafayette - Large cinnamon roll ring that is in the shape of acornucopia
Bakers Peak has been famous for its sumptuous baked goods since 1989. Their concept is, and always has been, quality, freshness and service.
Wicks Pie - Winchester - Sugar Cream Pie - Pecan Pie
Wicks is probably best known for the sugar cream pie, the official pie of Indiana. They make a number of other great pies, from pumpkin to pecan and beyond. They also ship their delicious pies all over the country.
Albanese Candy - Merrillville - Chocolates and Gummies
For over 30 years Albanese has been making the World's Best Gummies & Candies right here in the United States. They also do factory tours.
Schimpffs Confectionery - Jeffersonville - Hard candy fish is a traditional candy found only in Southern Indiana.
Schimpffs makes delectable flavors from blackberry to watermelon on century-old equipment. Because the fish is a Christian symbol, many people call them Christmas fish. In April 2016, Schimpffs Confectionery celebrated 125 years in business in the same location. Family-owned since 1891, Schimpffs holds live candy-making demonstrations in historic downtown Jeffersonville.
New Albany Honey - New Albany Honey, a local honey harvested from Southern Indiana hives, is a welcome addition to the holidays bounty.
Honey glazed turkey, glazed carrots, and honey pecan pie are just a few of the recipes you can find to make your Thanksgiving special. New Albany Honey is collected by Randall E. Lynch, Jr. of New Albany Honey and Apiary. The apiary also breeds and sells honey bees and queen bees, sells bee supplies and offers beekeeper training.
Popcorn Caf Kokomo - Pumpkin-flavored popcorn
At the Popcorn Caf we boast of using the highest quality of ingredients. It starts with a coconut oil to pop the popcorn in daily. The Popcorn is a high grade of mushroom popcorn, which bursts into a large kernel when combined with the coconut oil. Real cheese and flavorful spices are used in our cooking as well.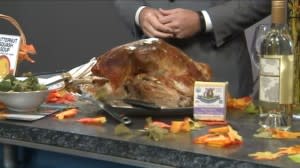 Watch the Indiana Grown Fall Meal segment here.
Indiana Grown Fall Meal: This is a great fall/Thanksgiving meal made entirely from Indiana Grown products! We think its important to buy local, and when you do, youre not only getting some of the best tasting products around, but youre also supporting your neighbors and fellow Hoosiers.
Butternut Squash Soup Urban Ladle from Indianapolis, IN
Midwestern goodness into every soup they create. Urban Ladle uses only the freshest ingredients, locally sourced whenever possible.?
Roasted Broccoli with Garlic The Fresh Fork Online from Bloomington, IN
Choose a farm fresh meal and pick it up or have it delivered. Or, if you dont feel like cooking this holiday season, order your meal online at Fresh Fork Online.
Turkey Steckler Grassfed from Dale, IN
Our turkeys are raised outside with plenty of fresh grass and bugs to eat. These plump birds areoffered a high quality mixture of grain to keep up with their high metabolism.Noantibiotics orgrowth hormones are given.
Thanksgiving blend coffee JavaRoma from Mitchell, IN
Limited edition, dark roast
Spicy, full-bodied brew with subtle herbal notes that will warm anyone up on a cool, fall day.
Cranberry Jubilee Wine Easley Winery from Indianapolis, IN
Cranberry Jubilee is a fruit celebration! This semi-sweet wine artfully balances crisp tartness of cranberries with just the right amount of sweetness.
8 Fall Flavor Truffles and Bonbons and Harvest Bark Chocolate for the Spirit from Carmel, IN
Chocolate for the Spirits gourmet, luxury chocolates are great for any occasion! These gourmet truffles and bonbons come in an assortment of fall flavors and are perfect for your Thanksgiving Dessert spread! Theyre also perfect for sharing and for your Thanksgifting enjoyment.
Daggermountain Roastery (coffee) Valparaiso
We specialize in seasonal coffee, served black to emphasize the natural flavor in each unique roast.
Grillin Rub seasoning and BBQ sauce Birky Family Farms from Kouts, IN
Established by our Grandpa and Grandma Jake and Emma Birky in 1919, farming has truly been a Birky family calling for generations.