The Indianapolis Motor Speedway will once again become the focus of auto-racing fans July 25-28, 2013 as the NASCAR Nationwide Series and GRAND-AM Road Racing joins the NASCAR Sprint Cup Series for four exciting races during the Kroger Super Weekend at the Brickyard.
While the Indy 500 is a holiday of it's own, the events surrounding the 20-year old Brickyard 400 this Thursday through Sunday look more like an auto-racing mega-convention: attracting professional racers and weekend warriors alike to compete in several fan-accessible events.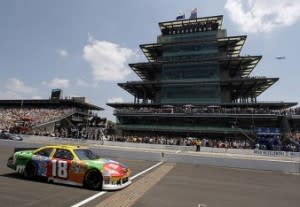 Don't worry race fans! The M&M car melts in your mouth, not on the track!
All four days of the Kroger Super Weekend at the Brickyard will be packed with on-track action, providing great value for fans. The premiere event - officially titled the "Crown Royal Presents the Samuel Deeds 400 at the Brickyard" - is scheduled for Sunday, July 28. Practice takes place Friday, July 26, with qualifying Saturday, July 27.
And just announced hours ago, Tony Kanaan, the last driver to win in Indy just a few weeks ago, will be racing in the weekend's Grand-Am series event, Brickyard Grand Prix July 26. The reigning Indianapolis 500 champion will drive a Daytona Prototype for Chip Ganassi Racing sharing the No. 02 NTT Data BMW with Joey Hand. Gearheads will be quick to point out that no driver has won more than one of the major races at IMS over his career. Kanaan will try to accomplish that in the same season.
For schedule of the weekend, log onto the IMS website here.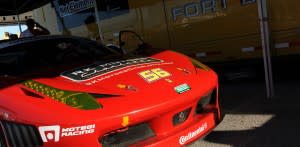 GRAND-AM series cars such as this Ferrari feature modified production cars.