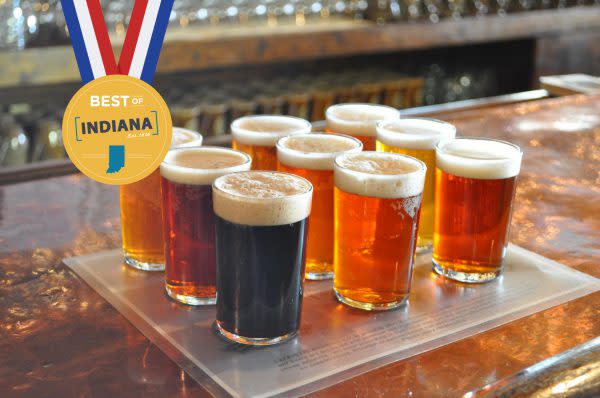 Ale, Stout, or Lager, no matter what your favorite may be, the Hoosier State has a craft brew for you. Hoosier breweries consistently rank as some of the best in the world at prestigious competitions, like the Great American Beer Festival and the Brewers' Cup. The Brewers Guild of Indiana has come up with a list of 50 nominees to vie for the title of Indiana's best brewery. It's up to you to narrow it down.
Voting is open for Visit Indiana's 2019 Best of Indiana people's choice campaign. Cast your vote to select the Best Breweries, Hiking Trails and Main Streets in Indiana.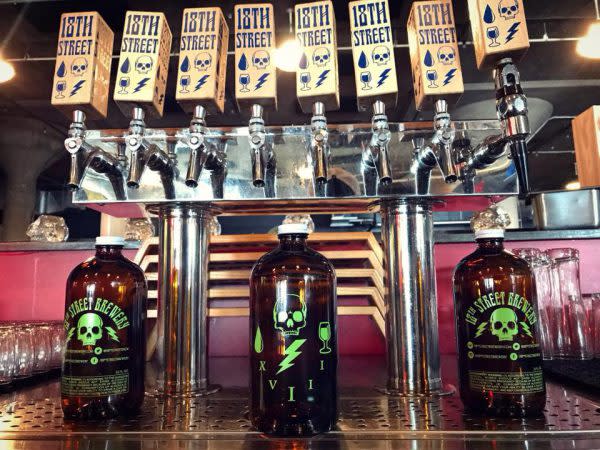 18th Street Brewery, Hammond 18th Street Brewery in Hammond is a brewpub, taproom, and bottle shop. They specialize in hand-crafted big, small, barrel aged, and even sour beers. Their award-winning brewery also offers a unique and season food menu prepared by Chef Andrew Dering.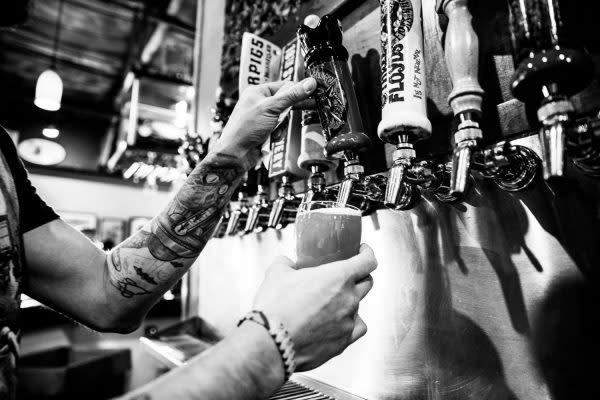 3 Floyds Brewpub, Munster 3 Floyds began in 1996 with only a few hundred dollars, a five barrel Frankenstein wok-burner-fired brew kettle, repurposed open Swiss cheese fermenters, and an old Canfield's Cola tank. Chefs Cole Ersel and Pat Niebling creates dishes featuring ingredients from local farms at 3 Floyds beers at the brewpub. The pub also serves up their flagship beers along with seasonal and pub-only beers.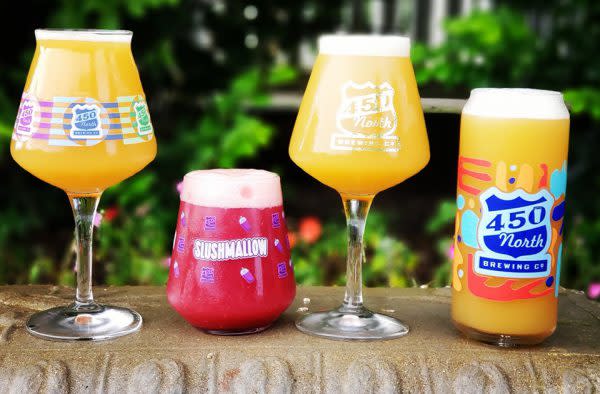 450 North Brewing Company, Columbus 450 is a brewery, taproom, and restaurant located on the Simmon's Family farm in beautiful Columbus. Since opening in 2012, their taproom has become a destination for delicious beer, pizza, and fresh growler fills. Featuring a picturesque rural setting and one-of-a-kind events like the annual Corn Maze Beer Fest, they are the perfect spot for a laid-back day trip.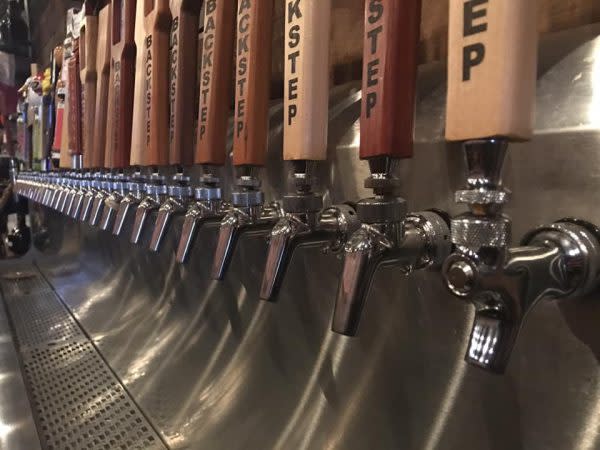 Backstep Brewing Company, Crawfordsville Founded by two firemen, Backstep Brewing Co. is a craft brewery focused on providing high quality craft beer to the community of Crawfordsville.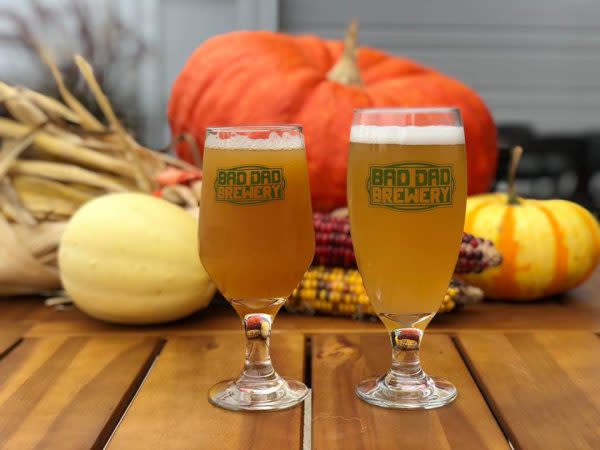 Bad Dad Brewing Co., Fairmount Specializing in artisan beer, Bad Dad Brewing offers 12 taps to give a wide selection of tastes. They believe that great beer doesn't have to be limited to the big city, which is why they are putting their own spin on their favorite styles from across the country. Along with their beers, Bad Dad Brewing also offers Neapolitan inspired pizzas from an imported Italian oven with dough made in house.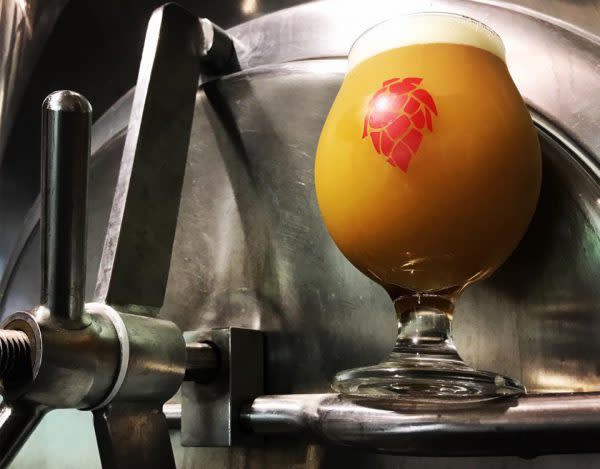 Bare Hands Brewery, Granger Bare Hands Brewery opened in December, 2011 with one simple mission: Handcrafting small batches of incredible beer with the highest quality ingredients. Beer is available on 10 rotating taps in the brewpub and limited distribution in Indiana. Bare Hands beers have quickly developed a cult following among local beer geeks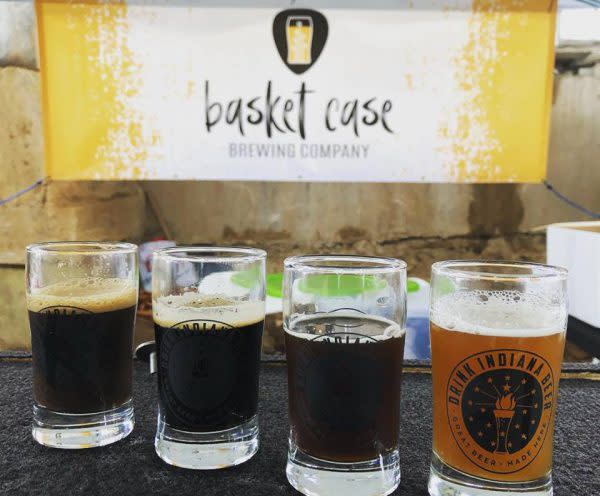 Basket Case Brewing Company, Jasper Basket Case Brewing Company is a nanobrewery (1.5 BBL) located within The Mill House Restaurant. The brewery blends a love of both beer and music. Take a close look and you will find musical references within everything they do. They have integrated music into their beer names, descriptions, and equipment.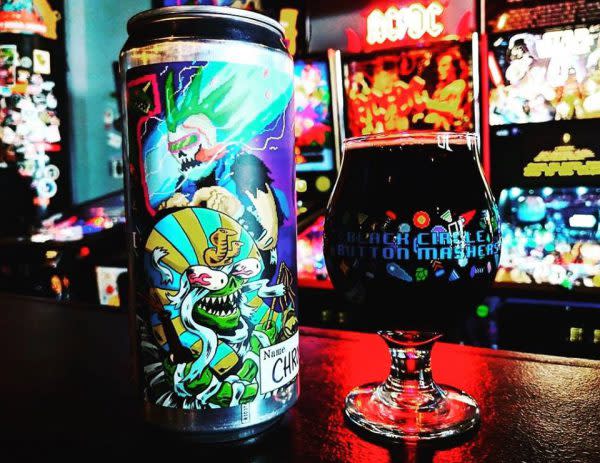 Black Circle Brewing Co., Indianapolis Black Circle Brewing Company is equal parts micro-brewery, craft beer bar,and music venue. Their focus is on quality local craft offerings and brewing their own versions of their favorite beer styles. Black Circle regularly hosts live music events, movie screenings and other local artists and entertainers. They also have an ever expanding collection of vintage arcade games, and PINBALL, so bring a handful of quarters with you!
Bloomington Brewing Company, Bloomington As one of Indiana's first craft breweries, Bloomington Brewing Co. takes pride in their fine ales and specialty beer. Every batch of their beer is brewed with filtered water, superior quality malts, hops and yeast, and exacting personal attention. They employ old-world brewing techniques and long fermentations to ensure depth and integrity in each batch of Indiana beer they brew.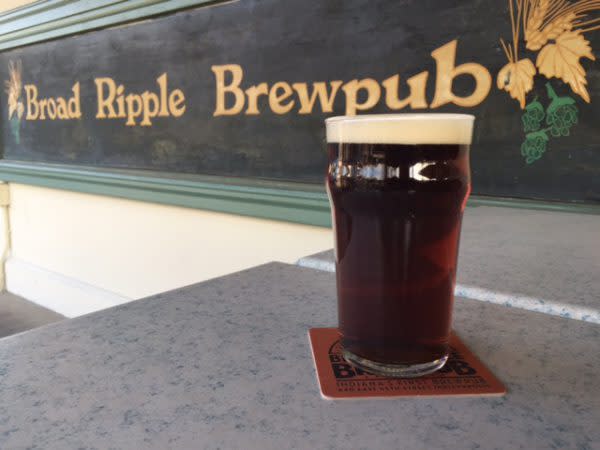 Broad Ripple Brewpub, Indianapolis The Broad Ripple Brewpub was established in 1990 by Englishman John Hill and his wife Nancy. It is Indiana's very first brewpub and the oldest operating brewery in the State. It is designed to simulate a typical English pub with its dark wood paneling, leaded stained glass windows, and cozy fireplace. The large and eclectic menu includes pizza, wings, burgers, pasta dishes, and unique British fare such as Shepherd's pie.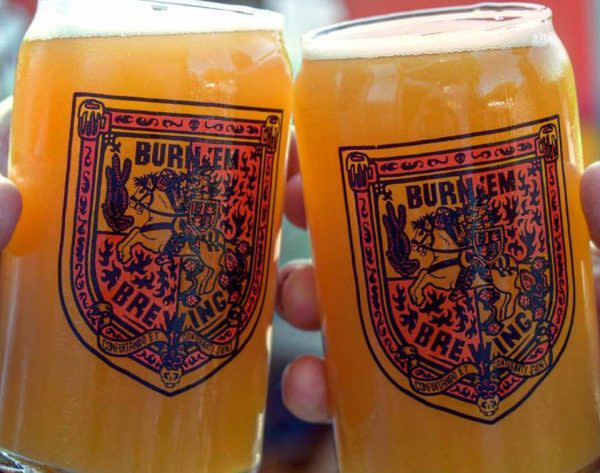 Burn Em Brewing Company, Michigan City Burn 'Em Brewing strives to bring creativity in the way it brews and what it brews with to produce the finest and most unique brews in the region.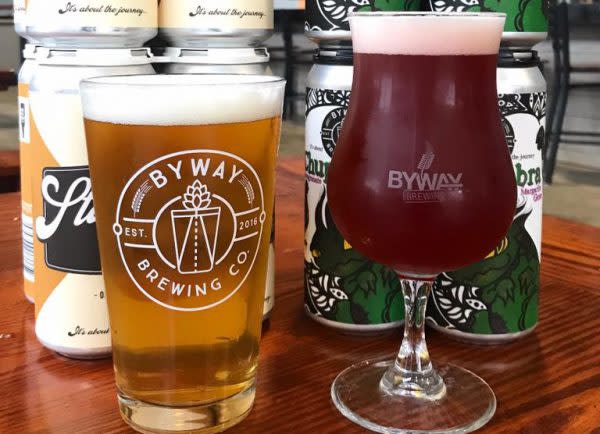 Byway Brewing Company, Hammond Byway Brewing in Hammond is conveniently located off I-80/94 and Kennedy Avenue. Their taproom is family-friendly and offer a chef-driven menu and friendly atmosphere. Don't forget about the beer - where you can enjoy year-round brews as well as small batch beers in the taproom or the Production Pub.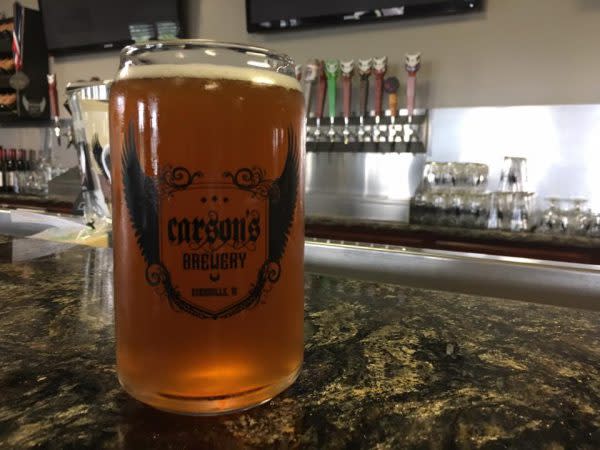 Carson's Brewery, Evansville Carson's Brewery contains a 20-barrel batch brewing system and 7 fermenters in their 10,000 square foot facility. Their core beers include Red Dawn, Harlot, Eville Wheat, Brown Cow, Demonik, Git-R-Done, Tilted & Kilted, and Blue Siren. You can even join the "Carson's Pint Club", which provides you with your own Carson's Pint Club Glass, $1 off all pints throughout the year, early preview of new beer releases, and other cool benefits!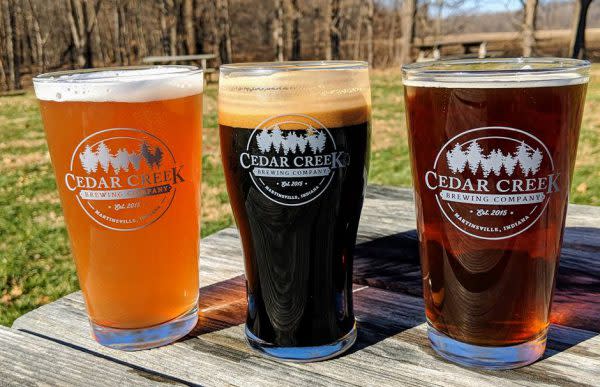 Cedar Creek Winery & Brew Co., Martinsville A sister-company to Cedar Creek Winery, the Cedar Creek Brew Co offers a casual atmosphere for craft beer tasting and sales. Stop in and enjoy the gorgeous property. Since the brewery is located on the grounds of the winery, you are able to wander the grounds with your choice of beverage.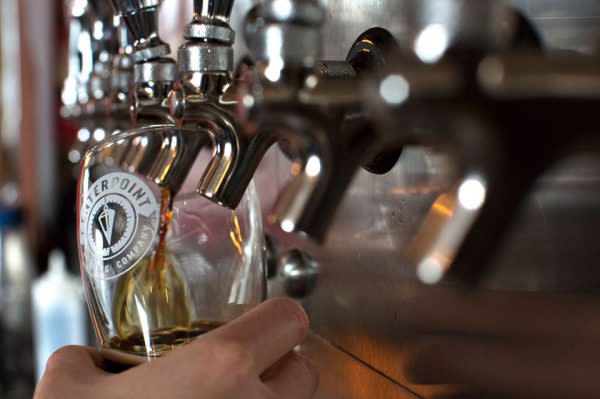 Centerpoint Brewing, Indianapolis Centerpoint, located on the east side of Indianapolis, brews beers designed to be approachable by everyone. Whether it's the Centerpoint Gold, Orange IPA, or their Black served king Arthur style, they go for a clean and balanced brew. Centerpoint's mantra is "precision engineered, craft beer for everyone."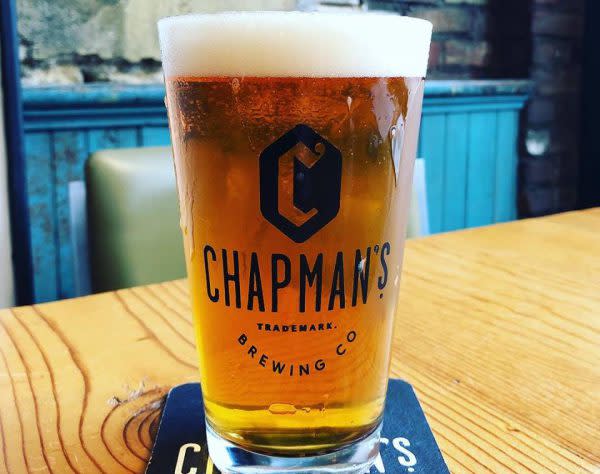 Chapman's Brewing Company, Angola Chapman's Brewing Company offers intelligently crafted brews, hand crafted locally in Angola. Everything they do, from working with orchards in Michigan and Washington, to the selection of cans instead of bottles is completely focused on making high quality beers and ciders. Using the most authentic ingredients from around the world, Chapman's produces European-style and American ales.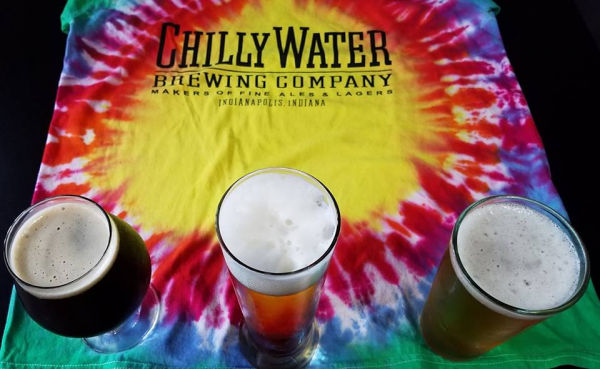 Chilly Water  Brewing Co., Indianapolis Located in the historic Fletcher Place neighborhood of Downtown Indianapolis, Chilly Water Brewing Co. is an urban brewpub serving award winning beer and great food. Wednesday happens to be "Hippy hour", where pints are $4 and growler refills are $7! Best of all, their patio is dog friendly.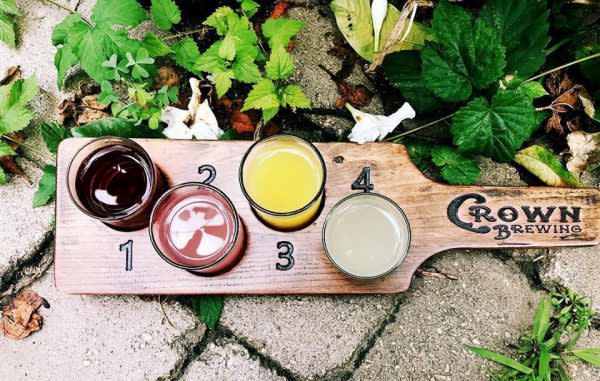 Crown Brewing, Crown Point Visit Crown Brewing for award-winning local beer in historic downtown Crown Point! The brewpub has outdoor and family-friendly dining available. Everyone is welcome under the Crown.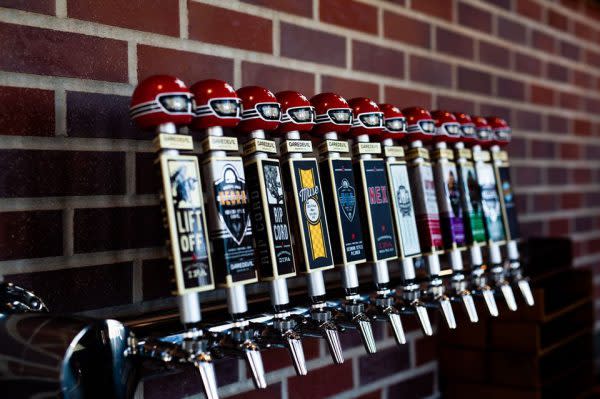 Daredevil Brewing Co., Indianapolis Daredevil Brewing is a production brewery located in the Speedway neighborhood of Indianapolis. They started as a brewery with one year round beer, Lift Off IPA, which quickly grew to become one of the best selling craft beers across Indiana. Lift Off IPA is their flagship beer, but they also have one of the most diverse German-style lager programs in the United States.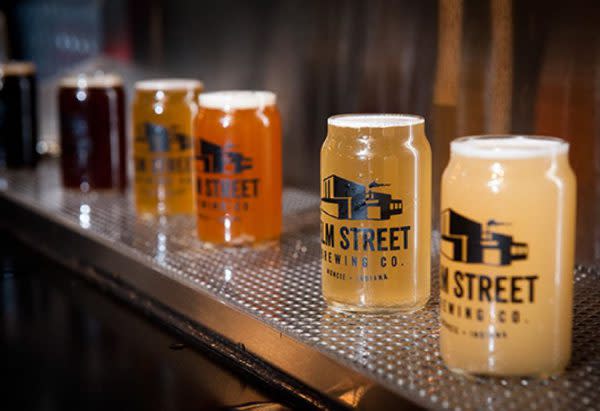 Elm Street Brewing Co., Muncie Like the mighty Elm, Muncie, Indiana has a strong and storied history. Elm Street Brewing Company beers are developed in Muncie's manufacturing and industry image. Their unrivaled craftsmanship combined with the finest ingredients prove that they pour their heart and soul into every beer they produce.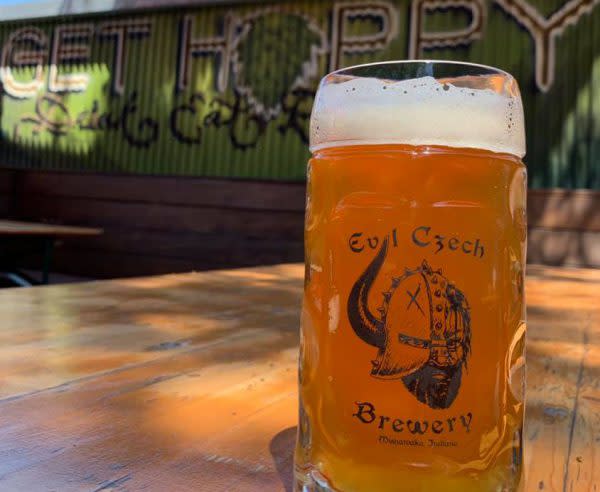 Evil Czech Brewery & Public House, Mishawaka If you believe life is too short to drink bad beer, you'll be in good company at Evil Czech Brewery.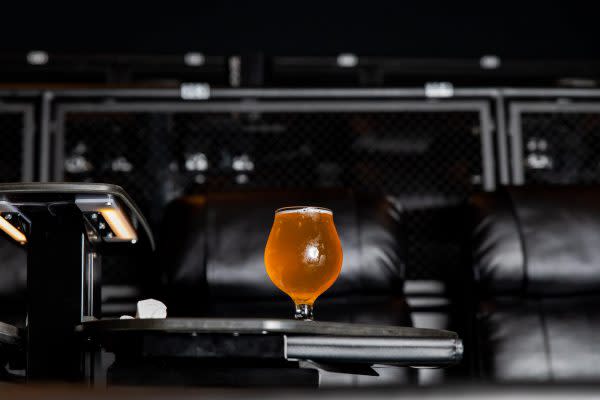 Flix Brewhouse Carmel, Carmel Flix Brewhouse is American's Cinema Brewery, the only first-run movie theatre in the world to incorporate a fully functioning microbrewery. By combining these concepts, Flix delivers to your theatre seat three of America's great loves - craft beer, great food and the latest movies!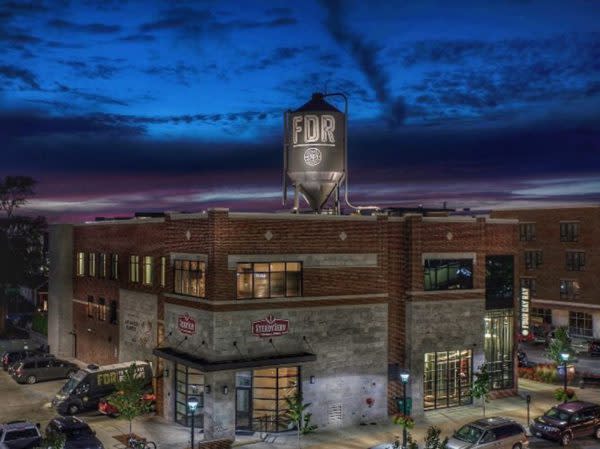 Four Day Ray Brewing, Fishers Centered in the Nickel Plate District, Four Day Ray Brewing is a family-friendly brewery & gastropub with 24 taps producing and serving award winning beers. Both their brewery and restaurant are visual spaces with garage doors that open providing a unique open air experience. At Four Day Ray's, they believe life is too short not to kick back and raise a pint!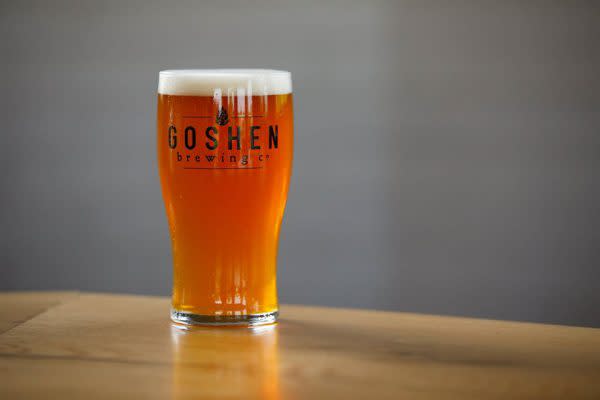 Goshen Brewing Company, Goshen Goshen Brewing Company is a family friendly brewpub that serves farm to table craft beers and foods. Their ales consist of a variety of traditional styles blended with unique ingredients. These styles include fresh hopped ales, caramelized and smooth scotch ales, German kolsch-style ales, sour fruit wheat ales, barrel-aged brett brown ales, imperial stouts with orange zest, dark saisons with toasted fennel seed, as well as many other seasonal options.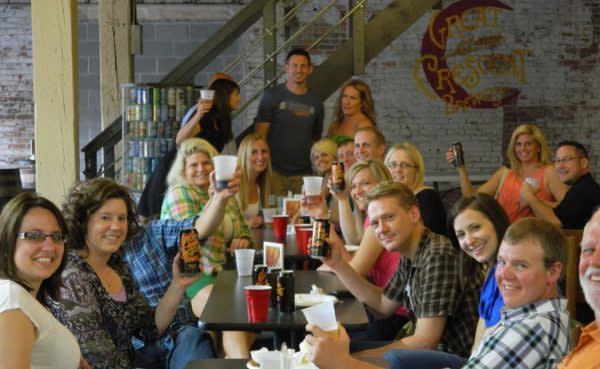 Great Crescent Brewery, Aurora Great Crescent Brewery is located in historic Aurora, IN along the banks of the Ohio River. Great Crescent Brewery beers are made with fresh malt, fresh hops and whole ingredients. Every beer is hand-crafted in small batches using traditional brewing methods.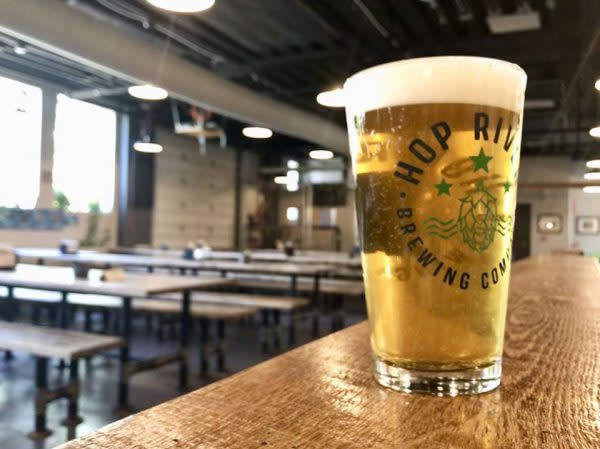 Hop River Brewing Company, Fort Wayne Hop River Brewing Company of Fort Wayne was founded on the idea of using the four basic ingredients (water, barley, hops, and yeast) to create unique varieties of beer. They courage you to bring some friends, watch a little of the brewing process, and then take a tour where you will meet the brewer. Hop River's classic beerhall taproom is the perfect spot for some pints and sandwiches.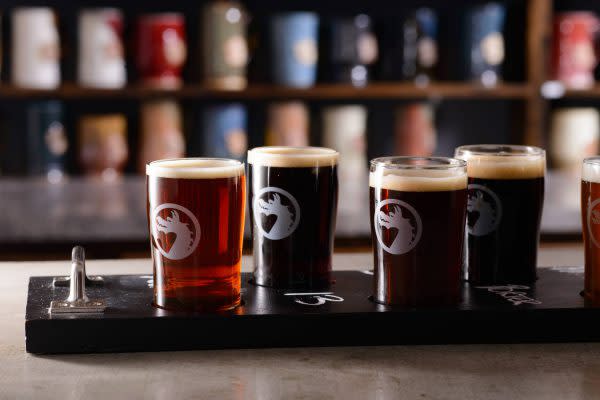 Iechyd Da Brewing Company, Elkhart Iechyd Da Brewing Company is a uniquely styled microbrewery and pub inspired by Wales. Their brew house seats 70 people and includes 10 rotating taps with 2 handpulls. They like to say their brewer "runs the gamut" when it comes to his variety of brews. From English Session Beers to hoppy American Pale Ales, he loves them all.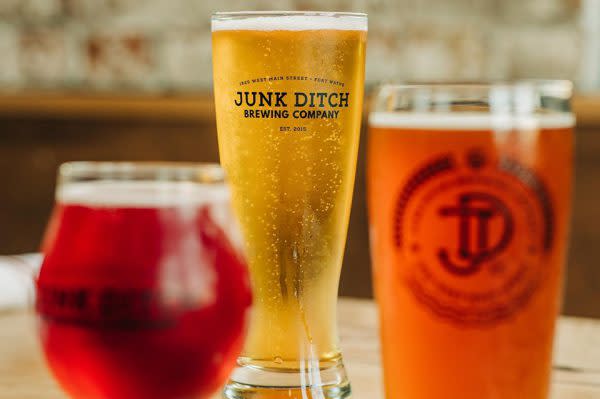 Junk Ditch Brewery, Fort Wayne Junk Ditch Brewing Company is a casual, refined family dining experience at the old Korte Paper Co. warehouse in downtown Fort Wayne. With a name that comes from a tributary of the St. Marys River that runs behind their space, Junk Ditch strives to introduce Indiana to different styles of food and beer. Upon their founding in 2012, they wanted to invest in three things: their city, craft, and customers.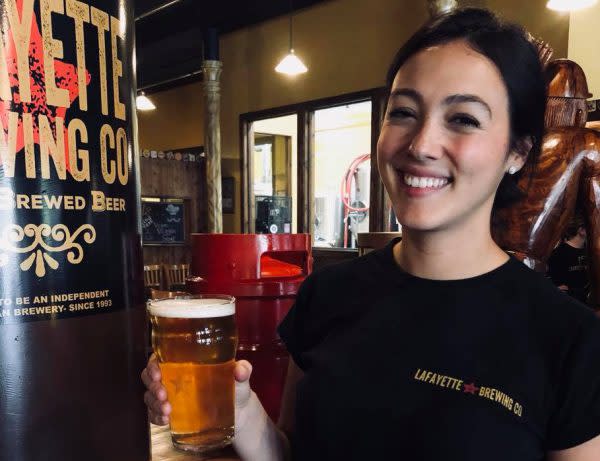 Lafayette Brewing Company,  Lafayette The Lafayette Brewing Company is aptly located in the heart of historic downtown Lafayette. Operating since 1993, their philosophy is to brew traditional ale & lager styles while incorporating high quality ingredients and innovative practices to create a distinctive array of beers. Their kitchen focuses on generous portions of unique pub fare and feature locally-produced ingredients whenever they can.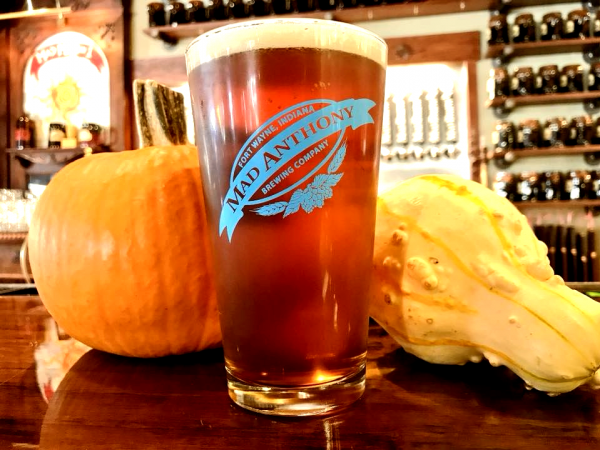 Mad Anthony Brewing, Fort Wayne Since its establishment in 1998, Mad Anthony Brewing Company has had a clear mission, support the local community and make quality off-the-wall beers fun and accessible for every type of beer consumer: from the craft beer novice to the complete hop-head. From Olde Fort Blonde Lager and Good Karma IPA to seasonals like Summer Daze and Snowplowed Winter Ale, Mad Anthony is known for having something on tap for every beer lover.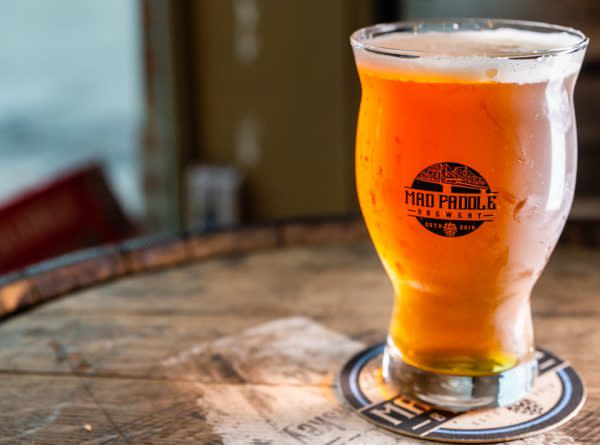 Mad Paddle Brewery, Madison As one of the first brewing cities west of the Alleghenies, Madison brewed great beer from 1823- 1918. With 2018 marking the 100th Anniversary, the Wade brothers launched Mad Paddle, honoring Madison's rich brewing heritage.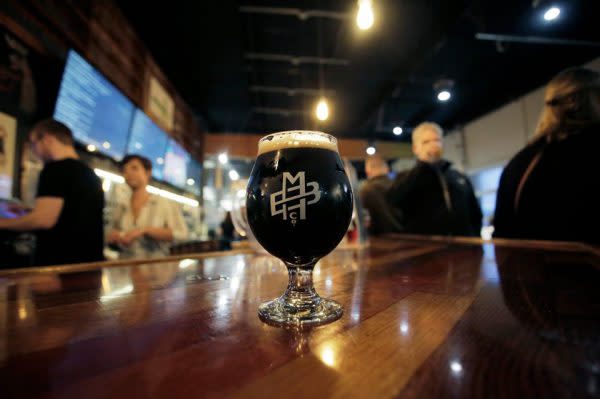 Metazoa Brewing Company, Indianapolis A craft brewery in the heart of downtown Indianapolis, Metazoa Brewing Company creates a wide range of true-to-style traditional lagers and quirky experimental styles that are easy drinking but big on flavor. They donate 5% of their profits to animal and wildlife organization to give back to the planet that gives us beer!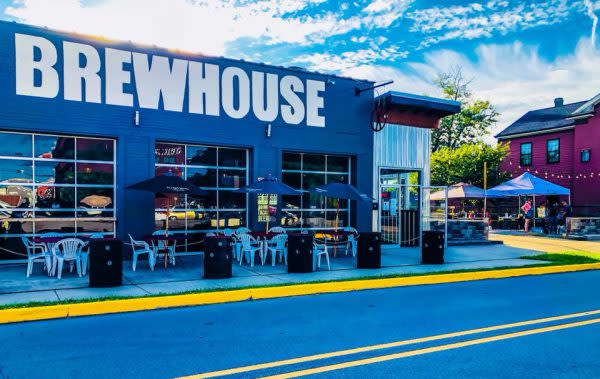 New Albanian Brewing Company, New Albany The Bank Street Brewhouse offers local craft beers, cocktails and a California-style Mexican menu courtesy of Taco Steve. They serve New Albanian Brewing Company beers on tap, as well as growslers and 12oz bottles of Hoptimus to go. You will also find a full service espresso bar with espresso cocktails, wine, and ciders.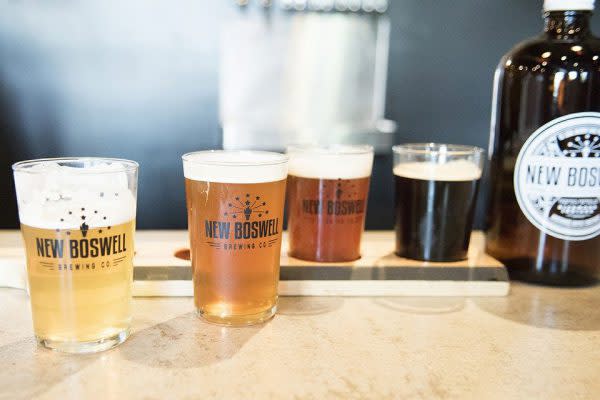 New Boswell Brewery & Tap Room, Richmond New Boswell Brewery & Tap Room is Richmond's first Microbrewery since prohibition. Located in the Depot District, the Tap Room is an inviting place to meet with friends and enjoy each other. 8 taps and 20 different varieties of uniquely brewed beer are available on rotation. Growlers are always available for purchase!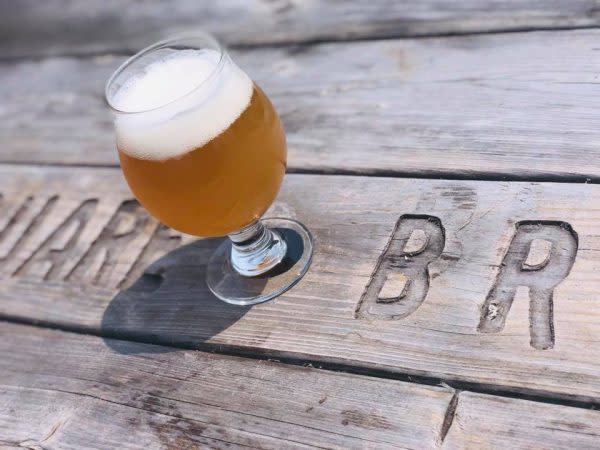 Off Square Brewing, Crown Point Off Square Brewing likes to be "off square" and brew outside the box. They have a passion for exploration and imagination that comes through in each batch they brew, with their beers being eclectic. Off Square beers are sometimes crisp and clear, but it is often a complex and wild ride. As they like to say, "Life's a journey; bring beer".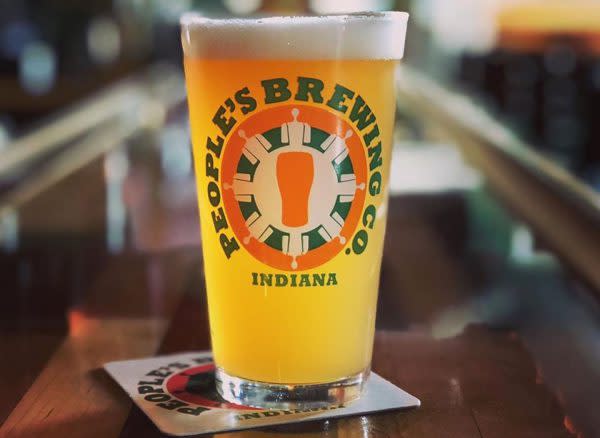 People's Brewing Company, Lafayette People make their beer great! Whether you're a craft beer nut, love local products, or believe great beer is made by a brewer with a big beard, People's Brewing Company is perfect for you. They offer a taproom and tours of their brewing facility. People's is passionate about encouraging their customers to become educated in craft beers and local beer history!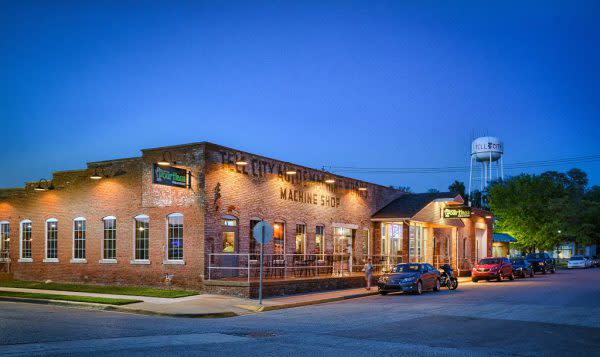 Pour Haus Restaurant & Brewery, Tell City The Pour Haus prides itself on being more than just a bar and brewery. The restaurant offers a full menu of American cuisine in a family atmosphere. The historic building used to be a machine shop, built before 1880 and rebuilt after a 1907 fire. All of the ceiling's woodwork and the building's brick are original or made in Tell City. Its two restored bars are originally from New York and are more than 100 years old.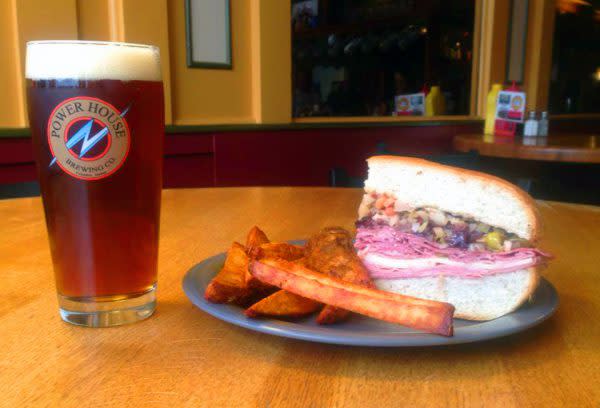 Powerhouse Brewing Company, Columbus Originally opened in 1939, Powerhouse Brewing Company is Columbus, Indiana's first brewery since the Civil War and one of Indiana's oldest continually operating restaurant/bars. Core beers include favorites like; Diesel Oil Stout, Ceraline Cream Ale, Jack The Bum Ale, and Two Daves IPA.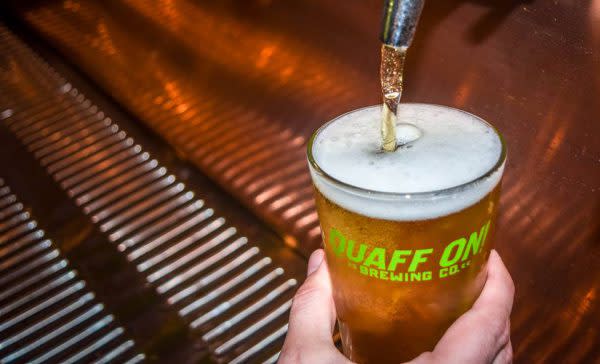 Quaff On! Brewing Company, Nashville Quaff ON! Brewing Company was formed in 2012 in response to the demand for the iconic craft beers we developed at Big Woods Brewing Company, our brewpub located in the heart of Brown County Indiana. Why 'Quaff ON!'? Because from the day Big Woods threw open its doors in 2009, Quaff ON! has been the rallying cry, the toast, and the salutation of our loyal fans.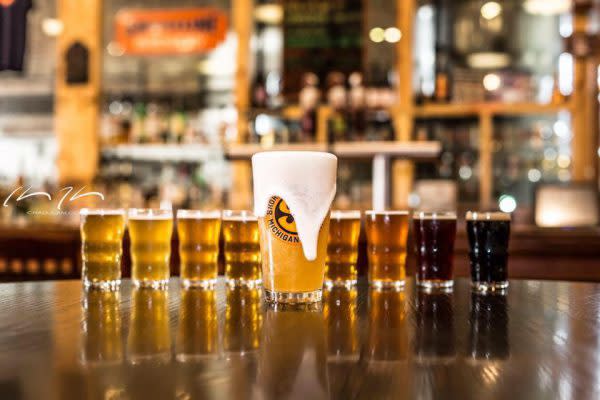 Shoreline Brewery, Michigan City Shoreline Brewery has been serving handcrafted beers at the edge of Lake Michigan since it's opening in August of 2005. To this day Shoreline is family-owned and independently run by its original founder and Head Brewer, Sam Strupeck. With twelve beers always on tap everyone will find a beer to fall in love with, whether it be the award-winning Beltaine Scottish Ale, the fan-favorite Curse the Goat, or the seasonal Stellar Blue blueberry ale.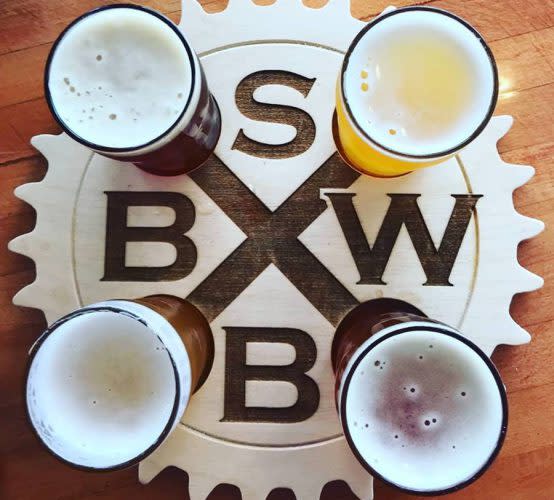 South Bend Brew Werks, South Bend South Bend Brew Werks is Downtown South Bend's only family owned and operated brew pub. It believes in building a stronger community, one brew at a time. Brew Werks has 20 taps which rotate frequently with a variety of seasonal and staple brews.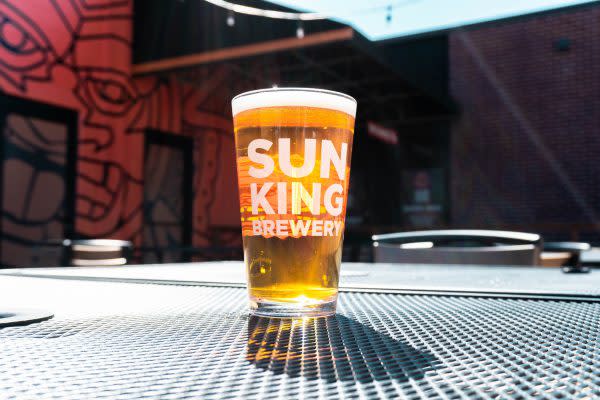 Sun King Brewery, Indianapolis The all-ages downtown Indianapolis Sun King Brewery production facility and tasting room offers up to sixteen beers at once. It opened as a small twelve tap tasting room and fifteen barrel brewhouse in half of an unused warehouse space. Now, this Sun King location occupies three buildings!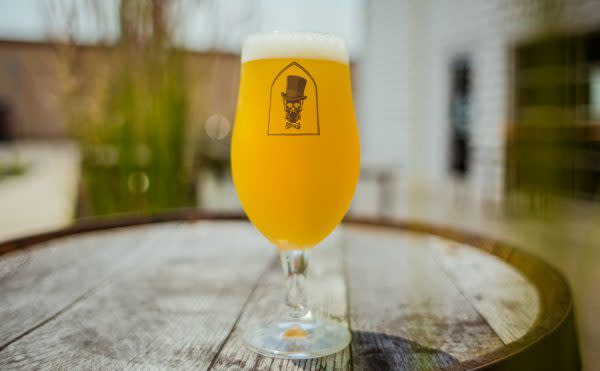 Taxman Brewing Company, Bargersville Taxman Brewing Company operates a 20 barrel brewhouse in Bargersville. Their annual proudction is 6,000 barrels a year and covers a wide-range of seasonal and limited release offerings. As the largest self-distributed brewery in Indiana, Taxman circulates their draft and in packaged format beer on a wide scale throughout the state. Their family friendly restaurant offer seasonal farm-to-table menus and their great tasting beers.
The Bier Brewery, Indianapolis Bier Brewery and Taproom has been family-owned and operated since 2010. The Bier Brewery quickly expanded and has won over 100 awards. Their three core biers are Weizengoot, a German Hefeweizen, followed by PDG, an American Pale Ale and then Special Kolsch, a German Kolsch. These are supported by rotating IPAs and seasonal styles throughout the year.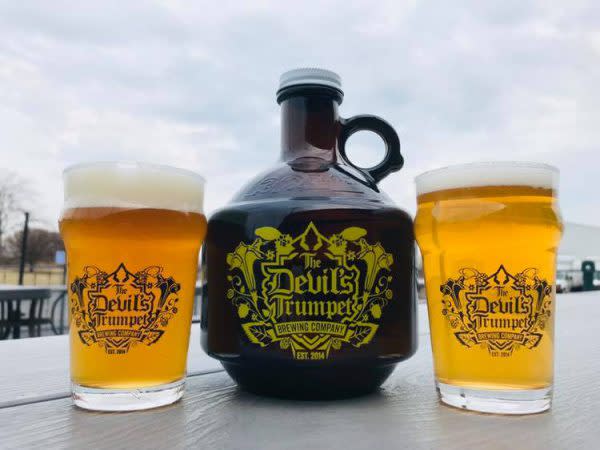 The Devil's Trumpet Brewing Co., Merrillville With their destination brewery and taproom, The Devil's Trumpet welcomes the craft beer lover. The brewery opened in 2014, but their brewers have been perfecting their recipes for over ten years. Brewed with old word tradition and new world imagination, you will never regret drinking a few pints from The Devil's Trumpet.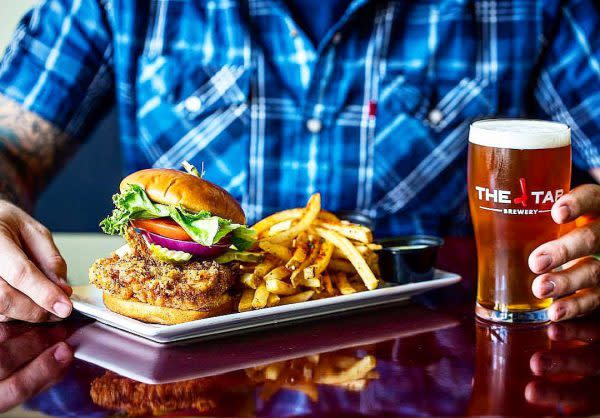 The Tap - Btown, Bloomington The Tap boasts one of Indiana's largest selections of small-batch craft beer. You will find over 90 hand-selected brews on tap with their draft menu changing every day. The brewery, located on site, offers 20 original beers to choose from. The Tap stages features live music in Bloomington even offers live music throughout the week!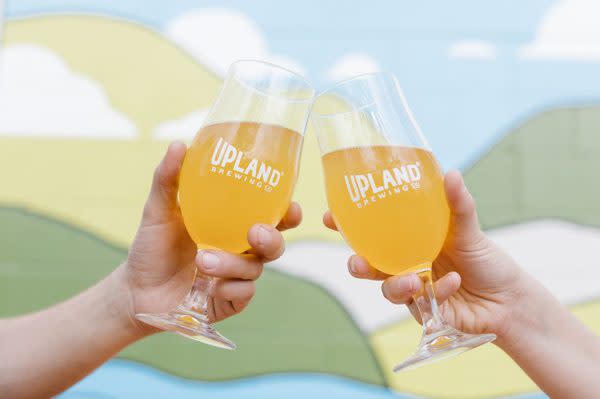 Upland Brewing Company, Bloomington Upland offers seasonal beers that are constantly rotating, but at any given time the Brewpub will have seven beers on tap for you to choose from. If you find it hard to choose, order a sampler and enjoy a 5oz. Glass from each of their seven taps. Their beautiful patio serves as the biergarten!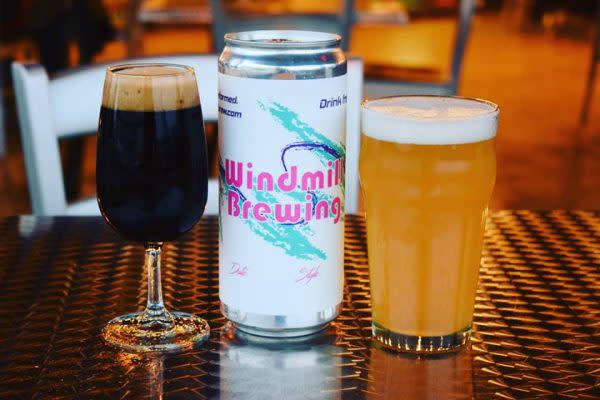 Windmill Brewing, Dyer Two Dutch friends, Scott Vander Griend and Justin Verbug, decided to start Windmill Brewery after home brewing for years. From crisp lagers to fruity sours, Windmill offers an array of flavors and aromas. Part of what makes them special is that take risks, experiment, and understand that there is always something else for someone to try.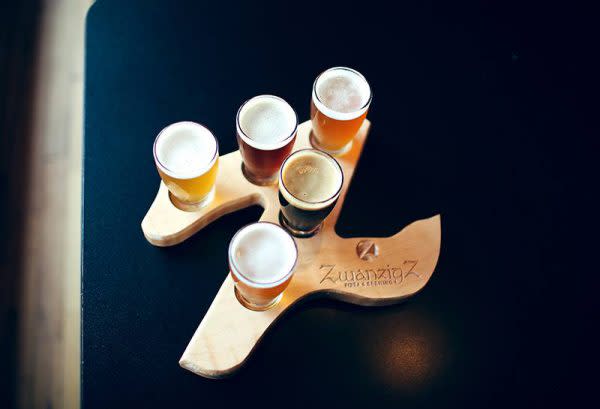 ZwanzigZ, Columbus Opened as a pizzeria in 2002, ZwanzigZ has 17 beers on tap and four craft sodas. In addition to winning best small brewpub, they won silver medals in the chocolate beer and German-style Doppelbock or Eisbock categories at the Great American Beer Festival