Visit Indiana executive director Mark Newman was on Indianapolis' Fox 59 Wednesday morning to showcase a wonderful array of products from across the state that are perfect for the holiday table. Below is a list of the products that appeared during the segment, with a link to their respective websites. Happy eating!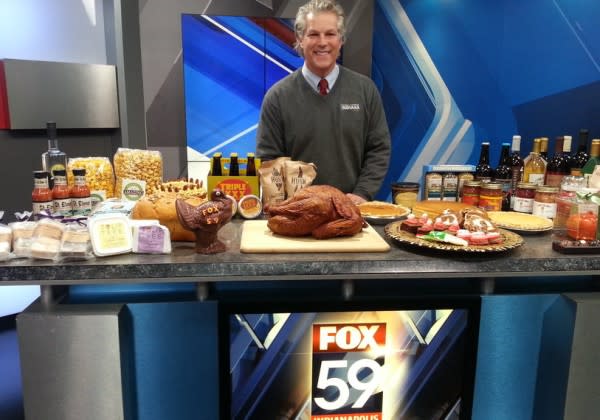 Artisan marshmallows- 240 Sweet- Columbus
These designer marshmallows are crafted in small batches using all organic ingredients. 240Sweet's products are perfect to top Thanksgiving yams or in a cup of hot chocolate. They offer an array of flavors- both traditional and exotic- to please any palette.
Fudge and popcorn- Simply Amazing Market- Valparaiso
Simply Amazing Market is legendary for its gourmet popcorn and chocolate mint, peanut butter and other great varieties of fudge. Best of all, Simply Amazing Market employs the disabled and the product sales support programs to help the disabled.
Vodka- Starlight Distillery- Starlight
Starlight Distillery is located at Huber Orchard, Winery and Vineyards. Starlight is committed to producer brandies, vodka and other beverages in the same spirit as their ancestors who distilled in the area in the early 1800s.resized
Cocktail Sauce- St. Elmo Steakhouse- Indianapolis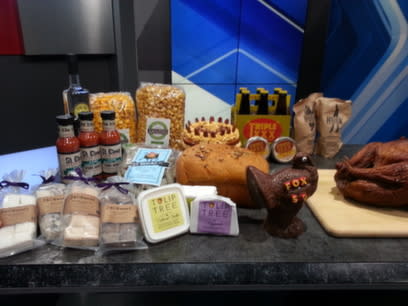 An Indianapolis Institution, St. Elmo Steakhouse now offers their world-famous, eye-watering shrimp cocktail sauce for sale. Take home a bottle for your holiday parties and experience the taste that athletes and movie stars from around the world have experienced when they eat at the world-renowned steakhouse.
Root beer and Root beer jelly- Triple XXX Family Restaurant- West Lafayette
A West Lafayette institution, Triple XXX Family Restaurant has been featured on the Food Network and other national programs. Their root beer and hamburgers are well known and their root beer jelly offers a twist on the classic beverage, suitable for bagels, toast and English muffins.
Butter and cheese- Tulip Tree Creamery- Zionsville
Tulip Tree Creamery makes cheese and butter using milk from farmers who pledge not to use growth hormones. They rely on Indiana dairy farmers for their products.
Pumpkin Torte- Breadbasket Café & Bakery- Danville
The Breadbasket Café offers an array of decadent, house-made desserts. The pumpkin torte is perfect for this time of year. The café also offers soups made daily from locally grown ingredients, sandwiches stacked on their freshly-baked bread and crisp salads to round out the menu.
Saltwater shrimp- JT Shrimp Farm- Wheatfield
JT Shrimp LLC is a family-owned shrimp farm in Wheatfield, Ind., that has the freshest saltwater shrimp in the area. JT sells top-quality live, healthy shrimp raised without the use of antibiotics or chemicals. Their shrimp is the perfect pairing for St. Elmo's cocktail sauce.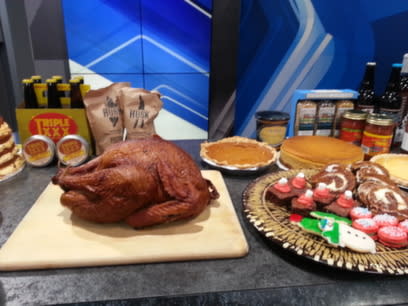 BBQ smoked turkey- Bub's BBQ- DeMotte
Bub's BBQ puts Northwest Indiana on the culinary map with their old school, slow-cooked meats and homemade sides. They feature delicious smoked turkeys and hams for the holidays.
Frozen vegetables- Husk Foods- Indianapolis
Husk freezes locally-grown vegetables and sells them to consumers all year long so that they can get local, organic food outside of the Farmers Market season in the summer. Husk has frozen Indiana sweet corn, green beans and butternut squash; all perfect sides for the Thanksgiving table.
Chocolate Turkey- Olympia Candy Kitchen- Goshen
Olympia candies were served at the inaugural balls of Ronald Reagan and George HW Bush. Olympia has welcomed visitors to their Goshen store since 1912. All their candies are made from scratch. Online ordering is available.
Popcorn- Riehle's Select Popping Corn- Sunman
Riehle's Select grows and harvests the best, most unique blends of gourmet popcorn available. At Riehle's Select you're getting true gourmet popcorn from the popcorn experts. Grown, packaged and shipped from the Riehle Popcorn Farm in Indiana, you're guaranteed outstanding taste, texture, quality and GMO free.
Cinnamon red hots- Schimpff's Confectionery- Jeffersonville
Cinnamon Red Hots are Schimpff's signature candy and have been made since the store opened in 1891. G.A. Schimpff's Confectionery is one of the oldest, continuously operated, family-owned candy businesses in the United States.
Pickles and relish- Sechler's Pickles- St. Joe
Sechler's has been perfecting the art and science of making pickles for almost a century. Variety and quality are the two words best used to describe their pickles, relishes and salsas. Sechler's offers holiday variety packs and ships nationwide.
Olive Oil- The Olive Twist- Fort Wayne and Auburn
The Olive Twist is a unique culinary boutique with locations in Fort Wayne and Auburn. They specialize in merging the robust complexity of today's gourmet cuisine with the simplicity of old world taste.
Sugar cream pie- Nick's Kitchen- Huntington
Nick's Kitchen is the birthplace of the Indiana breaded tenderloin. In addition to their great sandwiches and hand-dipped milkshakes, Nick's makes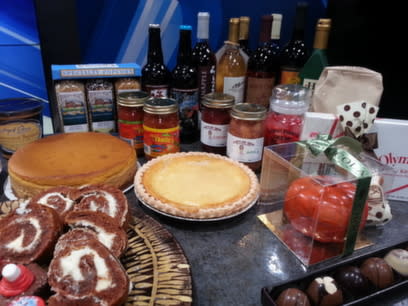 homemade pies every day. A classic diner, Nick's Kitchen has been open for over a century.
Cheesecake and Butternut Squash Soup- Joseph Decuis Restaurant and Emporium- Roanoke
A nationally-acclaimed, farm-to-fork Mecca in an idyllic Indiana town, Joseph Decuis is one of the finest restaurants in the United States. The emporium, just steps down Main Street from the restaurant, is their retail store, allowing you to bring a four-diamond experience to your family's table.
Ground cornmeal- Springmill State Park- Mitchell
The restored Pioneer Village at Springmill State Park, founded in 1814, contains 20 historic buildings to explore. The centerpiece is a 3-story limestone gristmill, built in 1817, that still grinds cornmeal today.
DeBrand Chocolates- DeBrand Chocolatier- Fort Wayne
DeBrand has a number of fall and Thanksgiving themed chocolate flavors- sweet potato pie chocolate, Thanksgiving place settings, sugar and spice bar, and a classic hot chocolate kit.
Turkey Pot Pie- Strongbow Inn- Valparaiso
One of the most famous Thanksgiving locations in the state is Strongbow Inn, which serves 3,500 people on Thanksgiving Day. A lot of people also stop by to pick up a pie, other desserts, turkey pies, or whole dinners to eat on Thanksgiving or any day. If you eat one of these turkey pot pies- you'll never go back to eating store-bought ones again.
Fine chocolates- Ghyslain Chocolates- Richmond
These beautiful chocolate creations from Richmond will turn your thanksgiving table into a 5-star restaurant. Ghyslain makes beautiful desserts year round and currently features perfect flavors for the holidays.
Pie in a Jar- Lisa's Pie Shop- Atlanta (Hamilton County)
Lisa Sparks has won a myriad of awards for her pies. If traditional Thanksgiving pumpkin or sugar cream pies don't tantalize your taste buds, Lisa offers a twist on traditional fruit pies – the twist of a cap that is! The "Pie in a Jar" is literally a pie – crust and all – condensed into a portable container, also making it a great holiday gift.
Salsa- Crazy Charlie's Salsa- Fishers
Perfect for a halftime snack during the Thanksgiving football game, Crazy Charlie's varieties include Black Bean and Fire Roasted Corn, Island Mango, Salsa Con Queso and the classic Gourmet at varying levels of heat. Charlie Ferguson grows ingredients for the concoctions right in Hamilton County!
Old Fashioned Sugar Cream Pie- Wick's Pies- Winchester
Wick's is probably best known for the sugar cream pie, the official pie of Indiana. They make a number of other great pies, from pumpkin to pecan and beyond. They also ship their great pies all over the country.
Pumpkin Pie, roll and Christmas Cookies - Sweet Ps Bakery- Madison
 Sweet P's offers breads, pies, cookies, and cinnamon buns using recipes passed down from both sides of the family tree.
Various Chocolates- Cocoa Safari- Madison
Cocoa Safari Chocolates creates homemade chocolates made from the finest ingredients and natural flavors. Mouth-watering chocolates are hand-made in the store daily.
Traminette and Gunny Red Wines- Carpenter Creek Cellars- Remington
Carpenter Creek Cellars, the original winery in Jasper County, Indiana, is a farm winery producing world-class wines which embody the best terroir and fruit the Midwest has to offer. Stop by today to experience a unique Hoosier winery and Midwestern winemaking at its finest!
Cranapple Table Wine- Two EE's Winery- Huntington
Nestled on a hillside away from the hustle, a welcome escape awaits that will engage the senses and inspire the mind. TWO-EE's Winery is a fusion of city sophistication and countryside charms.
The Huber family has been producing wine in this area for seven generations. 18 varieties of grapes are grown in their vineyards for the production of Huber's varietals. A bottle of their fine wine is the perfect accompaniment to the holiday festivities.
Hoosier Daddy Crimson & Cream Ale; Black and Blue Grass Ale- New Albanian Brewing Company- New Albany
This brewing company has been operating for over 25 years and is one of the "grandfathers" of the Indiana beer movement. Their beers are available in retail outlets throughout Indiana and at the 2 New Albanian Brewing Company locations in New Albany.
Wine- Anderson's Vineyard- Valparaiso
Nothing pairs with a turkey dinner quite like Anderson's Winery's Vineyard Blush, a sweet Catawba. And their Red Karma, a dry red, pairs well with any meat. Anderson's Vineyard & Winery in Valparaiso has been producing unique, quality wines since 1994.
Pinot Grigio- Madison Vineyards- Madison
Madison Vineyards is dedicated to the production of quality wines from their own estate grown grapes. Located five miles north of the Ohio River, they focus on producing wines from grape varieties currently being grown on their beautiful 37-acre vineyard.
Harvest Cranberry- Wildcat Creek Winery- Lafayette
Harvest Cranberry is a new release to celebrate Wildcat Creek's fifth anniversary. Wildcat Creek produces 12 other wines in a wide-array of flavor palettes. From sweet to floral to dry, Wildcat Creek has a great selection to chose from.