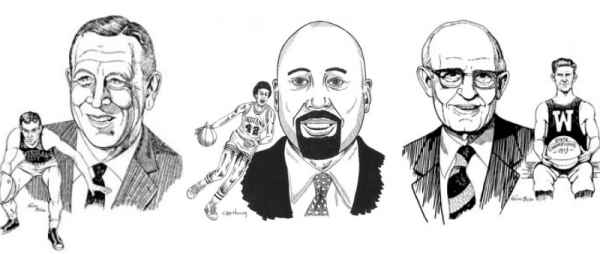 Indiana has a rich history in hoops. One of the nation's top states for high school basketball, Indiana annually sends top players into the ranks of the college game. Visit Indiana and the Indiana Basketball Hall of Fame set out to put together a list of Indiana's 68 greatest men's college basketball players. These players took the court for colleges and universities around the country, but they honed their craft right here in the Hoosier State. This post features players ranked from #32 - #17.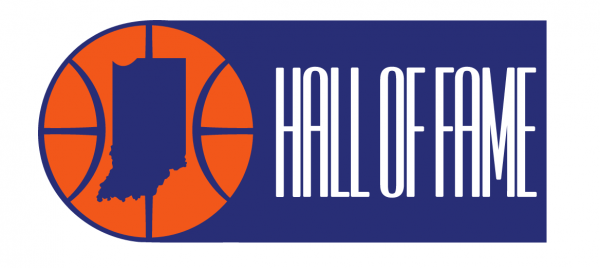 Criteria
Stats, accolades, historical significance, importance to their program, among other items from their college career were considered.
Players across all divisions, including DI, DII, DII, NAIA, or any others are eligible.
Must have been at least one of the following:

Born in Indiana.
Raised in Indiana.
Attended an Indiana High School.
Ranking and comparing Indiana's greatest college basketball players throughout the years - and different styles of play - was a challenge. The experts and historians weighed different aspects of these men's college careers differently. Some mainly considered statistics, but it is hard to compare points and rebounds of those in the 21st century to those of the early 1900s. Others weighed National Championships, NCAA Tournament berths, and team success more heavily.
Please understand that this list is meant for fun and to tell Indiana's authentic story. If we had to do it all over again, there'd likely be different placements. There's just an immense collection of college basketball talent from Indiana!
Now....let the debate commence!
Best All-Time Players: #32 - 17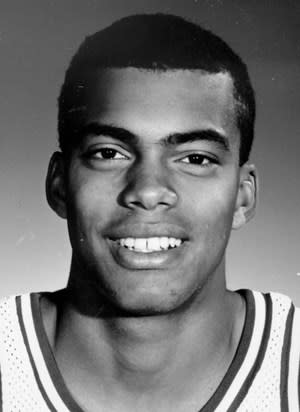 College: Indiana University
High School: Marion
Career: During his freshman season, Jay Edwards helped lead the Hoosiers to a Big Ten title and was named Big Ten Freshman of the Year. He then followed that up by winning Big Ten Player of the Year as a sophomore, averaging 20 points per game. Known for his long-range shooting, Edwards was 48.1% behind the arc at IU.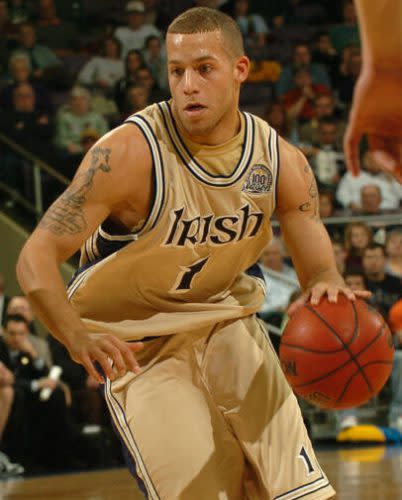 College: University of Notre Dame
High School: Pike
Career: Chris Thomas played four years at the University of Notre Dame, racking up some very impressive stats. He dished out 833 assists, making him the all-time UND leader. Thomas also had a career scoring average of 18 points per game. He's the only Notre Dame player with more than 1,700 points and 600 assists.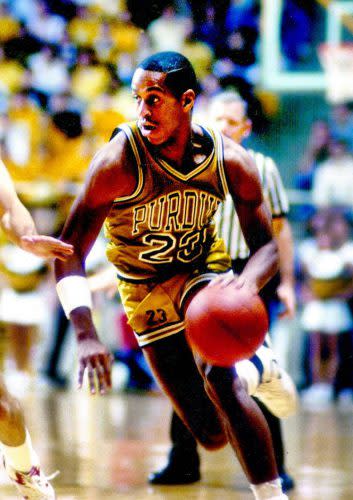 College: Purdue University
High School: Anderson
Career: Troy Lewis led Purdue to back-to-back Big Ten Championships in 1987 & 1988 while being named First Team All-Big Ten those same seasons. He amassed 2,038 points, 465 rebounds, and 398 assists in his career.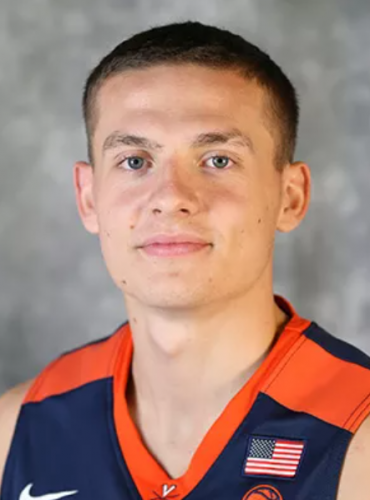 College: University of Virginia
High School: Lawrence Central
Career: After being named Indiana's Mr. Basketball in 2016, Kyle Guy took his talents to Virginia. There, he became a lethal 3-point threat, ending his career ranked first in 3-point percentage (42.5%) and third in 3-pointers made (254). Guy hit three consecutive free throws against Auburn in the 2019 Final Four to seal the victory. The Cavaliers went on to win the National Championship with Kyle Guy being named the tournament's Most Outstanding Player.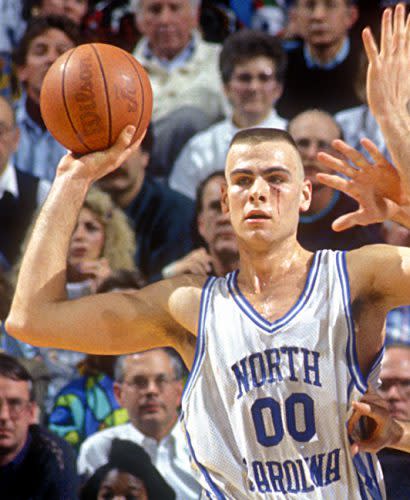 College: University of North Carolina
High School: Lawrence North
Career: Eric Montross was part of the Tar Heel team that defeated the Michigan Wolverines for the 1993 National Championship. He was named All-American during his junior and senior seasons. Montross averaged 11.7 points, 6.8 rebounds, and 1.2 rebounds over his career.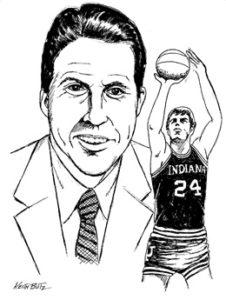 College: Indiana University
High School: Ben Davis
Career: Wittman, along with Isiah Thomas and Ray Tolbert, helped lead the Indiana Hoosiers to a 1981 National Championship. The Hoosiers trailed the entire first half of the Championship game until Wittman drilled a deep corner shot at the halftime buzzer. The momentum switched to IU and never went away. He scored 1,549 points and gathered 405 rebounds during his five-year college career.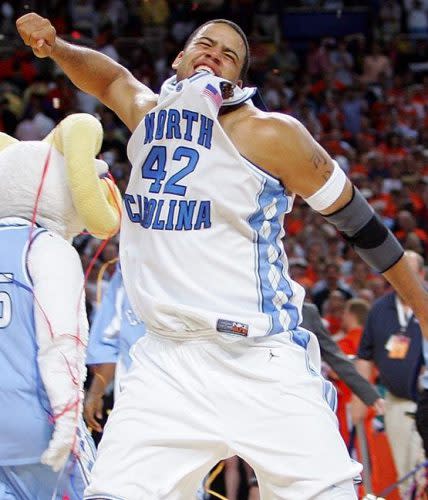 College: University of North Carolina
High School: Bloomington North
Career: Sean May attended the University of North Carolina from 2002-2005. He led the Tar Heels to a National Championship in 2005 while being named the Most Outstanding Player of the Tournament. He and his father Scott May (Indiana University) are one of four father-son duos to each win an NCAA Championship. Sean May averaged a double-double (17.5 ppg and 10.0 rpg) during his championship season.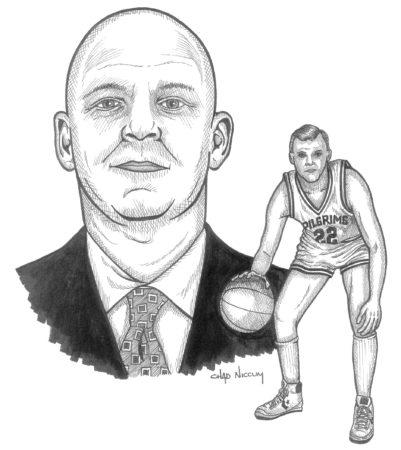 College: Michigan State University
High School: Plymouth
Career: Scott Skiles was a prolific scorer at Michigan State University, averaging 27.4 points per game his senior season. He earned First-Team All-American honors in 1985-86 while leading the Spartans to the Sweet Sixteen. Skiles is Michigan State's third all-time leader in points (2,145), assists (645), and steals (175).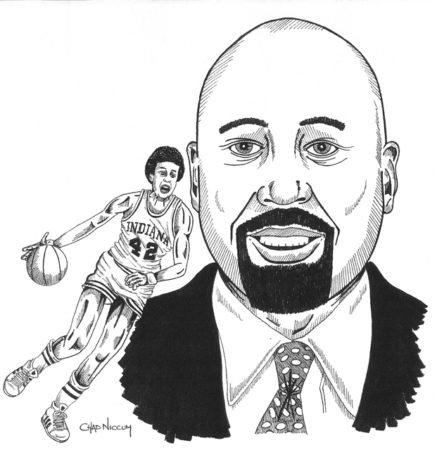 College: Indiana University
High School: Broad Ripple
Career: Mike Woodson's high school coach wasn't convinced that Woodson would fit into Indiana's system under Bob Knight. However, over the course of his career, it was evident that Woodson was at home playing for the Hoosiers. He led IU to the 1979 NIT Tournament and the 1980 NCAA Tournament Sweet Sixteen round. Mike Woodson ranks fifth in career points (2,061) and sixth in career steals (142) at Indiana University.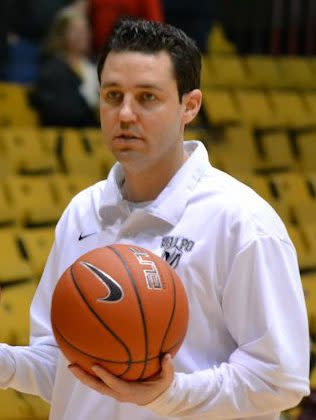 College: Valparaiso University
High School: Valparaiso
Career: There may be no NCAA Tournament moment more iconic than "The Shot". In 1998, 13-seed Valparaiso University was a heavy underdog to Ole Miss in the First Round. Down two points with 4.1 seconds left, the ball was inbounded all the way down the court to Bryce Drew, who sank a 23-foot three-point buzzer-beater. Not only is Drew an NCAA Tournament legend, but he also had an amazing career at Valpo. He graduated with 2,142 points, 380 rebounds, and 626 assists.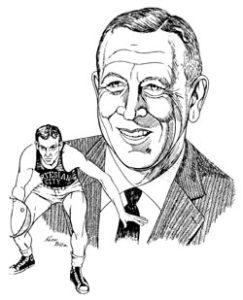 College: Purdue University
High School: Martinsville
Career: John Wooden is arguably the greatest coach in college basketball history, winning ten national championships in twelve years at UCLA. However, we can't forget his outstanding playing career at Purdue University. Wooden was the first player ever to be named a three-time consensus All-American. His 1932 Purdue team was named pre-NCAA Tournament National Champion and Wooden himself was awarded the Big Ten Medal of Honor.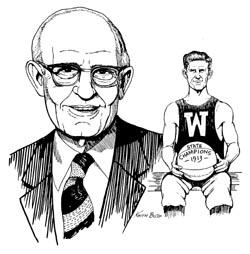 College: Wabash College
High School: Wingate
Career: Homer Stonebraker led Wingate High School to two state basketball championships in 1913 and 1914. At Wabash College, he was a three-time All-American. Homer starred in two sports, actually making professional careers in both football and basketball.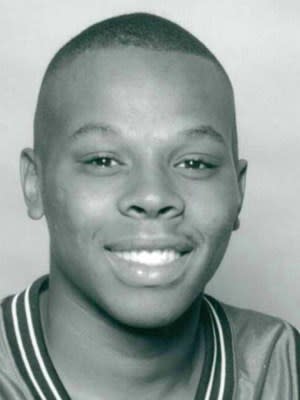 College: Ball State University
High School: Muncie Central
Career: While at Ball State University, Bonzi Wells set the Mid American Conference's all-time record in points and steals. He led the Cardinals to the NCAA Tournament in 1995. As a senior, he was named to the Basketball Weekly All-American First-Team and the AP All-American Third-Team. In fact, Bonzi's 347 steals rank 7th all-time in the NCAA record books.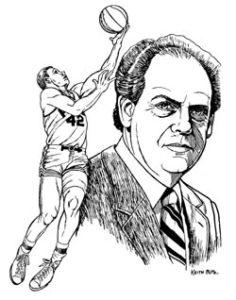 College: Purdue University
High School: Evansville North
Career: Dave Schellhase was a natural small forward at Purdue University. He was the Boilermaker MVP and First-Team All-Big Ten for 3 straight seasons. As a senior, Schellhase led the nation in scoring with an insane 32.5 points per game, earning Consensus All-American and Academic All-American honors. His game-high 57 points is second in school history only to Rick Mount.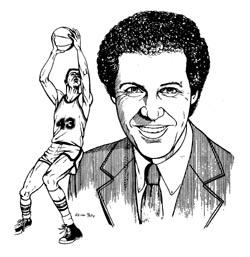 College: Purdue University
High School: James A. Garfield
Career: As a scoring and rebounding machine at Purdue University, Terry Dischinger averaged 28.3 points and 13.7 rebounds per game over the course of his career. Dischinger earned All-Big Ten accolades in each of his varsity seasons and was a Second-Team All-American as a sophomore and consensus First-Team All-American as a junior and senior. When he left Purdue, he held almost every Purdue scoring record.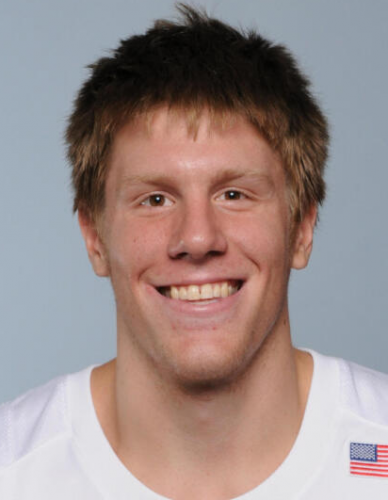 College: University of Notre Dame
High School: Andrean
Career: Luke Harangody is without a doubt one of the most heralded players in Notre Dame history. He became the first three-time All-American at UND in over fifty years. During the 2007-08 season, Harangody averaged 20.4 points and 10.6 rebounds per game and was named Big East Player of the Year. By the time he graduated, he ranked second in points (2,476) and rebounds (1,222) at Notre Dame.
Indiana's Greatest College Basketball Players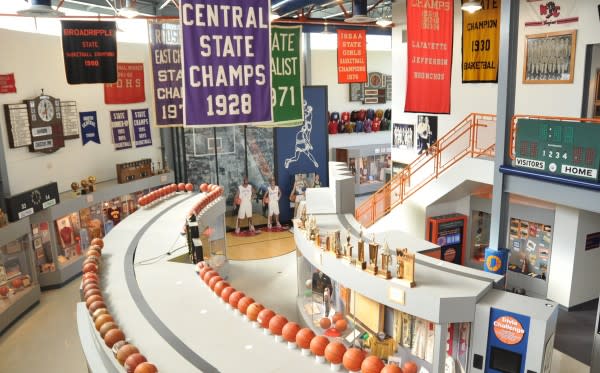 Less than 20 minutes from The Hoosier Gym is the Indiana Basketball Hall of Fame, a 14,000 square foot museum that is full of memorabilia and interactive displays about basketball in the state. The Hall of Fame features inductees such as Oscar Robertson, Larry Bird, Bob Knight, John Wooden, and many more. Most of the photos on this page were provided by the Indiana Basketball Hall of Fame.