The Hoosier state is full of great, homemade culinary delights. During the November 6, 2013 segment of "Hittin' the Road" on Fox 59, Visit Indiana's executive director, Mark Newman, showcased a wonderful Thanksgiving bounty of many delicious foods for the Thanksgiving table handcrafted right here in Indiana. Below is a list of the products highlighted during the segment along with a link to their website.
Turkey Pot Pie- Strongbow Inn- Valparaiso 
One of the most famous Thanksgiving locations in the state is Strongbow Inn, which serves 3,500 people on Thanksgiving Day. A lot of people also stop by to pick up pie, desserts, turkey pies, or whole dinners to eat on Thanksgiving or any day. If you eat one of these turkey pot pies- you'll never go back to eating store-bought ones again.
Riesling and Gewürztraminer- Oliver Winery- Bloomington
Oliver is Indiana's oldest and largest winery. Both of these wines are great for the holidays and Riesling is a perfect accompaniment to the traditional Thanksgiving meal.
DeBrand Chocolates- DeBrand Chocolatier- Fort Wayne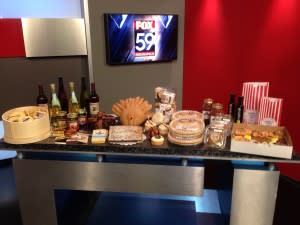 A Hoosier Thanksgiving
DeBrand has a number of fall and Thanksgiving themed chocolate flavors- sweet potato pie chocolate, Thanksgiving place settings, sugar and spice bar, and a classic hot chocolate kit. Also, the polka dot chocolate box is a great centerpiece or dessert!
Great Harvest Bread Company- Turkey Bread Loaves- Lafayette
Great Harvest handcrafts bread daily using only pure and simple ingredients. The turkey loaf is a specialty product for Thanksgiving.
Oliver's Soft Red Wine Jelly, Apple Butter, and Peach Rhubard Preserves Dillman Farms- Bloomington
All Dillman products are made by the old fashioned way with no preservatives or corn syrups. The red wine jelly is made from Oliver's soft red wine. It's like Bloomington in a jar.
The Wild Olive- Olive Oil and Cranberry Walnut Balsamic- Nashville
The Wild Olive brings some of the finest flavors from all over the world to Brown County. The Cranberry Walnut Balsamic vinegar is a new twist on getting the classic cranberry flavor to the Thanksgiving table.
Pumpkin Whoopee Pies- Amish Acres- Nappanee
A twist on the classic pumpkin pie dessert from the nationally-renowned Amish Acres
Pumpkin Pound Cake- Heidelberg Haus- Indianapolis
Another alternation on a classic Thanksgiving dessert. The pumpkin pound cake comes from right here in central Indiana, just on the east side of town.
Old-Fashioned Sugar Cream Pie- Wick's Pies- Winchester
Pumpkin pie is the traditional pie of Thanksgiving, but sugar cream pie is the official state pie of Indiana. So, why not get a pie from Wick's in Randolph. They make a number of different pies and can ship.
Cranberry Grande- Lanthier Winery- Madison
Cranberry isn't just for canned sauce anymore. Softly sweet with cranberry finish, this is a perfect match to game hen, quail or roasted turkey. A natural choice for holiday feasts or celebrations, this also makes an excellent hostess gift.
Cranberry-Apple Sauce- Plain & Fancy Gourmet Kettle- Nappanee
Only good things can happen when cranberry sauce and apple sauce are blended like this. A great homemade product that combines two great fall flavors.
Clover Field Organic Colby and Aged Cheddar Cheeses- Steckler Grassfed- Dale
Steckler Grassfed is a family-owned and operated farm in Dale, Indiana. They have a variety of cheeses and also offer grassfed and free range beef and poultry- including turkeys! Their Thanksgiving turkeys are much more nutrient dense and contain no foreign hormones or antibiotics.
Various Cheeses- Fair Oaks Farm- Fair Oaks
Famous Fair Oaks farm in northwest Indiana has a wide array of fresh cheeses and meats to choose from.
Pumpkin desserts- Ghyslain Chocolates- Richmond
These beautiful, artistic desserts from Richmond would turn your thanksgiving table into a 5-star restaurant. Ghyslain makes beautiful desserts year round and these flavors are perfect for the holidays- pumpkin cheesecake, pecan bourbon caramel tart, apple cinnamon cheesecake and fall Charlemagne.
Doughnuts and other breakfast pastries- Linne's Bakery- Shelbyville
This is for your Black Friday sugar rush needed to get through the shopping day. The owner of Linne's is up every day at 1:00 am to make everything fresh from scratch. These are some of the best doughnuts in the entire state.