The 9th annual IndyFringe Festival closed Sunday, August 25th, having set attendance and box office records yet again.
According to the Festival organizers, 17,286 people watched a play during the 10 days festival, marking a 16% increase over 2012 (another record setting year). They also returned $121,256 to the performers.
This is one of the things that makes the IndyFringe such an important arts function here in Indianapolis: 100% of the box office proceeds are returned to the actors for their own shows. For some of these performers, this is how they fund their summers and even their arts careers. I have some friends who spend their entire summer fringing.
This year's festival was the biggest one yet. There were 11 days, starting on Thursday (they've started on Friday in the past), and they had eight stages in five venues (three venues had two stages). There were 384 performances, 48 more than last year.
According to Pauline Moffat, executive director of the IndyFringe Theatre and festival:
There were 26 sell out shows.
The festival broke attendance records every day.
40% of the artists were female.
36% of the performers and 43% of the audience were new to IndyFringe.
The term #indyfringe trended on social media for 11 days straight.
Top ten shows at Box Office:
We May Very Well Be Sued (4 sell out shows)
Welcome to the Monkey House  (4 sell out shows)
The Beast, The Lady and The Sanquine Man (2 sell out shows)
Electric Romeo (2 sell out shows)
Bonnie Bitch (2 sell outs)
Lashes Off (2 sell outs)
De Sade (1 sell out)
Princess Wore Pasties (1 sell out)
What Biscuits (3 sell outs)
Shakespeare Wrote What (1 sell out)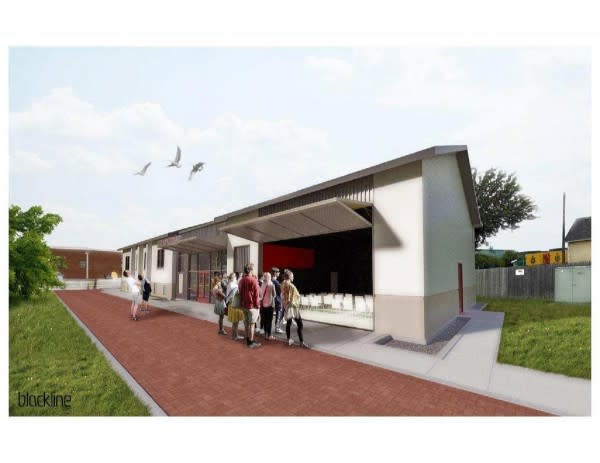 Trailhead concept 2.0
I'm already looking forward to next year, the festival's 10th anniversary. I started attending the festival and reviewing shows in 2007, and I've been amazed at everything that's going on. I'm especially exciting to IndyFringe's work on their Trailhead, which will be situated at the junction of College, St. Clair, and Mass Ave. The Trailhead plan includes a lobby, elevator, restrooms, artist green rooms, and backstage access.