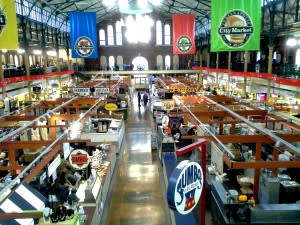 When a friend and I first visited City Market in downtown Indianapolis recently, I didn't expect to be impressed. But I was!
There are two levels in City Market. Vendors sell their wares on the main floor. When it's time to dine, visitors climb an iron staircase to the upper level. We arrived at lunch time so we trekked to the upper level.
Rather than spying the same snacks, eateries, and homemade gifts often found in other locales, I was pleasantly surprised by a wide variety of international vendors. Selections ranged from Parisian, Indian and Middle Eastern food to coffees, delectable chocolates and health-conscious options. Having an interest in other cultures' cuisine made it difficult to decide what to order! I chose a delicious salad at a vegetarian vendor called Seitan. Yum!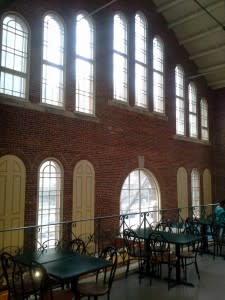 After lunch, we walked around, shopping and enjoying the building's historical interior. My friend bought vintage jewelry from a vendor who educated us on the building's history. She told us that City Market first opened its doors in 1886 and is on the National Register of Historic Places.
Despite its age, I was impressed with the City Market's modern and well-kept interior. The city has clearly made an effort to keep the facilities updated while still retaining the original historical structure.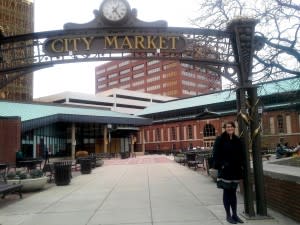 We had an enjoyable time at City Market, although we didn't have enough time for a complete tour. Another visit, perhaps in warmer weather when the outdoor farmer's market is taking place, is definitely on my must-do list of things in the state capital.  
City Market
222 East Market Street
317.634.9266
Mon.-Fri., 7am-9 pm
Sat. 8am-9pm  
Sunday Closed
Merchant hours vary; call for exact times.