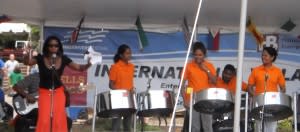 Attending The International Village at the Three Rivers Festival in Fort Wayne was a definite highlight of my summer!
The city's international community has been flourishing in recent years, and this was an excellent way to showcase some of its cultures.  Countries represented this year at the festival were Mexico, Vietnam, China, Poland, Sri Lanka, Burma, Kenya, Italy, Philippines, Ethiopia, and Trinidad and Tobago.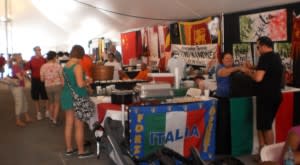 As a first time visitor to the Village, I was excited to finally experience the festivities and tastes of our local ethnic communities. A Filipino stick dance and Caribbean drum ensemble were fun to watch throughout the afternoon.
As for food, the flavorful meals and snacks representing each country didn't disappoint my tastebuds. I purchased Vietnamese crab rangoon, Chinese dumpling with egg roll and pork fried rice, a strawberry Mazurek (Polish pastry) for dessert and Vietnamese coffee for a drink. It was all delicious, inexpensive ($15) and fun. Other food items ranged from crunchy, Asian snacks to fruity desserts and an island-themed shark dish, There were also traditional snacks to enjoy, like nachos, egg rolls, and Italian Sodas.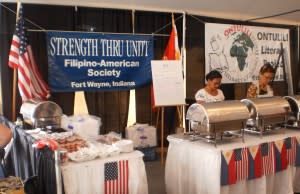 As a bonus to my day, I had an absolute blast talking to the vendors! I discovered much about each country's culture from some of the entertainers who actually live in their respective countries and attended the festival as guests.  Everyone was pleasant and fun.  Several of the vendors mentioned upcoming cultural activities in Fort Wayne that I plan to attend.
The International Village was featured for the last two days of this year's Festival, and I look forward to attending it again next year!
Dates for this year's Three Rivers Festival:  July 11 – July 19, 2014.
To read more about International Village, click here.