Dear readers: On Indiana Statehood Day 2014, Gov. Mike Pence and First Lady Karen Pence announced an exciting new event to celebrate our state's bicentennial: The Indiana Bicentennial Torch Relay. We wanted to share this announcement with our blog readers. 
Governor Mike Pence announced a new signature event of the Indiana Bicentennial Commission today during Statehood Day remarks in the south atrium of the Indiana Statehouse. The Indiana Bicentennial Torch Relay will touch each of Indiana's 92 counties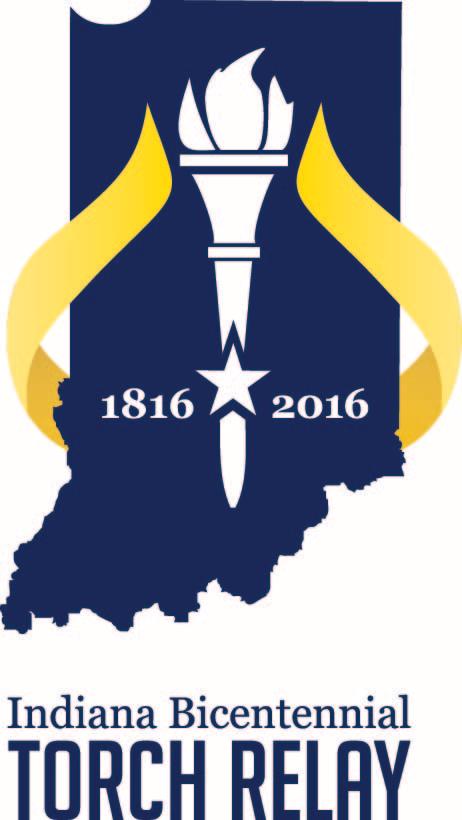 during the 2,300 mile journey across the state. The torch relay will be an inspirational event during a monumental year for Indiana and will connect people, communities and regions during the six-week trek in the fall of 2016.
"The Indiana Bicentennial Torch Relay will give generations of Hoosiers the opportunity to honor our past while also looking with optimism towards Indiana's future," said Governor Pence. "With the continued ingenuity, entrepreneurial spirit and collective good will of Hoosiers, I know the light of Indiana will shine brightly for centuries to come."
Developed by the Indiana Office of Tourism Development (IOTD), the relay is patterned after the Olympic Torch Relay and is designed to connect Hoosiers across the state and nation with their home state during the bicentennial year. The torch relay route, which can be found attached, was charted by a committee of representatives from multiple state agencies and the private sector; including the state departments of transportation, natural resources, state police, tourism, community and rural affairs and state archives. The route showcases locations of natural beauty, local interest and/or historic significance to the state.
The Indiana Bicentennial Torch Relay will start in September 2016 in Corydon, Indiana's first state capitol, and culminate with a celebration in October on the grounds of the statehouse in Indianapolis. Accompanying the torch will be a mobile visitor center serving as an interactive museum that highlights important milestones during Indiana's first 200 years. A map of the torch relay route (subject to modifications) is attached as a PDF to this release and is also available at the link below.
"A torch is the centerpiece of our state flag; representing liberty, enlightenment and Indiana's far-reaching influence. The Indiana Bicentennial Torch Relay is a terrific opportunity to celebrate Indiana achievements, influence and heritage while also symbolically 'passing the torch' to future generations of Hoosiers," said Mark Newman, IOTD executive director.
The torch itself is being designed by engineering faculty and students at Purdue University. The torch will be primarily transported by people, passing the flame from torch bearer to torch bearer. The relay will also employ other modes of conveyance that are symbolic of the history and heritage of Indiana, including watercraft, farm equipment, a racecar, horse and wagon, antique automobile and others. Torch bearers will be Hoosierswho have been nominated by their peers through the Indiana Bicentennial Torch Relay website: www.Indiana2016.org/torchrelay. Nominations will be accepted beginning in March 2015.
"We are thrilled to announce this interactive element within our state's bicentennial celebration," said First Lady Karen Pence, Ambassador for the Bicentennial Commission. "Hoosiers from every county in Indiana will have the opportunity to showcase their state pride throughout this six-week undertaking, and we cannot wait to see their creativity and passion firsthand."
Volunteer county coordinators will organize torch relay activities in their respective counties. With the assistance of the Indiana Office of Community and Rural Affairs (OCRA) and the Indiana Bicentennial Commission (IBC), county coordinators have been identified in nearly every county. Additional volunteers will be needed to assist with the preparation and execution of relay-related activities. Hoosiers interested in volunteering can sign up at the Indiana Bicentennial Torch Relay website.
Thank you. We now return to our regularly-scheduled programming.