This academic year marked the 50th anniversary of Indiana University – Purdue University Fort Wayne (IPFW). As part of their celebration, IPFW decided to do something to enhance the community that has seen it grow into the successful university it is today. Sculpture with Purpose was unveiled this past May. These 50 artistic bike racks went up across downtown Fort Wayne and serve to both enhance the visual landscape of the city and promote the benefits of cycling.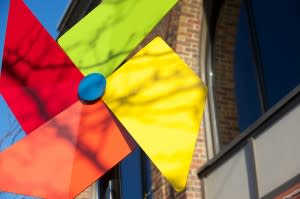 Pinwheel by Kiel
The bike racks have been created by local and national artists of all disciplines. The designs were submitted and chosen by a juried selection process. IPFW also wanted to find a way to incorporate local school children, and as a result, each participating school was given a recycled bike for the students to turn into art. Those bikes will then be attached to the bike racks in May of 2014.
IPFW Chancellor Michael Wartell said, "Even though we could not be prouder about our past, IPFW has always been about the futures, about momentum, and about ensuring our region remains vital."   This project does exactly that and has been welcomed by the community with great enthusiasm. From a dog and a Monster's Inc. looking creature, to a runner and acrobat, to musicians, corn, a pinwheel, and abstract designs, the sculptures represent a variety of artistic styles and all bring something different to the table, coming together to create a uniquely Fort Wayne experience.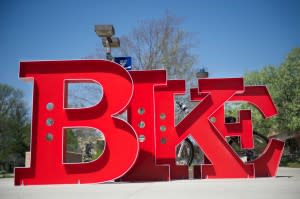 Bike Rack by Kiel
The best way to experience the sculptures is to rent a bike and take to the streets. Hit up Fort Wayne outfitters to get bikes for the whole family, and then head over to Visit Fort Wayne for a map of all the sculptures. Stop for a bite to eat at some of the great local restaurants in downtown Fort Wayne, take a break from the heat at the splash pad in Headwaters Park, and check out some of our great museums and attractions downtown, like the TinCaps stadium, the Botanical Conservatory, and the Fort Wayne Museum of Art, while you're at it! Sculptures with Purpose offers a new way to see Indiana's second largest city and allows visitors and locals alike to experience the best downtown Fort Wayne has to offer!