Up here in northeast Indiana, the Christmas season is usually personified by crowded malls, busy stores and tons of people rushing about – inside. But there's a different shopping experience to have at Jefferson Pointe, located in Fort Wayne. This shopping mall is connected strictly through outdoor walkways, and it is busy even when it is bitterly cold outside.
As you pull into the shopping center, you'll notice that it is shaped like a giant circle. Wide tarmac lanes circle the collection of different stores, with spacious pedestrian crossing paths. A movie theater, a number of restaurants and the regular mall staples are all within walking distance of wherever you put your car.
On a recent Saturday morning, the stores were pleasantly quiet, but the parking lot was beginning to fill up by 11:00 a.m.
The first large store you may notice is Von Maur. This store is dedicated to details: providing a live pianist to grace the atrium with Christmas tunes; adding a sparkling, white top hat to the boys' clothing display; or arranging the plaid gifts just so under a myriad of beautifully appointed Christmas trees. All the decorations are gold and red, glowing in a classy arrangement of garlands and swags all around the store.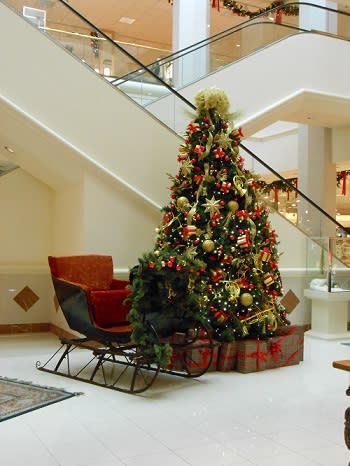 Another anchor shop that is in Jefferson Pointe is Barnes and Noble, with it's familiar scent of coffee, sandwiches, and literary riches. Although this bookstore has less emphasis on holiday decorating, there are still busy shoppers hurrying past with armloads of books and other goods. One family trooped by with what looked like the entire Harry Potter series, bound for the checkout lane. And in the children's section, there's a wonderful treasure trove of plush animals, tiny figurines, and classic children's books. How about a stuffed Rudolph, from the classic TV show? Or a cute box of Calico Pals, all dressed up and ready to play pretend?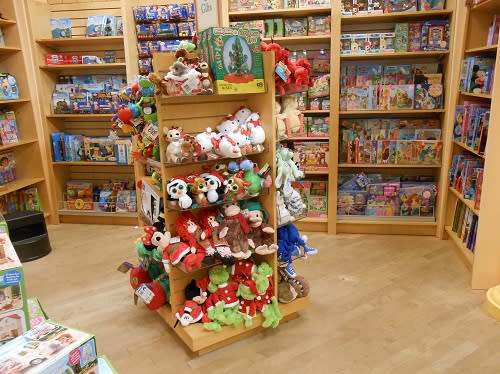 Other shops around the mall include Yankee Candle Company, Coldwater Creek, Eddie Bauer, Christopher and Banks and Justice. Clem's is loaded with fun item, like movie action figures and trading cards. And don't forget the restaurants! While there is a food court, the full meal dining options, like Eddie Merlot's, offer a culinary experience not to be found many other places in Fort Wayne. After trekking through the nose-nipping cold, it's amazingly appetizing to smell barbecued scents wafting from Tucanos, a Brazilian grill with live, outdoor flaming sconces.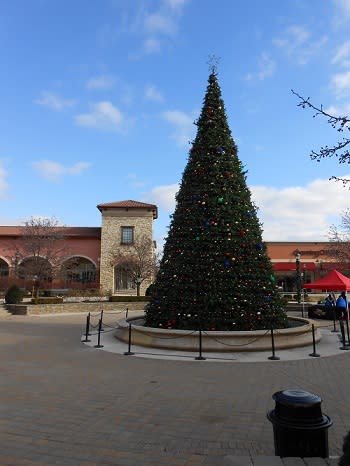 Because it is the Christmas season, Jefferson Point has a special Santa's Cottage, located in the center of the mall. This cute yet tiny house has easy-access ramps and plenty of room for families to gather inside for pictures with the jolly old elf. Even though it was still before lunch time when I saw the house, a little girl was leaving the cottage, excitedly calling "Bye bye, Santa!" as her folks maneuvered everyone out the door.