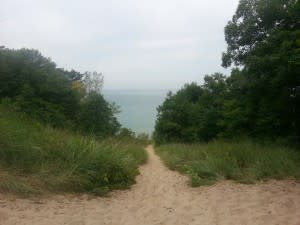 My wife (Chelsi) and I spent my 30th birthday in Italy on our honeymoon. So when her 30th came around, we had to do something to match the awesomeness of mine. So, a trip to the Indiana Dunes was planned and we were ready for a little hiking, some camping and kayaking … with our two dogs.
After a 3-hour drive from Broad Ripple, that included a stop for supplies, we were at the Indiana Dunes State Park campground. We'd only be there for one day/night, and there was lot to do. Thankfully, our spot was easy to find and located close to anywhere we needed to go – the lake, trails, sand and showers.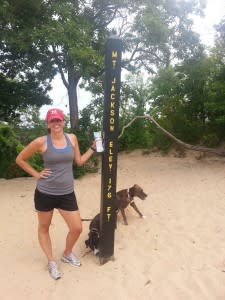 We like some adventure on our trips, so we were looking forward to the 3 Dune Challenge. I looked at the elevation – all below 200 feet – and chalked it up as an easy way to start the day. We work out sometimes and end up doing a couple 5Ks or a sprint triathlon each year. Plus, we hiked in the Rockies last summer, so this should be just a leisurely walk on the beach. Let's do it.
As the sand started to fill my sneakers and the dogs began to pant and drag behind us, I realized we were wrong. And we were only on the first dune. It only got harder as you literally take two steps forward and one step back. The sand is soft and deep, never allowing you to get solid footing to make progress up the hill. At the top of each, you're met with great views and a minute to catch your breath before continuing on the path. In the end, I'm glad it was as tough so I can proudly say we're 3DC finishers.
We spend a lot of time kayaking at Eagle Creek Park, but this was our first 'yak experience on Lake Michigan. We got the dogs in their lifejackets and dragged our kayaks to the water. It's one thing getting you and a dog in the 'yak on calm water, but much more difficult on the shore of a Great Lake with people watching you. We finally got in and paddled out past the swimming area. The waves were big enough to notice, but not enough to toss us. The dogs handled themselves well, and we were out on the gorgeous open water for a couple hours, soaking up the sun, watching the boats sail by and kids roll down the dunes by the beach.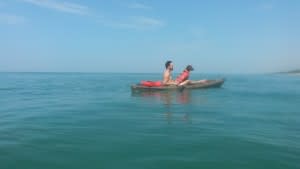 Famished after the active afternoon, we headed back to the campsite for dinner. I set up the camping stove and poured us a couple of cold drinks. 20 minutes and some dirty pans later we were having steak tacos and black beans on the picnic table. It was a long day, so bedtime came before sundown.
As morning came and the trip was nearly over, I fired up the camping stove again for a couple of eggs, bacon and two espressos for the road. That really made camping feel like home. On our way out, we noticed the lake was glistening under the just-risen sun and the beach was empty. We found the dog-friendly area and took the pups for a quiet walk before leaving the park and heading back to Indy.