I'm not going to complain about the heat this summer because it is way cooler than last year, but we have still been trying to find activities to help keep ourselves cool and we scored really big in Hendricks County last week. If you aren't familiar with Hendricks County, it is located just outside of Indianapolis on the west side - think the airport ... literally minutes from downtown.
Our first stop was Splash Island in Plainfield. I'm a sucker for water parks. And one that provides entertainment for my four-year-old and lets me have a little fun too is a win-win. I had heard that going earlier in the day is better crowd-wise and we certainly found that to be true.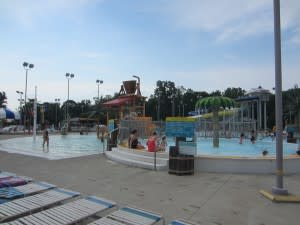 It was a beautiful morning the day we went and my daughter loved the play area for her age and went down these slides numerous times. They do have life jackets available free of use, but we had our coast guard approved one with us.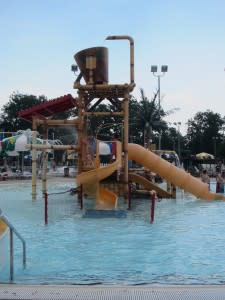 Once my daughter got her fill (for the first time) on the slides, we made our way over to the lazy river. I have been on lazy rivers with my daughter before and it is quite a balancing act trying to have her on my lap while I lay on the inter tube. At Splash Island they have double inter tubes where one of them has a bottom (perfect for a little one's body) and the other has a hole (perfect for the adult). I wish I could have gotten a picture of us together, but this one of the lazy river from afar will have to do for now ...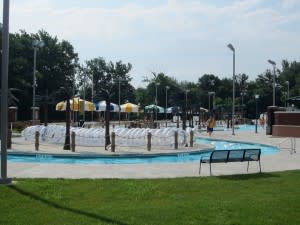 Unfortunately the morning weather took a turn for the worse and we had to get out of the pool for a storm to pass. One big perk ... they brought along coloring books for the kids while we had to wait.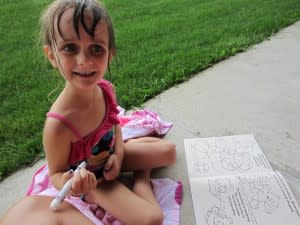 Thank you for saving me from having to answer 101 questions about the weather and why we couldn't swim! :)
After drying off we were off to our next stop - an activity that might not come to mind on a hot day, but a welcome diversion ... horse back riding! Located between Avon and Brownsburg is Natural Valley Ranch which sits on over 50 acres. The ranch offers 30, 60 or 90 minute guided trail rides (by reservation) through their property and it is a relaxing way to take a break and enjoy the outdoors.
Now, it has been a few years since I've hopped in the saddle and I think I did pretty well!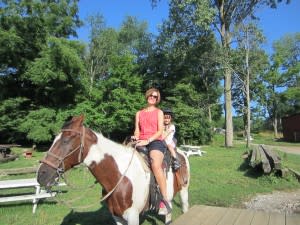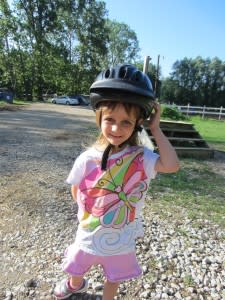 For my daughter the 30 minute ride was perfect and the "buddy seat" as they call it was an easy way for us to ride together and only an additional $5 to the cost of my ride.
After the ride, we were invited to walk along the beautiful property and visit all of their animals. Clearly my daughter was loving it!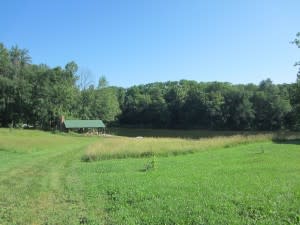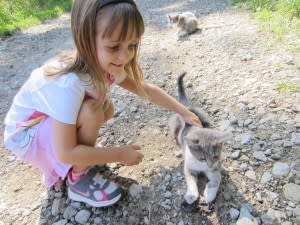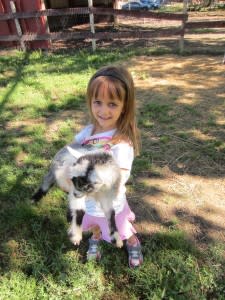 And a recent addition ... you can stay overnight at the ranch. The cottage is available for rent and with 4 bedrooms and 4.5 baths it makes a great retreat for a group outing!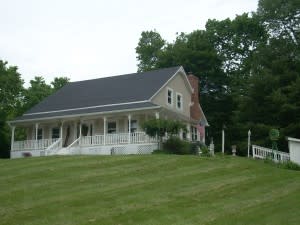 If you happen to be in the area and are celebrating your child's birthday, they even host birthday parties. For $175 (up to 12 children) children can ride horses in the arena, enjoy cake and, if requested, have a bonfire.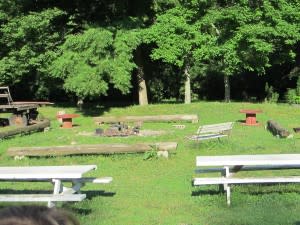 Natural Valley Ranch was a great find for us. I wasn't aware of any horseback riding options around Indy and to have one affordable and close by the city is wonderful. Again, it might not be your typical thought for a hot summer day, but a ride in the woods on a horse may be just what you are looking for!
A big thanks to Visit Hendricks County for assisting us in our visit. For other attractions, events and lodging information, be sure and visit their website.