While driving back from South Bend the other day we made a stop in Kokomo. I'm sure many of you have driven through Kokomo on your way up north from Indy or vice versa. But let me encourage you to take a detour off of 31 and spend some time downtown. I think you will be happy, and pleasantly surprised you did.
The first thing we did was get "pepperwhistled."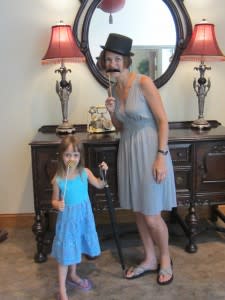 By that I mean we had lunch at the Pepperwhistle Bakery and Cafe. Started in 2012, Michael West and his three sons opened this restaurant to bring a smile to each face and an oh-yum in each voice of those who dine here. I certainly found that out to be true.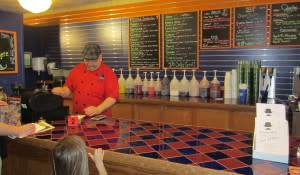 Their menu features quite a few unique sandwiches each complete with their homemade sauces. And the names are just plain fun too: MacBeth, Beefeater and The Wench just to name a few. Oh ... I can't forget to mention their drinks. They pretty much offer any flavoring you want mixed up in an Italian soda, a malt or a smoothie.
After lunch, we toured the Howard County Historical Society's museum which is housed in the historic Sieberling Mansion.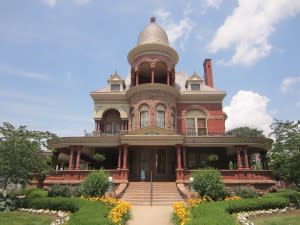 Not only beautiful on the outside, but the inside is ornately decorated as well with the original hard woods throughout the house ... complete with a third floor ballroom. Pictured here is a room off of the ballroom known as the "Fainting Room." This is where ladies went to release their corsets and take a break from dancing!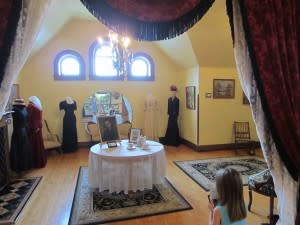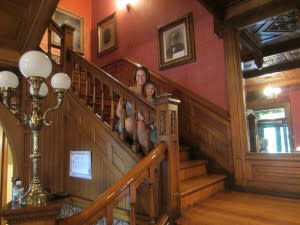 Since we satisfied our hunger and our educational side, it was time for some relaxation. We hit Kokomo Beach next which was a perfect stop for my 4-year-old.
Since my daughter can't swim by herself yet, this was a perfect place to spend the afternoon. Here is why:
There is a zero entry pool with a wonderful kids slide (no pictures since I didn't want to risk getting my camera wet!). I think she went down it about 50 times.
HUGE splash pad area.
Quaint lazy river that was perfect length for my daughter and a wonderful break for me!
Plus, they offer FREE life vests and the storage lockers are free (50 cents required for the lock, but is reimbursed afterwards).
If your kiddos are a little taller than mine, they also have four additional water slides for use as well as an area for those of you wanting to lap swim.
It made for an excellent way to relax at the end of the day. And a bonus ... my daughter fell asleep within 10 minutes of getting back into the car! :)
So take some time to drive off your route and experience what Kokomo has to offer. I'm already planning a trip back to tour Kokomo Opalescent Glass since we didn't have time that day. More to come on that later!