They take their watermelons seriously in Vincennes Indiana. So seriously, they devote an entire day to the thumpable fruit. On Saturday, August 3, head to Knox County and Patrick Henry Square, located on the Historical George Roger's Clark Memorial Site, for a day of fun, food, music, and of course, some summertime watermelon.
Schedule of Events
8:00 - Old National 5K Color Run (This is the first time for the 5K run, so now's your chance to get in on the ground floor. Bonus prizes will be given to anyone who competes wearing watermelon on their feet. (Editor's note: No they won't. Stop telling people that!)
9:30 - Baby/Toddler Contest
1:00-3:00 - FREE CONCERT — Heath Eric & Molly G
3:00 - Seed Spitting/Watermelon Eating Contest
4:00 - Cutest Pet Contest
6:00 - Miss Watermelon Pageant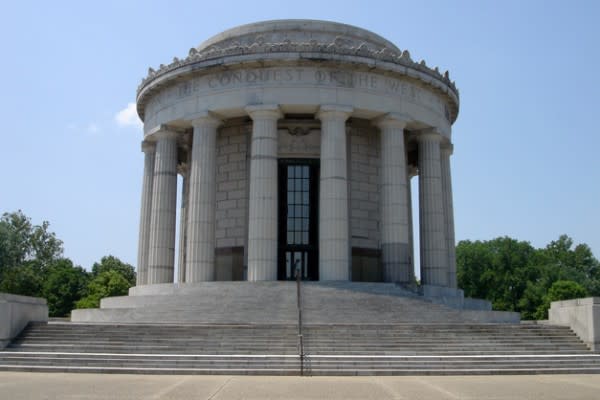 The George Rogers Clark Memorial in Vincennes, Indiana, Knox County.And don't forget the Great American Grill Out and BBQ cookoff, which starts at 7 am, and goes all day long
There are kids games, concession stands, a crafts and flea market, and everything else you want to find at a small-town Indiana festival. Plus, Nowaskie Melons is giving away free watermelon.
For more information, visit the Knox County Chamber website.
Photo credit: Wikimedia