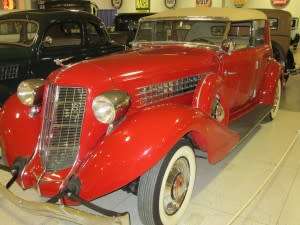 1935 Auburn
Jay Leno knows a good thing when he sees it. The popular late-night TV talk show host toured the Kokomo Automotive Museum in October 2014 while in the area for business.
The museum located on the city's north side features more than 100 vehicles dating from the late 1800s. Oh wait, you didn't know Kokomo was a famous locale for classic and antique cars?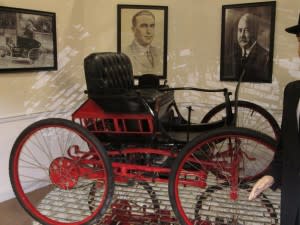 Elwood Haynes' first car in late 1800s had bicycle wheels. Elwood Haynes started the industry in this city located in the middle of the state. He moved to Kokomo in the late 1890s because of the area's natural gas boom and built the first mechanical vehicle in America there in 1894. By 1900, the American auto industry, such as it was, produced 8,000 cars.
Trivia note: The word 'automobile' comes from 'Auto' from the Greek language meaning self + 'mobile' from the French, meaning moving.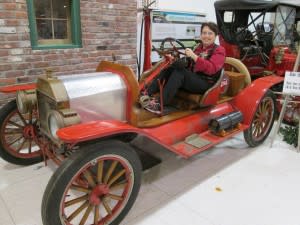 Visitors can sit in 1914 Ford at Kokomo Automotive Museum. Unfortunately, other people caught the vision of designing and producing automobiles during this time. Competition and the Depression of the 1920s caused Haynes to go out of business in 1925.
Those first cars were called Haynes, then Haynes & Apperson vehicles after Apperson brothers who bought into the business.
The Kokomo Automotive Museum is the largest collection of Haynes vehicles in the US. Since the Museum opened in 1997, it has expanded to house 112 vehicles of all models and purposes.
There are some cool cars here, no doubt. This 1936 Packard convertible looks so glamorous!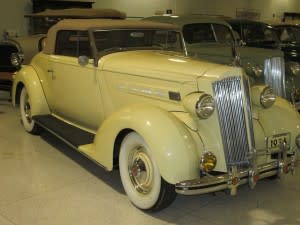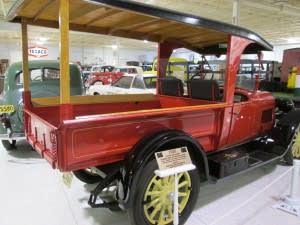 1925 Huckster truck. This 1925 Huckster truck inspires me to admire the people who probably drove it on roads riddled with potholes and maybe delivered groceries before snow plows in wintry weather.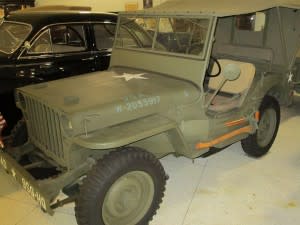 1942 Jeep used during WWII. This 1942 Jeep, complete with ax and shovel, looks to be in good shape, especially if it served overseas during World War II.
No doubt, everyone of nearly any age carries around memories of vehicles. That's what makes this museum such a fun spot for a reunion, banquet or party. It has a big open area in the middle with the classics parked around the edges.
Group tours are welcome and there is plenty of parking as the museum is located on the Ivy Tech Community College campus on US 31.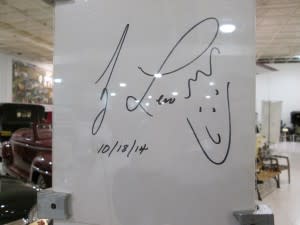 Jay Leno signed this post on his Oct 2014 visit. And just in case you thought I was exaggerating when I said Jay Leno had stopped by, here's his dated signature on a post in the museum.
The museum is open year-round: Tuesday-Sunday 10a-4p Closed Mondays. During inclement weather, call ahead to check.
Admission: $5/adults $4/ kids $2 group discounts
Kokomo Automotive Museum 1500 N. Reed Road Kokomo IN 46901 765.454.9999
For more information contact Visit Kokomo
800.837.0971